Silicone secrets: Britain's £100m implants industry

Show all 2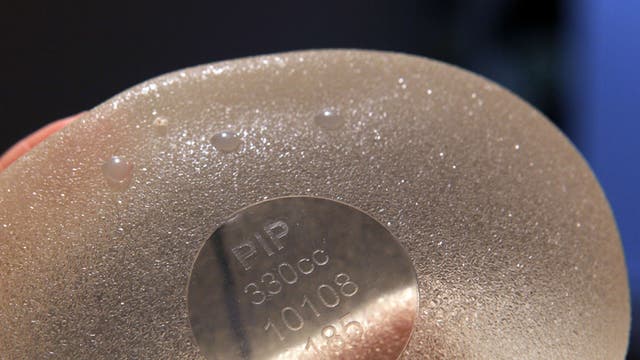 Silicone secrets: Britain's £100m implants industry
The scandal threatening 40,000 UK women exposes a sector that for years has prospered without proper regulation
Surgeons yesterday called for a national register of breast implants with mandatory reporting of cases of rupture to identify faulty devices that could pose health risks to women. Patients should also be issued with an "implant passport" recording details of the operation and device used in case of problems later, they said.
Click here to see the 'Silicone Secrets' graphic
The demand came amid confusion about the true failure rate for the French-made PIP implants used in more than 40,000 British operations, which contained industrial grade silicone and which were sold at one fifth of the price of conventional implants.
Official figures from the UK Medicines and Healthcare Regulatory Agency (MHRA) suggested a failure rate of less than 1 per cent, compared with 5 per cent in France and 7 per cent reported by one British chain of private clinics, Transform. Andrew Lansley, the health secretary, ordered an urgent review after it emerged the MHRA may not have been given full information about the failure rate. The French government has recommended removal of the PIP implants and has offered to pay, but British advice is to leave the implants unless problems occur.
PIP obtained approval for their implants from French regulators, but two years later the company allegedly switched from medical grade silicone to industrial grade, used in mattresses, without disclosing the change. The implants were banned in 2010 after problems involving a high rate of rupture and the company has closed down.
Fazal Fatah, president of the British Association of Aesthetic Plastic Surgeons (BAAPS), said yesterday: "The MHRA has been caught off-guard. They have relied on the rupture information that they have been given, which shows a rate well below 1 per cent. The problem is that this is a voluntary reporting system and we know a very small proportion of ruptures are reported.
"We need a national breast implant register where the clinic, hospital or surgeon is obliged to record the implants used and report ruptures.
"If we had had this when PIP started using non-medical grade silicone, the trend would have shown within a year or two." Mr Fatah said random checks should be carried out to ensure manufacturers were complying with the rules and women should be issued with implant passports. "If the women should need further surgery, all the details would be available," he said.
The breast implant industry is worth around £100million a year with 20,000 to 25,000 women having the surgery at a cost of £4,000 to £5,000 each in the UK. A national breast implant register was established in the 1990s but the Government withdrew funding seven years ago.
PIP implants cost around £50 each, compared with up to £300 for other brands. Implants can last for decades – a 2005 study found an overall 11 per cent rupture rate after 13 years. Even when they rupture it may go undetected because the silicone remains "cohesive" – it does not leak into the breast tissue. In PIP implants, however, the silicone is said to be like "melted butter" and more difficult to extract once it has ruptured. In France, the government has said it will pay the cost of removal for the estimated 30,000 women affected but will only fund replacement implants for cancer patients who had breast reconstructions.
Mr Fatah said: "The clinics that put in PIP implants took advantage of their cheap cost to increase their profits and they must share the responsibility and the cost if they have to change them. If the Government introduces a compensation scheme, it must ensure the clinics that profited from putting them in do not profit from taking them out."
The French recommendation that the implants be removed was "not unreasonable", he said. But there was no need for panic. " In the long term I would advise women to have them removed. But we don't want women queueing up to have them out unless they have ruptured." Nigel Mercer, immediate past president of BAAPS, said if the UK Government did not recommend removal of the implants, it amounted to tacit approval for a device that was not CE marked (safety tested).
His advice was to have them removed. "This silicone can cause intense fibrosis [thickening of tissue]. You have to ask yourself what would you recommend a family member to do. I would not want them to keep the implants in. You are sitting on a timebomb."
The MHRA did not respond to requests for a comment.
Join our new commenting forum
Join thought-provoking conversations, follow other Independent readers and see their replies