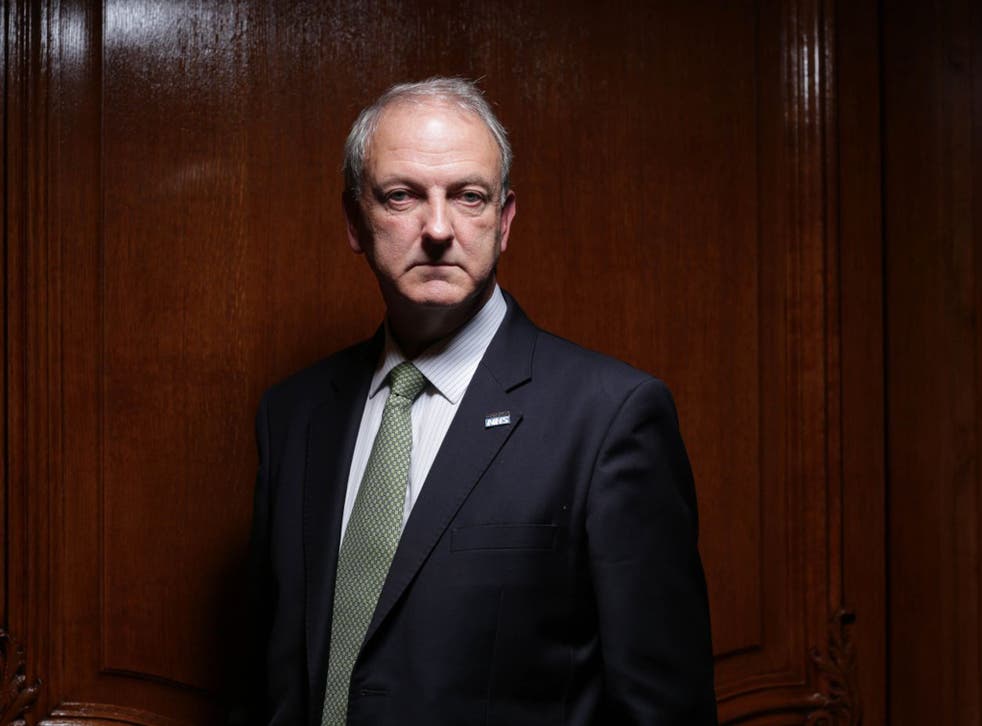 Sir Bruce Keogh: England's top doctor asks for assurances that junior doctors will be on-hand to help in event of a terror attack during planned strikes
Junior doctors have voted overwhelmingly in favour of strike action
England's top doctor has asked for assurances that junior doctors will be on-hand to help in the event of a terror attack during planned strike action next month.
The request from Professor Sir Bruce Keogh, medical director of NHS England, to doctors union the British Medical Association (BMA), provoked fury among junior doctors and prompted the chair of medical regulator the General Medical Council to declare "the entire profession" would "respond immediately" in such an event.
Junior doctors have voted overwhelmingly for strike action, with 98 per cent supporting from a 76 per cent turnout. Overall, 27,741 doctors backed a strike, with only 564 against.
The huge vote piled pressure on Health Secretary Jeremy Hunt, who ducked calls from the BMA and Labour to call in mediators to avert a strike, saying that such a step could only be taken after "meaningful talks".
However, junior doctors also vented their anger at Sir Bruce, who within hours of the result published a letter to BMA chair Dr Mark Porter, in which he seeks assurances around patient safety during the strike.
In it, he writes that "in light of the tragic events in Paris last Friday night, and the ongoing threat level in the UK, we need to ensure we have a clear understanding of arrangements should a major incident be declared", and asked whether junior doctors on strike would be available to respond "within one hour of a major incident being declared".
Junior doctors accused Sir Bruce, a hugely respected figure within the profession, of "scaremongering".
Dr Ben Molyneux, a former chair of the BMA junior doctor committee said the comments were "overt political spin".
"In the unlikely event of a terror attack junior doctors would of course come in," he said.
The sentiment was echoed by Professor Terence Stephenson, chair of the GMC. The regulator said junior doctors should take steps to ensure patient safety during the strike, informing their seniors of their intentions, adding that doctors would have to be prepared to "justify the decisions they have made" if their actions caused serious harm.
In numbers: the NHS crisis

Show all 7
However, Professor Stephenson said: "Of course in the event of a major incident, we know and would expect that the entire profession would respond immediately."
With no resolution in sight, NHS hospitals are now preparing contingency plans for the three strike days. The first, on 1 December, will see junior doctors walk out of all but emergency care for 24 hours. If no resolution is reached, this will be followed by two full walkouts from 8am to 5pm on 8th and 16th December.
Senior doctors will be drafted in to stand in for their junior colleagues, but the impact on rotas will lead to many non-urgent clinics and procedures being cancelled, with the heaviest impact likely during the full walkouts.
Dr Mark Porter, BMA council chair, said: "We regret the inevitable disruption that this will cause but it is the government's adamant insistence on imposing a contract that is unsafe for patients in the future, and unfair for doctors now and in the future, that has brought us to this point." The BMA is concerned the new contract will remove key safeguards that prevent junior doctors working too many hours, and are also challenging cuts to out-of-hours pay.
Mr Hunt said the strike vote was "regrettable" and suggested that the strength of the vote was a result of the Government's contract offer being "misrepresented".
"We want to ensure patients have the same quality of care across the week, and have put forward a generous offer that increases basic pay by 11% and reduces doctors' hours," he said.
An NHS England spokesperson said: "In the light of the junior doctors industrial action ballot result, Professor Sir Bruce Keogh, National Medical Director of NHS England, has written to the BMA seeking formal assurances that no action will be taken that will endanger patient safety and urgent and emergency care.
"NHS hospitals and other services are drawing up contingency plans, but given the potential risks to patients, the right answer is instead for negotiations to resume between the junior doctors and NHS employers."
Responding to Sir Bruce's letter, Dr Porter said: "I would like to reassure you and members of the public that were an unprecedented external incident to arise, junior doctors, and indeed the entire medical profession, would of course react appropriately as we have seen on previous occasions."
Join our new commenting forum
Join thought-provoking conversations, follow other Independent readers and see their replies