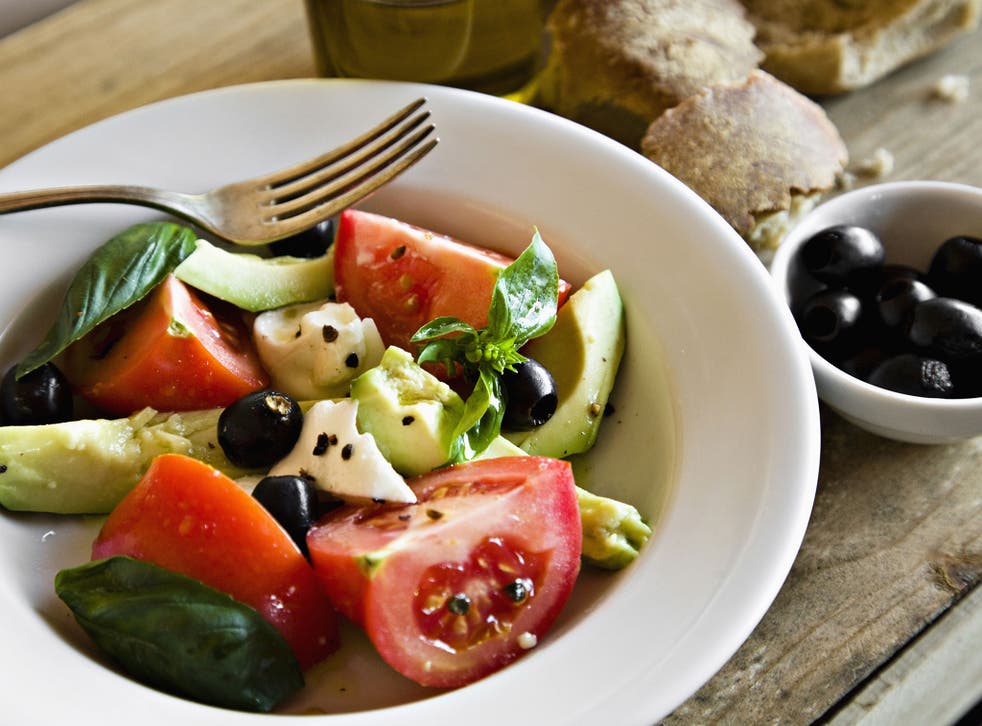 Stop counting calories and start a high-fat Mediterranean-style diet, health experts urge
'Before we had the obesity epidemic do you think our grandparents were counting calories?'
Charlie Cooper
Thursday 27 August 2015 11:27 Comments
People should stop counting calories and instead focus on the kind of food they are eating to improve their health and cut risk of heart attack, stroke and other health problems, a group of experts have said, advocating a high-fat Mediterranean-style diet.
Writing in a leading medical journal, they argue that the importance of calorie-counting has been overplayed by the food and weight loss industries, at the expense of wider public understanding of the benefits of a nutritionally balanced diet that can include certain high fat products.
Dr Aseem Malhotra, an NHS cardiologist and public health campaigner, one of the authors, said that "not all calories are the same" and also criticised the UK's national food guide – the 'eatwell plate' – as "extremely unhelpful".
Writing alongside Professor Simon Capewell, of the University of Liverpool, and US heart researcher Dr James DiNicolantonio in the Open Heart journal, Dr Malhotra points to evidence that a can of cola a day, at 150 calories, is associated with a significantly increased risk of type 2 diabetes, while four tablespoons of extra virgin olive oil a day, at around 500 calories, has been shown to reduce the risk of strokes and heart attacks.
50 best foods for healthy living

Show all 50
The authors said it was time to "stop counting calories, and time to instead promote good nutrition and dietary changes that can rapidly and substantially reduce cardiovascular mortality", citing a 2013 study which showed a 30 per cent drop in cardiovascular problems in a group of people assigned a diet without any restrictions on energy intake, but supplemented with extra virgin olive oil and nuts.
However, other leading diet experts said it was wrong to create a "false choice" between calorie counting and nutritional value, with one senior researcher branding any claim that calories don't count "idiotic".
Dr Malhotra, who is a leading figure in the campaign group Action on Sugar, which is calling for a reduction in the amount of sugar in manufactured food, told The Independent it was more important to know where calories came from.
"Before we had the obesity epidemic do you think our grandparents were counting calories? The only people who benefit from calorie counting are companies that sell low-fat junk food based on low calories, but full of sugar, which is lower in calories than fat," he said.
He added that the 'eatwell plate', a nutritional guide that sets out the Government's official advice on healthy, balanced eating was not helping people make the healthiest choices.
"The government's eatwell plate is extremely unhelpful," he said. "On there they talk about having a healthy balanced diet but they still have a can of cola on there. I don't have an issue with these things being treats, but they're not part of a healthy, balanced diet."
"If you're going to put a can of cola on the eatwell plate as part of a healthy diet, you might as well say that, in moderation, having cigarettes is also ok."
However, Professor Tim Sanders, professor emeritus of nutrition and dietetics at King's College London, said that current dietary advice in the UK stressed the need to reduce the intakes of salt, sugar and fat, adding that "even a healthy dietary pattern can result in weight gain if too many calories are consumed."
"In my opinion, it is idiotic to suggest that calories don't count and then advocate a high fat diet," he said.
Dr Tim Chico, reader in cardiovascular medicine at the University of Sheffield, said he was concerned that the Open Heart article presented a false choice, when it was possible to count calories and choose nutritionally valuable foods.
"However, I agree the main focus should be on what, rather than how much, we eat," he said. "Particularly when the aim is to reduce heart disease."
Register for free to continue reading
Registration is a free and easy way to support our truly independent journalism
By registering, you will also enjoy limited access to Premium articles, exclusive newsletters, commenting, and virtual events with our leading journalists
Already have an account? sign in
Join our new commenting forum
Join thought-provoking conversations, follow other Independent readers and see their replies