Stressed nurses are 'forced to choose between health of patients and their own'
Report cites staff cuts and fears for patient welfare  – and says bullying by managers is increasing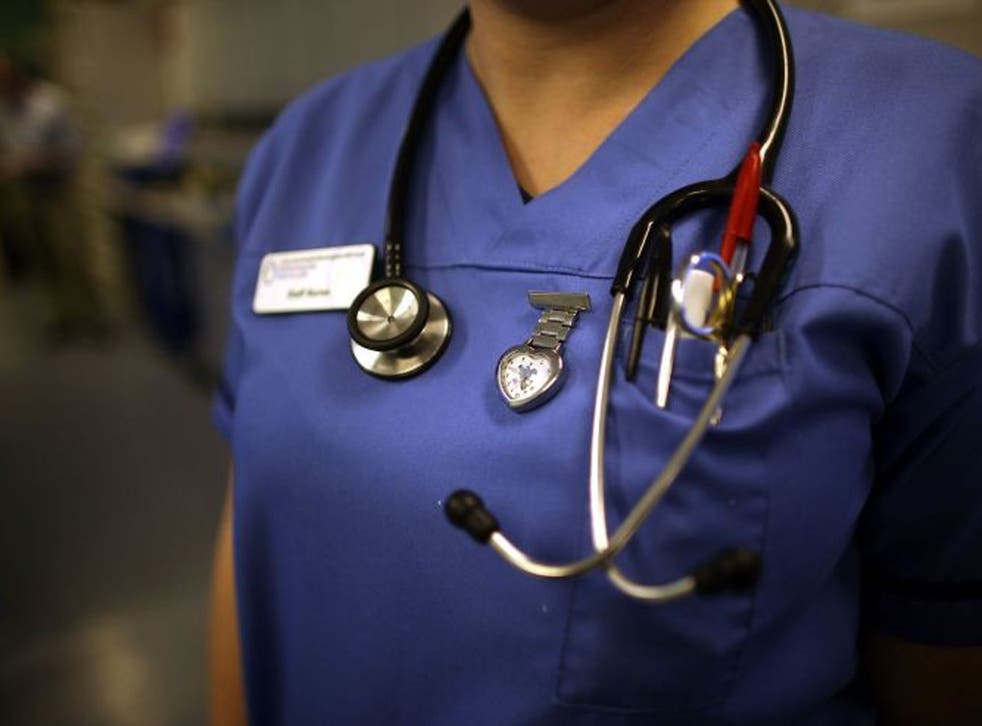 Nurses are enduring "unprecedented" levels of stress and ill health as a result of staff cuts and overwork, forcing them to choose between their patients' wellbeing and their own, the Royal College of Nursing (RCN) has said.
Ever-increasing demands upon the health service's resources, combined with a slowdown in funding and frontline job cuts, have put serious strain on the nursing profession, according to an RCN survey.
Pressure on wards is such that 82 per cent of nurses consulted by the RCN reported going to work while sick, because they feared patients would be at risk because of understaffing.
Half said their stress levels had increased significantly in the past 12 months, with increased workloads and staff shortages the chief complaints. More than half of respondents in the "Beyond Breaking Point?" survey said they had been made unwell by work-related stress.
The survey of more than 2,000 nursing staff working in a range of NHS and private sector services has also shown how increased pressure is driving hospital managers into "panic behaviours". Nurses report increasing levels of bullying by managers, and a widespread blame culture that prevents frontline staff from voicing concerns about poor care.
Labour has blamed the Government for understaffing and backed the RCN's calls for clearly defined safe minimum staffing levels to be set.
More than 5,400 nursing posts have been cut since the Coalition came to power, as NHS trusts tighten budgets in the wake of an unprecedented slowdown in health spending.
The Health Secretary, Jeremy Hunt, has backed the findings of a recent report into patient care, which called on the National Institute for Health and Care Excellence to set a national formula for minimum staffing levels, which would be applied locally.
He is expected to include action on staffing levels in the Government's response to the Francis inquiry into care failings at the Mid Staffordshire NHS Trust, due before the end of the year.
Dr Peter Carter, the RCN's chief executive, said the UK's entire care system was facing a "huge challenge" of maintaining standards despite "increased demand and scant resource".
One NHS staff nurse reported being threatened with a capability hearing if they did not achieve 100 per cent attendance, leading to them ignoring chest pain to come into work, despite having a diagnosed cardiac problem. Another nurse, who works at an NHS hospital, said: "My area is so short-staffed I feel compelled to work [when sick], as patient care is compromised."
A quarter of nurses said they had been bullied by managers, and the survey uncovered instances of "corporate bullying". Nurses said they felt unable to achieve what was expected of them with the resources given. More than half had experienced verbal or physical violence from patients or relatives, many on a regular basis.
Dr Carter said: "Individual nurses are clearly going the extra mile to make sure the job is done. However, the risk of burnout is very real, and very widespread,"
Last week the Care Quality Commission reported on shortcomings at Kings Mill Hospital in Nottinghamshire, where staff shortages led to nurses breaking down in tears because of workload pressures. The shadow health secretary, Andy Burnham, said the report echoed concerns at most NHS hospitals.
A Department of Health spokesperson said: "Recent reports have shown clearly that we need safe numbers on wards and a supportive culture in the NHS. We have already introduced some major changes, such as a chief inspector [of hospitals] who will take action on staffing levels. We will announce more on our plans to guide staffing decisions in our full response to the Francis report later this year."
Register for free to continue reading
Registration is a free and easy way to support our truly independent journalism
By registering, you will also enjoy limited access to Premium articles, exclusive newsletters, commenting, and virtual events with our leading journalists
Already have an account? sign in
Register for free to continue reading
Registration is a free and easy way to support our truly independent journalism
By registering, you will also enjoy limited access to Premium articles, exclusive newsletters, commenting, and virtual events with our leading journalists
Already have an account? sign in
Join our new commenting forum
Join thought-provoking conversations, follow other Independent readers and see their replies