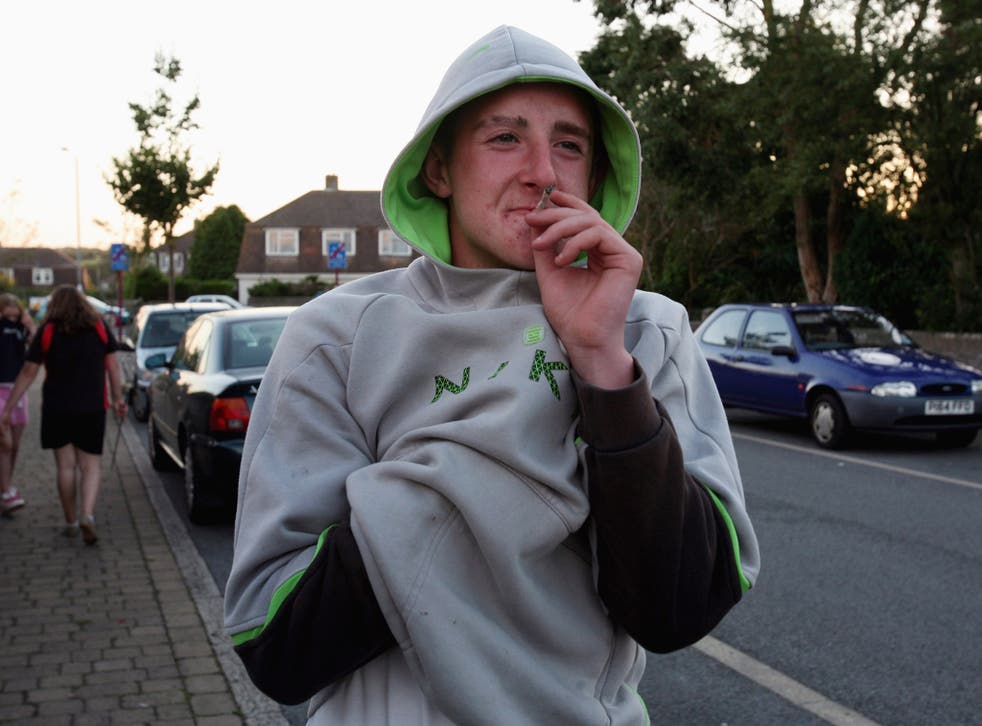 Teenagers shunning cigarettes and alcohol for fruit and veg, survey says
Analysts say smoking and drinking are increasingly seen as socially unacceptable among younger teenagers
Chris Green
Saturday 26 December 2015 23:18 Comments
They could be described as the Goody Two-Shoes generation. The age of the unruly teenager who indulges in illicit drinking and smoking is over, according to new data which shows that the vast majority of children in England are not only shunning cigarettes and alcohol but are also obediently eating their fruit and vegetables.
While only a small minority of under-16s have ever tried an alcoholic drink or a cigarette, almost a quarter now eat the recommended five portions of fruit and vegetables a day, according to the Health Survey for England, published this month by Britain's leading independent social research institute.
Stricter attitudes towards drinking and smoking among parents, public health drives and a clampdown on under-age sales by newsagents and off-licences are believed to be behind the decline. Analysts said cigarettes and alcohol were increasingly seen as socially unacceptable among younger teenagers, making peer pressure less of a factor than it once was.
In 2014 only 5 per cent of eight- to 15-year-olds said they had ever tried a cigarette, compared with 19 per cent in 2003, the survey of more than 2,000 children in England showed. Over the same period the number who had ever tried an alcoholic drink fell from almost half (45 per cent) to just 17 per cent.
The trend for teenage clean living also appears to extend to fruit and vegetable consumption, the data shows. Almost a quarter of five- to 15-year-olds (23 per cent) now eat five or more portions daily, compared with just 11 per cent in 2003. Over the same period, the average number of portions eaten by children in England has risen from 2.5 to 3.5 per day.
Rachel Craig, the head of health surveys at NatCen Social Research, which carried out the study in association with University College London, said the stereotype of the alcopop-drinking, cigarette-puffing teenager continually succumbing to peer pressure, memorably exploited by the comedian Harry Enfield through his characters Kevin and Perry, was now "much less likely to be the norm". Children were now "rebelling in different ways".
She added: "The cost [of drinking and smoking] continues to be high, and there is more enforcement around – it's actually quite hard for children, especially younger children, to buy alcohol now. With smoking, there's a lot more checking up on newsagents not slipping packets of fags to children, and I'm sure that's having an impact."
Another survey published over the summer found that children were now more likely to think their parents would not approve of them drinking, suggesting that increased parental awareness about the potential harm alcohol can cause – or even greater abstinence on their behalf – may also lie behind the decline.
UK news in pictures

Show all 50
"There has been a feeling [in the past] of, 'Oh well, if they start to drink a little bit it means they won't binge too much'," Ms Craig said. "But there's more recognition now that children under 15 shouldn't drink alcohol at all and I think that's been filtering through to parents."
The Department of Health welcomed the findings. "It is extremely encouraging to see children embracing healthier lifestyles – eating more fruit and vegetables, and smoking and drinking less," a spokesman said.
"We continue to take action to tackle smoking and drinking amongst young people, with shops unable to display cigarettes, smoking banned in pubs, clubs and cars carrying children, and schemes like Think 25 stopping under-age sales of alcohol."
Earlier this year, a briefing paper produced by a group of senior civil servants suggested that while today's teenagers were less likely to get pregnant, drink, smoke and take drugs, they were increasingly engaging in self-harm, suffering from eating disorders and lack of sleep.
The pervasion of the internet and social media, coupled with better parental monitoring and supervision, has prompted major changes in the behaviour of the country's youth, it added, noting that the "digital immersion" of the internet carried its own risks.
Register for free to continue reading
Registration is a free and easy way to support our truly independent journalism
By registering, you will also enjoy limited access to Premium articles, exclusive newsletters, commenting, and virtual events with our leading journalists
Already have an account? sign in
Register for free to continue reading
Registration is a free and easy way to support our truly independent journalism
By registering, you will also enjoy limited access to Premium articles, exclusive newsletters, commenting, and virtual events with our leading journalists
Already have an account? sign in
Join our new commenting forum
Join thought-provoking conversations, follow other Independent readers and see their replies