Test-tube baby report will scare parents off IVF
Dangers are only small for most defects, but fertility officials order change in guidelines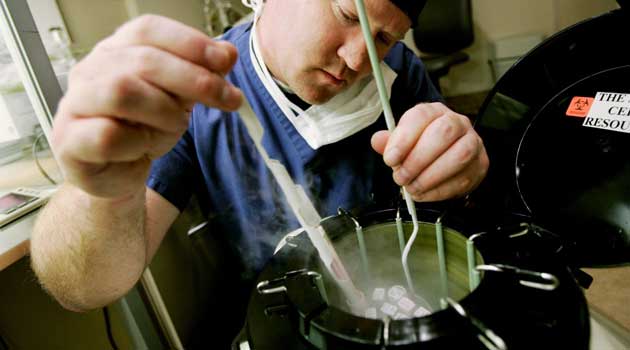 Couples will be encouraged to use in vitro fertilisation (IVF) treatment sparingly after a new study revealed it could leave babies with a greater risk of genetic health problems.
Fertility experts said yesterday that the findings from scientists in the United States were "interesting" and could change the way doctors give advice to prospective parents. Patients were told that the increased dangers were only "a small risk", although there was speculation that the advice could lead to a reduction in IVF as other methods were tried first.
Surveys showed IVF babies may have an increased risk of heart abnormalities, cleft lips, bowel problems and digestive tract disorders.
In the past, prospective parents have been advised there is only a limited risk of health problems, but for some defects the risk was said to be 30 per cent greater.
The Human Fertilisation and Embryology Authority (HFEA), the government watchdog on fertility, has ordered a change in the guidance that will be issued to patients. But the authority stressed that some of the potential risks needed further investigation and, when the new advice comes into full use from October, it will be pointed out that the majority of IVF babies are born healthy.
One theory that could explain the study's results is that older women, whose eggs are already weaker, often turn to IVF and therefore the problems faced at birth should be less surprising to scientists. Another idea is patients involved in the study may already have taken fertilisation medication and the drugs may have had an effect on the quality of eggs.
Dr Gedis Grudzinskas, a consultant gynaecologist in Harley Street, said yesterday: "Doctors will have to give this new advice. They would be silly not to. The first question that parents ask is what are the potential problems with IVF. I feel sorry for the parents going through this now, those who have asked that question at the beginning of the process. They have been reassured and now the advice has now changed."
Ten thousand babies in Britain are born through IVF every year, but Dr Grudzinskas added: "There will now be less of a rush to use IVF depending on age and circumstance. People will be encouraged to use the gently-gently approach of artificial insemination or medication. Doctors have in the past jumped into IVF but they have done so thinking that there was no excess risk of a child being born with an abnormality."
The new alert came after the US Center for Disease Control and Prevention in Atlanta carried a check on about 20,000 births, one of the largest surveys of its kind. Dr Grudzinskas added: "This is a significant report from an important institution which wouldn't release a report that could concern parents without justification."
Richard Kennedy of the British Fertility Association said: "We have known for some time that there is a slightly increased risk of abnormalities for all IVF treatments. What we need to remember is that the overall risk of an abnormality occurring is increased with IVF but it is a small risk." A HFEA spokesman said: "As with any medical procedure it is important patients understand what the treatment involves and what the risks may be."
A parent's view: 'Whatever, doctor. We just want a baby'
The warnings will make no difference. Most people come to IVF in desperation that has been percolating for years. First there is the unease, when the months go by and attempts at conceiving have not worked. Then there is alarm when the doctor says yes, there might be a problem. Next come tests, scans and probes, and possibly surgery – all very invasive and distressing.
The woman is pumped full of drugs, so that her body and her character all morph, and she hates it. The man doesn't understand, feels cut off and becomes frightened by what looks like obsession, unless he is becoming obsessed too.
Years pass and time runs out, so savings are blown or credit cards maxed to pay for IVF. Suddenly the clinics are full of helpful doctors who explain it all in a language you understand. Then hand you a huge bill. Bankruptcy looms. This is a gamble, all or nothing for the sake of a baby.
You listen as a doctor outlines the increased risks from having IVF. But you don't hear when you're told there is a danger of life-threatening defects or long-term disabilities. We laughed when they told us we might have multiples: we assumed there was was no real chance of having even one. Given all of this, when IVF doctors do what the HFEA now says they must, they will see eyes glaze. So babies conceived in the usual way have a 2.5 per cent chance of birth defects, while for those who are the product of IVF it is 3.5 per cent? Whatever, doctor. Percentages mean nothing to people caught up in IVF. It's not clever, but for the couples in the waiting rooms, it's a fact of life.
By Cole Moreton, father of IVF triplets
Join our commenting forum
Join thought-provoking conversations, follow other Independent readers and see their replies