The 'Angelina Jolie effect': Her mastectomy revelation doubled NHS breast cancer testing referrals
GP referrals to family history clinics were up two-and-a-half times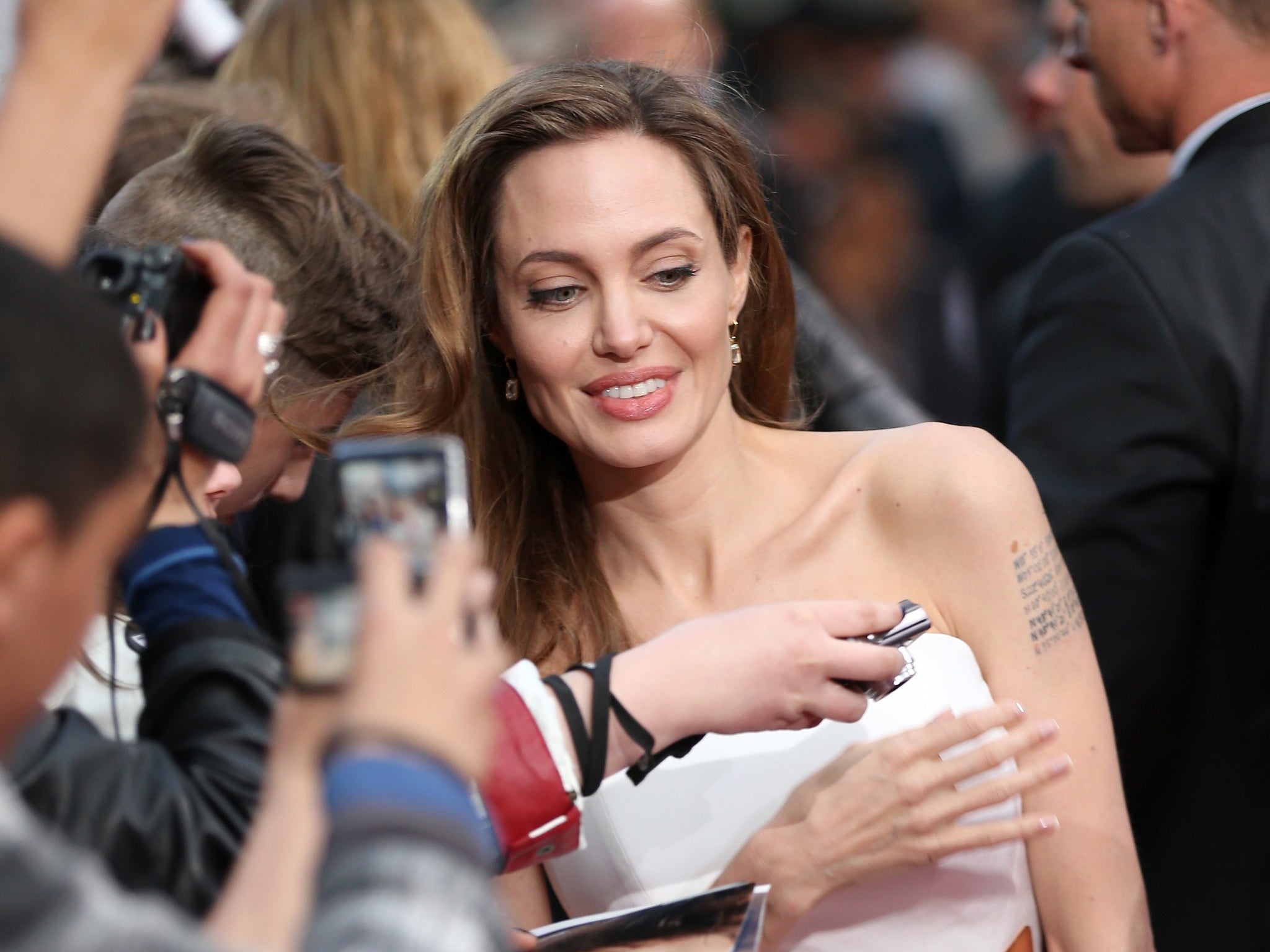 Angelina Jolie's decision to go public about her double mastectomy led to a doubling in NHS referrals for genetic tests of breast cancer risk, a new study has found.
The actress's announcement in May last year coincided with an immediate uplift in GP referrals to family history clinics, with referral rates two-and-a-half times higher in June and July than in the same period in 2012.
Researchers said that the "Angelina Jolie effect" lasted until at least October last year.
Genetic testing is used to determine whether women with a family history of breast cancer carry mutations of specific genes, which significantly increase breast cancer risk and are believed to be responsible for between five and 10 per cent of all breast cancers.
Ms Jolie's decision to have both breasts removed was based on a positive test for a mutation of the BRCA1 gene. Her mother had died of breast cancer, and her aunt died only two weeks after the actress revealed she had undergone a mastectomy.
The procedure is only recommended for patients with a very high risk of breast cancer. A mutation of the BRCA1 or BRCA2 genes give women between a 45 and 90 per cent chance of developing breast cancer. Other gene mutations are also known to increase risk.
A double mastectomy can reduce risk of breast cancer by 90 per cent in people at high risk of the condition, but is not recommended for people at a lower risk.
Researchers led by Professor Gareth Evans of Genesis Breast Cancer Prevention found no evidence that the widespread media coverage given to the Angelina Jolie story had led to inappropriate referrals for testing.
Professor Evans said that the story had clearly raised awareness of the importance of family history in breast cancer risk and risk-reduction strategies that are available.
"Angelina Jolie stating she has a BRCA1 mutation and going on to have a risk-reducing mastectomy is likely to have had a bigger impact than other celebrity announcements, possibly due to her image as a glamorous and strong woman," he said.
"This may have lessened patients' fears about a loss of sexual identity post-preventative surgery and encouraged those who had not previously engaged with health services to consider genetic testing."
Across the 21 test centres that took part in the study, the number of referrals for genetic testing rose from 12,142 in 2012, to 19,751 in 2013. The study is published today in the journal Breast Cancer Research.
The rise also coincided with widespread press coverage of new Government guidance recommending the use of breast cancer prevention drugs tamoxifen and raloxifene for women at high risk of breast cancer, but researchers said that the timing of the uplift in referrals clearly indicated it was coverage of Angelina Jolie's operation that had the biggest impact.
Previous celebrity health stories have had a similar effect on people's behaviour. After reality TV contestant Jade Goody was diagnosed with cervical cancer in 2008, from which she died the following year, an extra 400,000 women in the UK were screened for the condition, while Kylie Minogue's breast cancer diagnosis in 2005 led to a short-term 40 per cent increase in breast screening in Australia.
Researchers said that on average, health news about celebrities could have sustained effect on uptake of healthcare for at least six months.
Baroness Delyth Morgan, chief executive at the charity Breast Cancer Campaign, paid tribute to Ms Jolie's decision to go public.
"Without Angelina Jolie's openness in talking about her BRCA1 mutation and decision to have a risk-reducing mastectomy, followed by the publication and publicity around the updated NICE guidelines soon after, many women may not have approached health services and so would never have had their risk and risk-reducing options explained," she said.
Join our commenting forum
Join thought-provoking conversations, follow other Independent readers and see their replies