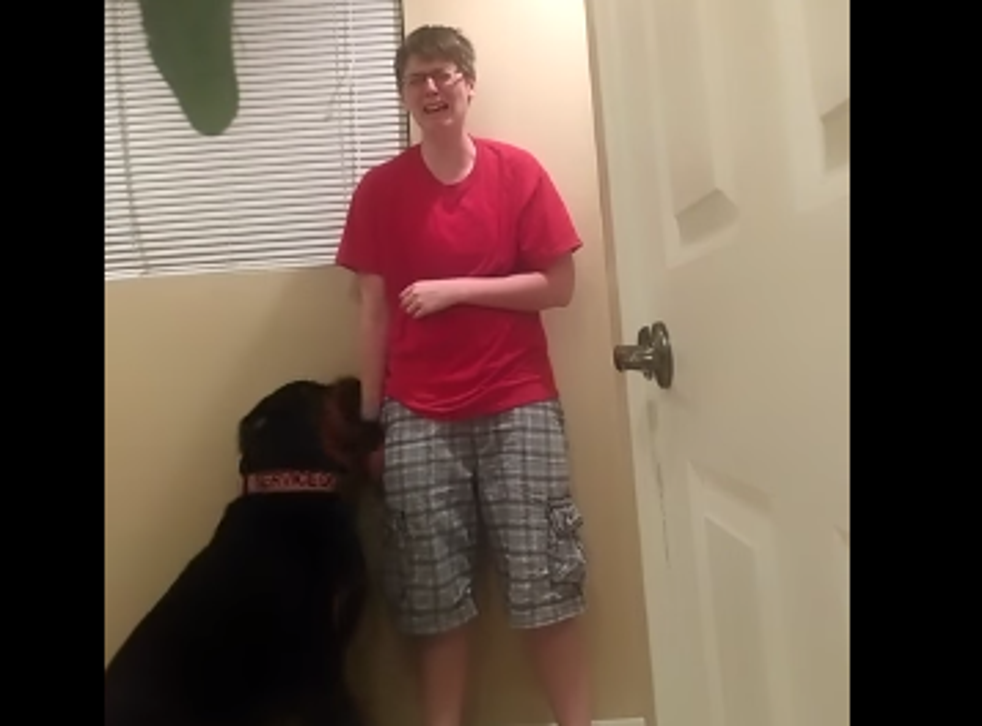 'This is what having Asperger's is like': Woman posts candid video of loyal dog saving her from 'meltdown'
Danielle Jacobs' video showing intimate footage of her being comforted by her dog while having a 'meltdown' due to her Asperger's syndrome has been viewed nearly 2 million times
Alexandra Sims
Wednesday 17 June 2015 15:23 Comments
A woman with Asperger's syndrome has courageously filmed herself being comforted by her service dog while suffering a depressive "meltdown" at home.
Danielle Jacobs posted the candid video online two weeks ago in an effort to educate people about the realities of living with autism spectrum disorder.
The moving footage shows Jacobs violently sobbing and repeatedly hitting herself on the head and chest while her loyal dog Samson, whom she has trained to prevent her from self-harming, jumps up on his hind legs and raises his paws to restrain her arms.
Jacobs says that she trained Samson "to alert to depressive episodes and self-harm." She explains that although the dog's response may appear delayed, it is intentional as she tends to suffer from panic attacks after her depressive episodes.
The intimate video has now gone viral, being viewed over 1.3 million times on Imgur and nearly 900,000 times on YouTube.
Although Jacobs has requested that no one posts negative comments, the response to the footage has been overwhelmingly emphatic with several users commenting that they have seen animals behave in a similar ways.
One Imgur user said: "I'm a therapist that works with kids on the spectrum. The service dogs are amazing". While another user, who also has Asperger's, said: "I've had these episodes before and my dog did a similar thing."
Others praised Jacob's bravery with one YouTube user saying, "It is very brave of you to share your most fragile moments with the world. My son has Autism and his meltdowns are also heartbreaking [sic] to watch. Many, many people who have heard about meltdowns but, have never actually seen one, will finally understand how traumatic they can be."
Another user commented: "I have loved ones on the spectrum and I know how difficult some days can be. It's wonderful that you have such a loyal and protective companion to see you through the hard moments. Stay strong, you are unique and very special just the way you are!"
This video is one of a number posted by Jacobs documenting her experiences with autism spectrum disorder, including footage of her training Samson and another in which she reveals her dismay at not gaining enough support to help her gain a college education.
Register for free to continue reading
Registration is a free and easy way to support our truly independent journalism
By registering, you will also enjoy limited access to Premium articles, exclusive newsletters, commenting, and virtual events with our leading journalists
Already have an account? sign in
Join our new commenting forum
Join thought-provoking conversations, follow other Independent readers and see their replies