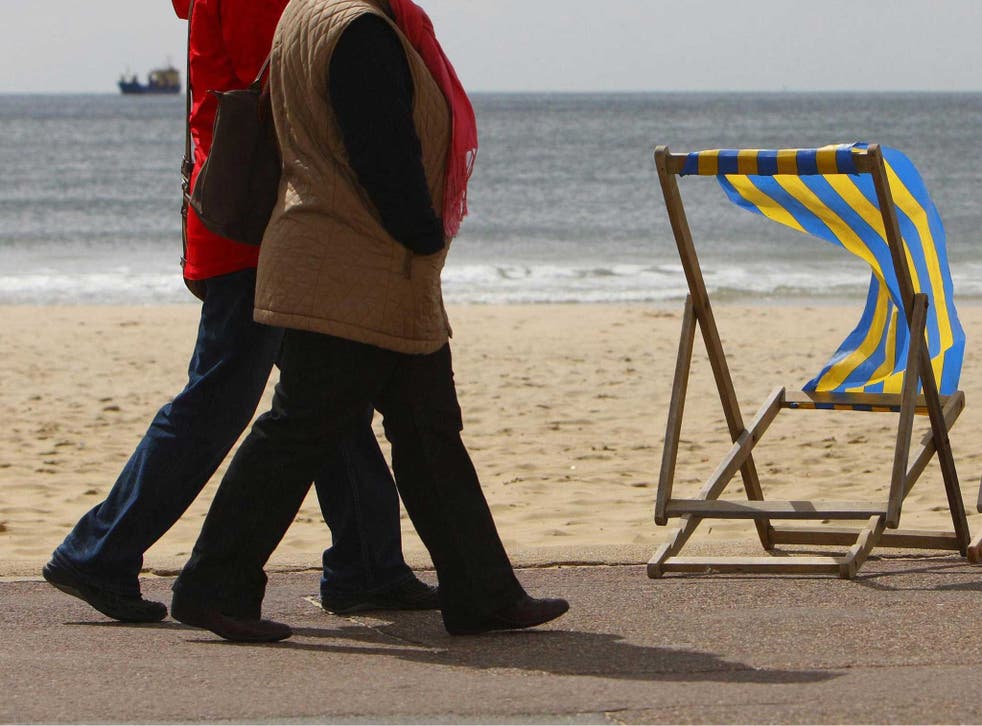 Walking an hour a day 'cuts risk of breast cancer'
Walking for an hour a day can cut the risk of breast cancer by 14 per cent, new research has shown.
In the first study of it's kind, researchers looked specifically at the effects of walking over nearly two decades, as opposed to exercise in general.
The American Cancer Society study analysed 73, 615 postmenopausal women, of whom 4,760 were diagnosed with breast cancer during a 17-year follow-up.
Researchers concluded that walking for an hour a day was associated with a 14 per cent lower risk of the disease, compared to women who were the least active.
The study, published in Cancer Epidemiology, Biomarkers & Prevention, also found that women who undertook more vigorous activities for an hour a day had a 25 per cent lower risk of breast cancer than the least active, which echoed findings in other studies.
Forty seven per cent of the women said walking was their only recreational activity and they were generally far more likely to take part in less vigorous activities such as walking, dancing or aerobics than activities such as running, swimming, or playing tennis.
Women who walked at least seven hours per week benefited from a lower risk of breast cancer compared to those who walked three or fewer hours per week.
Factors such as a woman's weight or whether she used hormone replacement therapy did not affect the results.
Dr Alpa Patel, senior epidemiologist at the American Cancer Society in Atlanta, Georgia, said: "Our results clearly support an association between physical activity and postmenopausal breast cancer, with more vigorous activity having a stronger effect.
"Our findings are particularly relevant, as people struggle with conflicting information about how much activity they need to stay healthy.
"Without any other recreational physical activities, walking on average of at least one hour per day was associated with a modestly lower risk of breast cancer.
"More strenuous and longer activities lowered the risk even more."
Dr Patel said the majority of women reported some daily walking and therefore promoting walking could be an effective strategy for increasing activity.
"We were pleased to find that without any other recreational activity, just walking an average of one hour per day was associated with lower risk of breast cancer in these women."
Baroness Delyth Morgan, chief executive of Breast Cancer Campaign, said the study was evidence that our lifestyle choices can play a part in influencing the risk of breast cancer.
"We know that the best weapon to overcoming breast cancer is the ability to stop it occurring in the first place," she added.
Public Health England should conduct an audit of existing lifestyle information on preventing the disease, she added.
There are an estimated 570,000 people living with breast cancer in the UK.
Around 50,000 women and 400 men are diagnosed with breast cancer each year and around 12,000 women and 80 men die from it.
Dr Hannah Bridges, senior information officer at Breakthrough Breast Cancer, said: "Any activity that raises your pulse reduces your risk - so regular brisk walks are an easy and free way to get active."
Additional reporting by Press Association
Register for free to continue reading
Registration is a free and easy way to support our truly independent journalism
By registering, you will also enjoy limited access to Premium articles, exclusive newsletters, commenting, and virtual events with our leading journalists
Already have an account? sign in
Join our new commenting forum
Join thought-provoking conversations, follow other Independent readers and see their replies