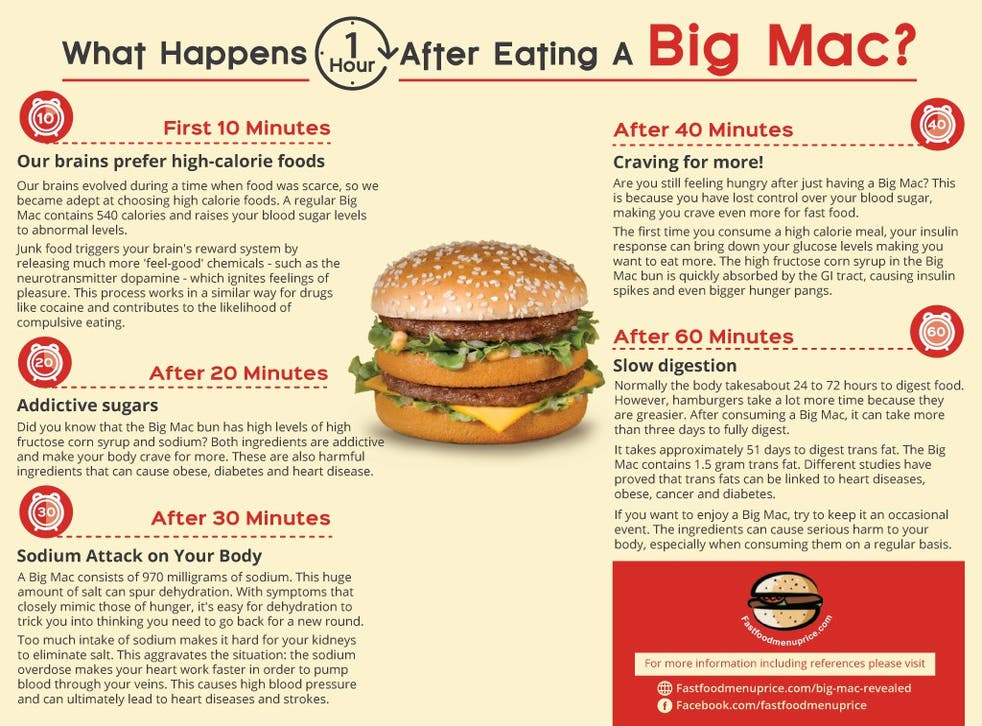 What really happens to your body an hour after eating a Big Mac? Expert debunks claims
It could take more than three days to digest the burger, it is claimed
An expert has debunked a series of claims about the processes your body goes through an hour after eating a Big Mac burger.
According to a graphic published by website Fast Food Menu Price, 10 minutes after eating the McDonald's burger, "feel-good" chemicals have been released creating a feeling of pleasure.
The process, according to the graphic, "works in a similar way for drugs like cocaine and contributes to the likelihood of compulsive eating".
It says that after 20 minutes your body is craving another burger because high levels of fructose corn syrup and sodium are both "addictive".
Half an hour after eating a Big Mac, the graphic claims you can feel dehydrated because of the high levels of salt in the burger.
An hour after eating the burger, the graphic suggests the slow digestion process is taking place - and that it could take more than three days to fully digest the burger.
But a dietitian and spokeswoman for the British Dietetic Association, Priya Tew, said she did not agree with a lot of the information presented in the graphic.
"I think they've overinflated some statements," she told The Independent.
First 10 minutes – Our brains prefer high-calorie foods
"We do naturally have a tendency to prefer high-fat foods. They're more palatable and our body knows that they are energy dense foods… I agree with that," Ms Tew said.
"And I agree that a Big Mac is going to raise your sugar levels. I wouldn't say necessarily to abnormal levels but it is going to raise them."
After 20 minutes – Addictive sugars
Ms Tew said: "It says that the Big Mac bun has high levels of fructose corn syrup and sodium [and] both [items] are addictive.
"There was a study that came out a while back that this claim has come from… however when you look into that study it was actually done on rats and was a really small-scale study… so we can't really... compare it to humans.
"It's not a big enough study to make that assumption from."
After 30 minutes – Sodium attack on your body
Ms Tew said: "I just converted 970mg in sodium and it works out as 2.4g of salt. The guidelines are that adults should have no more than 6g of salt per day so a Big Mac doesn't contain more than a day's allowance.
"It's not enough to cause dehydration in my opinion. But it is a salty food so it's good to be aware."
After 40 minutes – Craving for more
"A Big Mac is going to affect blood sugars to some extent but [the fat will slow] down your digestion. [Your blood sugar levels are] not going to shoot up really fast and then come crashing down because of the fat content that's there.
"I wouldn't say that I agree with this [section]. Mainly you crave some more because you don't think you've had enough… but I don't think your body is naturally going to give you [that] response," said Ms Tew.
After 60 minutes – Slow digestion
"Because it's quite a high-fat item, it will slow down digestion. It says it takes three days to digest, I don't know about that," Ms Tew said.
She did agree with the advice that eating a Big Mac should be an "occasional event" however. "It's not a food to be having every day or every week. It's something to be seen as a treat."
A statement from McDonald's UK said: "We do not recognise the ingredients or nutritional information within this graphic. The so-called facts in this image are misleading and bear no resemblance to the Big Mac available to customers in the UK. We have been displaying nutritional information for all of our menu items for over 30 years so it is a shame to see such inaccurate figures and information being circulated."
Food fast: 10 best ready meals

Show all 10
Join our new commenting forum
Join thought-provoking conversations, follow other Independent readers and see their replies