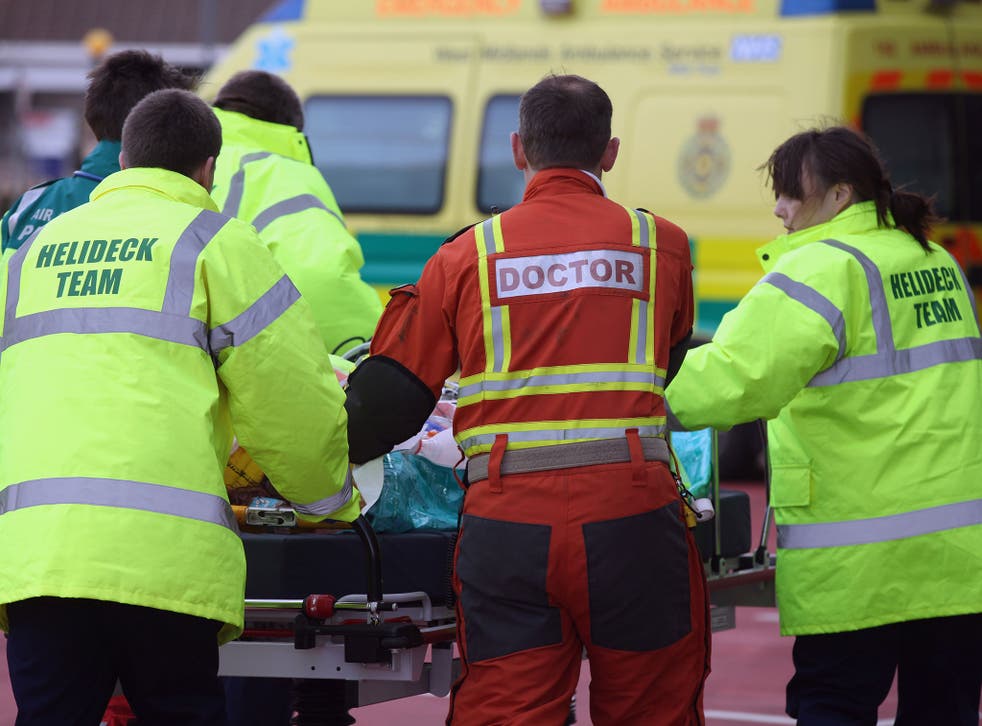 Winter crisis in A&E: Hospitals declare 'black alerts' as admissions shatter records, but full stats still unpublished
Extra funds have little impact as fears rise of 'breaking point' NHS unable to handle major flu outbreak
Charlie Cooper
Sunday 23 November 2014 01:00 Comments
Jeremy Hunt is under pressure to order the publication of a set of reports showing the full extent of pressures on hospitals in England, amid accusations that the Government is attempting to downplay the scale of a potential winter A&E crisis.
Labour said the failure of the NHS to publish its weekly "winter pressures situation reports" raised fears that the Health Secretary "doesn't want people to know what's happening on the NHS frontline". And experts believe that vulnerable people are having more accidents in the home because of cuts in social care.
The NHS insists there has been no political interference. Nonetheless, the reason for the delay remains unclear. If previous practice is followed, whereby figures are published weekly, the delay means that most of the November weeks' figures would not be made public.
The accusation comes amid mounting signs that hospitals are struggling to cope with a surge of patients arriving at A&E. There were more emergency admissions to English hospitals in the second week of November than in any week in NHS history. Performance against the target to treat or admit 95 per cent of patients within four hours has deteriorated rapidly, despite the mild weather. A colder than average winter is forecast.
A number of hospitals have been forced to declare "black alerts" in recent weeks – the highest level of alert, which usually means bed capacity has been reached and that patients arriving at A&E will have to be taken to another hospital or that routine operations will be cancelled to free up bed space.
The winter pressure situation reports, which set out national data on cancelled operations and numbers of ambulances directed away from overcrowded A&Es, were published weekly from November to April last winter. Health analysts had expected comparable data to be published over the same period one year on. NHS England officials are said to have initially blamed a "technical error" for the delay, but this week claimed the reports had been scheduled for release at the start of December instead.
Andrew Gwynne, Labour's shadow Health minister, said: "This sudden decision raises fears Jeremy Hunt doesn't want people to know what's happening on the front line. The Government's boasts on transparency may be proved hollow.
"In recent days, we've seen A&Es reach bursting point and effectively shut their doors to new patients. Hospitals in England are under extreme pressure before winter even sets in. Jeremy Hunt must share what he knows and present a credible plan to bring things back up to scratch."
Hospitals in Peterborough, Portsmouth and King's Lynn have all declared temporary black alerts since mid-October. A major incident at Colchester Hospital in Essex – after an inspection by the Care Quality Commission found "unprecedented" levels of A&E demand – has gone into a second week. Several hospitals now warn patients to think twice before attending A&E, and to attend only in a real emergency.
Winter is always a busier time for hospitals, as respiratory illness are exacerbated by the cold weather. However, NHS bosses are particularly concerned now because demand is growing sharply and performance is dipping despite a mild November and without a major winter flu outbreak.
Richard Murray, a former senior Health Department official, said it was also worrying that extra funds – amounting to £700m – to shore up A&Es did not seem to be having a major impact: "It's nice to get the money, but you need to have nurses... to come in to open up wards."
Typically NHS hospitals cope with winter by opening extra wards, but Mr Murray, the director of policy at the King's Fund think-tank, said many hospitals had not closed these "escalation wards" this year because demand had remained high.
Figures released last week showed that hospitals were already operating near capacity in the summer months, with one in three at occupancy levels of more than 90 per cent between July and September.
"The system is running much closer to the wire than it has run for over a decade," Mr Murray said. "Everyone will be watching the temperature. A sustained cold snap would put a lot more older people in hospital."
He said the heightened demand could not be explained solely by the ageing and growing population.
"If you look at the number of people admitted [to hospital] this year, the population has not got that old, nor that frail, that quickly," he said. "We've been rolling back social care spending and the number of people getting services for a couple of years has been falling, as part of local government's contribution to deficit reduction. The risk is, what we're seeing now is the consequences of that rollback."
A Department of Health source said the decision on when to publish the reports was "nothing to do with the Secretary of State". A spokesman for NHS England said: "Weekly information on winter NHS services and activity will commence in the week starting 8 December following a short review of information requirements … It is for NHS England to decide when to start and stop the publication of winter data."
Register for free to continue reading
Registration is a free and easy way to support our truly independent journalism
By registering, you will also enjoy limited access to Premium articles, exclusive newsletters, commenting, and virtual events with our leading journalists
Already have an account? sign in
Join our new commenting forum
Join thought-provoking conversations, follow other Independent readers and see their replies