With 27,000 cases, swine flu is officially a pandemic
World Health Organisation raises alert status to highest level as infection spreads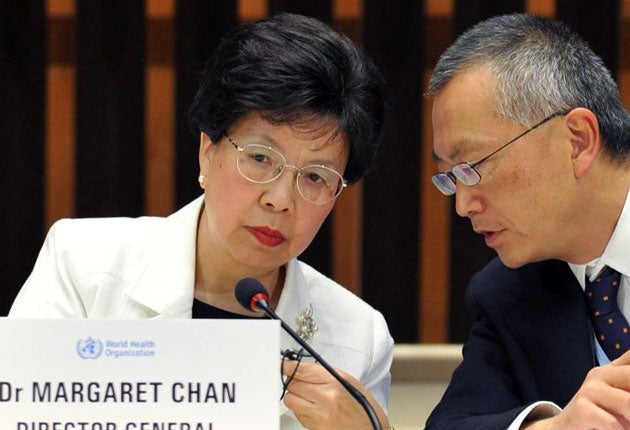 The World Health Organisation yesterday declared a global flu pandemic – the first in more than 40 years – as swine flu spread to 74 countries causing more than 27,000 confirmed cases and 141 deaths.
After intense discussions between WHO officials and the health ministries of the worst-affected countries, the organisation decided to raise its pandemic alert status from phase five to phase six – the highest level – which confirmed that a pandemic is under way.
The decision was taken after evidence emerged that the virus belonging to the H1N1 influenza A family was spreading freely as community-wide infections in several countries within at least two WHO regions of the world.
In addition to spreading widely in Mexico and North America, the virus has also spread extensively in Spain and Britain, as well as Chile and Australia, which saw a four-fold increase in confirmed cases in a single week.
The WHO emphasised that its announcement did not mean that the virus was more dangerous than previously thought or that it was more likely to mutate into a more lethal form, only that it had the capability of spreading easily within many different countries.
However, the WHO's director general, Margaret Chan, warned that influenza viruses were notoriously unpredictable and that the relatively mild symptoms experienced by many people infected with swine flu could turn more severe as the virus changed its genetic make-up. She said further spread was inevitable.
Dr Chan said that the nearly 30,000 confirmed cases were likely to be a small part of the real number because effective influenza surveillance in many countries was not being carried out.
The strain of H1N1 influenza A that first appeared in Mexico in April is "pretty stable" at present but like all flu viruses it could change "without rhyme or reason" from a mild to a severe form, Dr Chan said. "We have to brace ourselves for more deaths," she said.
The WHO is negotiating with manufacturers to develop and produce vaccines. It is not recommending restrictions on travel or the closure of borders as a result of declaring a pandemic, Dr Chan said.
The Department of Health said that the announcement had no immediate implications for the British public, but it could result in the Government taking further preventative measures, such as imposing travel bans and ordering an increase in the production of flu vaccines. The NHS will check that emergency plans are in place and tested.
Join our commenting forum
Join thought-provoking conversations, follow other Independent readers and see their replies