The Independent's journalism is supported by our readers. When you purchase through links on our site, we may earn commission.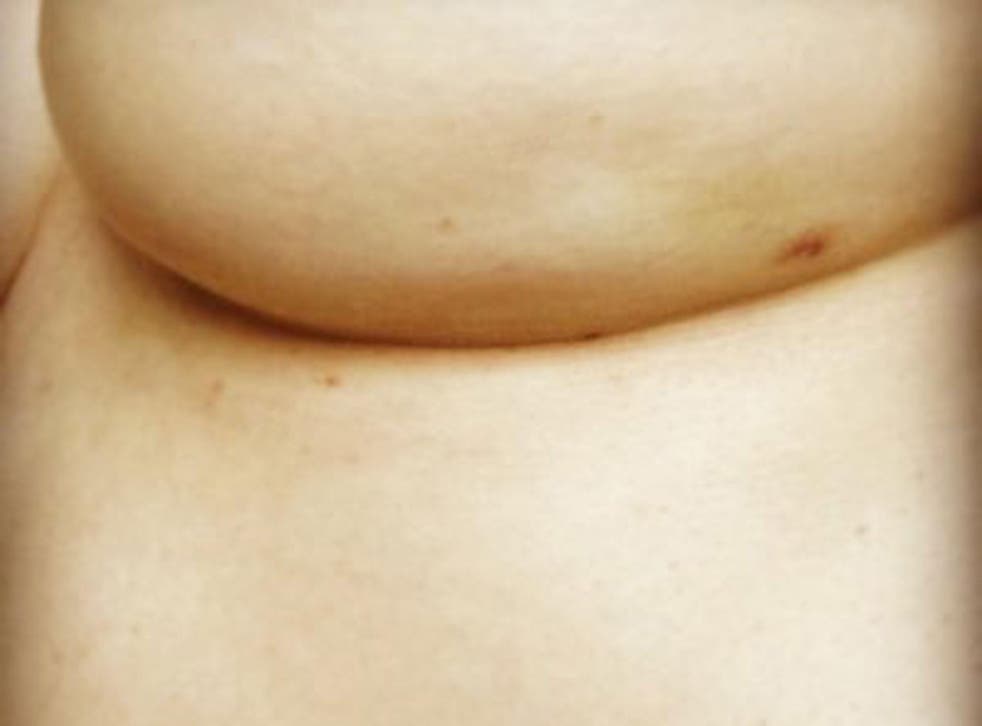 Woman shares photo of dimple to raise awareness of breast cancer symptoms
Claire Warner said she was inspired to share her photo after another woman's Facebook post alerted her to her own symptom 
Loulla-Mae Eleftheriou-Smith
Wednesday 13 July 2016 11:57 Comments
Most people associate a lump or a change in size and shape of their breast as a sign of breast cancer, but one woman has shared a picture of a dimple on her breast to raise awareness of the other symptoms involved.
Claire Warner posted a picture of her left breast on social media after being diagnosed with breast cancer. The picture shows the underside of her breast, with an obvious mark of a bruise from where she had a biopsy taken, next to a less obvious possible sign of cancer: a dimple.
Ms Warner shared the picture on Facebook with a message encouraging women to check for all abnormalities on their breasts, not just lumps. The post was shared more than 25,000 times but has since been made private after Ms Warner became inundated with messages.
Ms Warner said on Twitter that the story of Lisa Royle, a woman who shared her own picture of a dimple on her breast on Facebook, had alerted her to her own symptom.
"It was this Facebook post by this amazing lady that alerted me. I felt no lump. Just saw the dimple, please check!!" she wrote.
She has been diagnosed with a 14mm grade three invasive ductal carcinoma, which is curable, and will undergo surgery, chemotherapy and radiotherapy to treat it.
Ductal carcinoma in situ (DCIS) means that some of the cells inside the breast ducts have started to become abnormal and turned into cancer cells, Cancer Research UK states.
The NHS states that while 90 per cent of breast lumps are not cancerous, it is always advisable to have them checked by a doctor.
Other possible symptoms of breast cancer are: a lump or area of thickened tissue in a breast; a change in the size or shape of one or both breasts; discharge from a nipple; a lump or swelling in an armpit; dimpling on the skin of the breast; a rash on or around a nipple; or a change in the appearance of a nipple, such as becoming sunken.
Register for free to continue reading
Registration is a free and easy way to support our truly independent journalism
By registering, you will also enjoy limited access to Premium articles, exclusive newsletters, commenting, and virtual events with our leading journalists
Already have an account? sign in
Register for free to continue reading
Registration is a free and easy way to support our truly independent journalism
By registering, you will also enjoy limited access to Premium articles, exclusive newsletters, commenting, and virtual events with our leading journalists
Already have an account? sign in
Join our new commenting forum
Join thought-provoking conversations, follow other Independent readers and see their replies