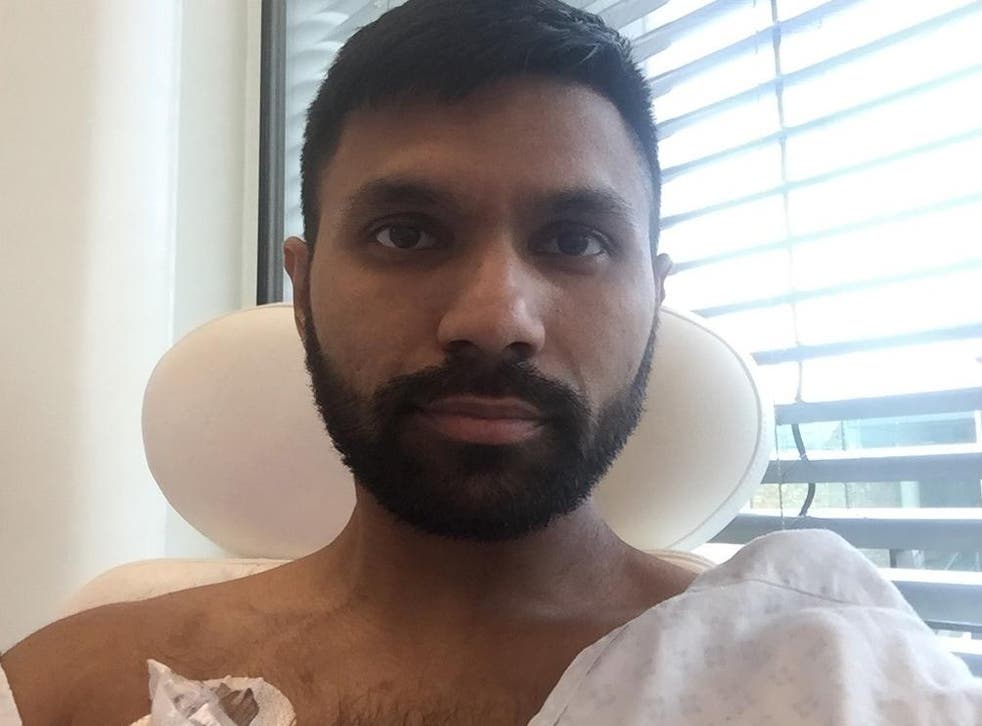 World cancer day 2017: 'Huge rise' in crowdfunding campaigns to pay for new cancer treatments
Colon cancer patient raises £200,000 for potentially life-saving drug not yet available on NHS
The number of cancer patients raising money for treatment not available on the NHS has risen by seven times in the last year, data has shown.
Doctors have expressed concern that patients may be spending huge sums on inappropriate drugs, but Mo Haque, who raised £200,000 for a new and potentially life-saving treatment, told The Independent he saw "no other alternative".
"For me it was a last resort," said the 34-year-old from north London, who was diagnosed with late-stage colon cancer in December 2014. "I had a year of NHS treatment, 18 cycles of chemotherapy, but the disease progressed into the lymph nodes."
When Mr Haque was told there were no more treatment options available to him on the NHS, his oncologist submitted a request to the health service to try immunotherapy, a new type of treatment that boosts the body's immune system to fight the cancer.
Immunotherapy drugs are at varying stages of research. They are already used on the NHS to treat advanced skin cancer and some cases of lung cancer.
But Mr Haque's request was refused and he was encouraged by a friend to set up a crowdfunding page to raise money to pay for the drug, which costs around £6,500 every three weeks, privately.
Writer AA Gill dies after short battle with cancer
Cancer patients or their friends and relatives set up 2,348 appeals on crowdfunding site JustGiving in 2016, raising more than £4.5m in total – up from £530,000 in 2015, reported the BBC.
Immunotherapy was the most popular treatment crowdfunded on JustGiving last year.
Consultant oncologist Dr Clive Peedell told the broadcaster it was "very worrying" to see the rise in patients raising money for their own treatment, as the vast majority of proven, effective cancer drugs were available on the NHS.
"It would be interesting to review all the cases to find out how many are genuinely appropriate. I worry that some patients may be trying to access treatment that may not be beneficial," he said.
"Worse still, there may be significant extra costs involved, especially if patients pay privately or travel abroad."
Mr Haque said since starting the treatment, which he has had as a self-funded patient at the Macmillan Cancer Centre at London's University College Hospital, his tumours had shrunk by an average of 50 per cent.
He said he feels "really good" and without the treatment, "I wouldn't have been able to go out for evenings… I would have been too weak, a lot of dizzy spells, the fatigue, and the pain. Untreated, I may not have been here, is the harsh truth."
13 ways to help prevent cancer

Show all 13
"Where there are no NHS options, it's like 'what can you do?' There's no other alternative, there is no choice – you either get no treatment and have the eventuality of dying, or you at least try something," said Mr Haque, who has begun campaigning with health management firm Alivia for a greater range of cancer treatment options.
An NHS England spokesperson told the BBC it was providing £200m of funding to improve local cancer services.
They said the NHS has launched a "new-look cancer drugs fund, meaning patients will be able to access promising, new and innovative treatments much quicker" with the National Institute for Health and Care Excellence (NICE).
"More people than ever before are surviving cancer thanks to improved NHS care," they added.
The first immunotherapy treatment for metastatic bladder cancer has been fast-tracked under the Early Access for Medicines Scheme, it was announced last week.
Atezolizumab will now be available to patients with advanced bladder cancer that develops from the cells of the bladder lining, but only if they have already had chemotherapy.
Join our new commenting forum
Join thought-provoking conversations, follow other Independent readers and see their replies