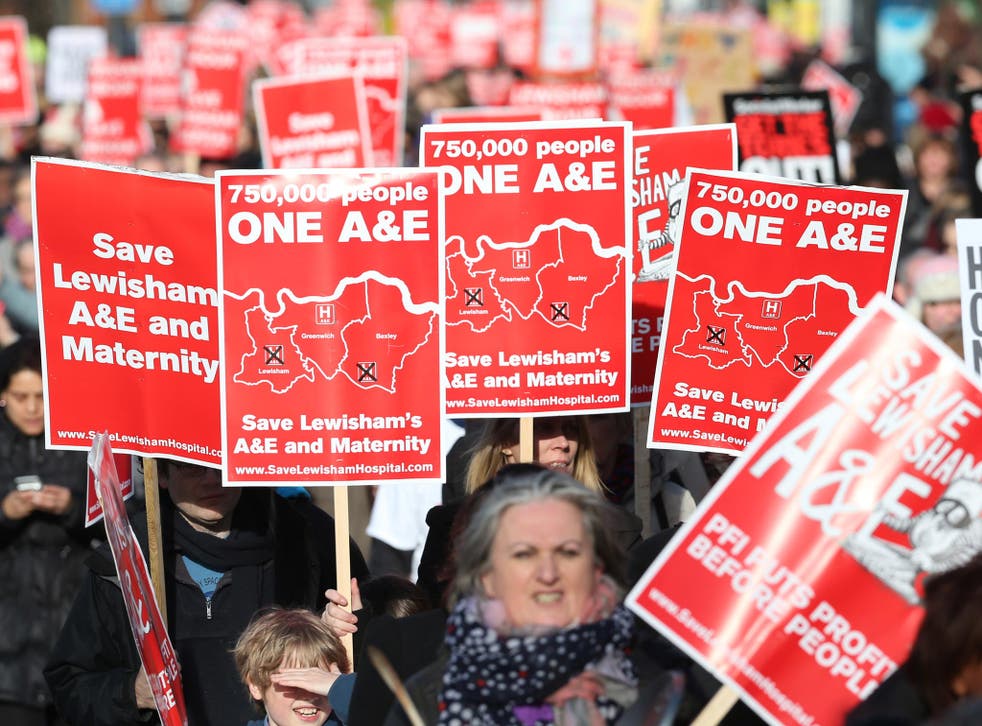 You can't slash A&E services at Lewisham hospital: Jeremy Hunt overruled by High Court
Judge rules that Jeremy Hunt acted outside his powers with announcement to MPs
Charlie Cooper
Wednesday 31 July 2013 11:57 Comments
Plans to slash services at a successful London hospital have been declared unlawful, in a blow to the health secretary Jeremy Hunt, which could have major repercussions for future NHS hospital shake-ups.
In an unexpected triumph for local campaigners, a High Court judge ruled yesterday that cuts at Lewisham Hospital, approved by Mr Hunt earlier this year, should never have been recommended in the first place.
Lewisham Hospital was threatened when a neighbouring trust, South London Healthcare Trust, which was losing £1m a week, was placed in administration. As part of plans to reconfigure local services, the administrator said Lewisham Hospital should make cuts to its maternity and A&E services - despite the fact it operated as a separate trust and was performing well.
But Mr Justice Silber ruled yesterday ruled that the administrator had no powers to make decisions affecting Lewisham or any hospital outside SLHT, and Mr Hunt had breached the provisions of the National Health Services Act 2006 when he approved the plans.
The ruling has cast serious doubts over the powers of Trust Special Administrators (TSAs), who are brought in to manage failing NHS trusts. Last night the Department of Health was understood to be examining whether it could change legislation to expand their powers so that they could authorise broader service shake-ups beyond their trust.
Mr Hunt had told MPs the changes at Lewisham, part of wider shake-up of services in the capital, would improve patient care in south London, saving up to 100 lives a year,
But local campaigners, backed by Lewisham Council and local GPs, protested the move, arguing that Lewisham Hospital's successful services should not be shut down to solve problems at a neighbouring trust.
Campaigners claimed that the Government had used the TSA to reorganise local services "by the back door", without proper consultation. Mr Justice Silber also ruled that the TSA and the Government had failed in their duty to get the support of local GPs before any changes were recommended.
Lewisham's Labour MP, Joan Ruddock, told The Independent: "This is the most significant community based battle that has ever succeeded in my political life. To take on the government in the high court, to win, is exceptional. We had a demo which tuned out 25,000 people for a local cause."
"The government has been utterly arrogant in its approach. They have failed to listen, not just to local people, but to the clinicians, and the whole medical establishment in Lewisham," she said. "It was an attempt to use legislation to bring about change through the back door that could never have been justified. This was an accountant's solution. This government is far too focused on the accounts, rather than the public service. This was a proposal that had no common sense attached to it."
Doctors called for an urgent review into Mr Hunt's actions.
"It is deeply worrying in the case of Lewisham Hospital that the High Court has found that the health secretary breached his statutory powers when making the decision to downgrade the emergency care department and maternity units at the hospital," said Dr Mark Porter, chair of the BMA Council. "Doctors, healthcare staff and patients were concerned that the consultation period was too short and that local people needed more time to put their views across. It is vital that changes to services have the confidence of the local community and the NHS staff who work there."
A Department of Health spokesman said the government would appeal the decision.
"This judgment applies to one aspect of a package of changes which we believe are in the best long-term interests of patients and the public across south east London," the spokesman said. "As it stands, the South London Healthcare NHS Trust has been running at a loss of about £1m a week - money that has to be diverted from frontline patient care. We expect to continue other elements of that package of changes, including the dissolution of the South London Healthcare NHS Trust, planned for October 1…
"Experience in south east London certainly suggests that it can be necessary for changes to be made at more than one Trust in order to find a sustainable service model. That's why we are appealing the decision, and considering our further options carefully. It is certainly the case that one way to put the matter beyond doubt would be to amend the primary legislation governing the administration process."
Register for free to continue reading
Registration is a free and easy way to support our truly independent journalism
By registering, you will also enjoy limited access to Premium articles, exclusive newsletters, commenting, and virtual events with our leading journalists
Already have an account? sign in
Join our new commenting forum
Join thought-provoking conversations, follow other Independent readers and see their replies