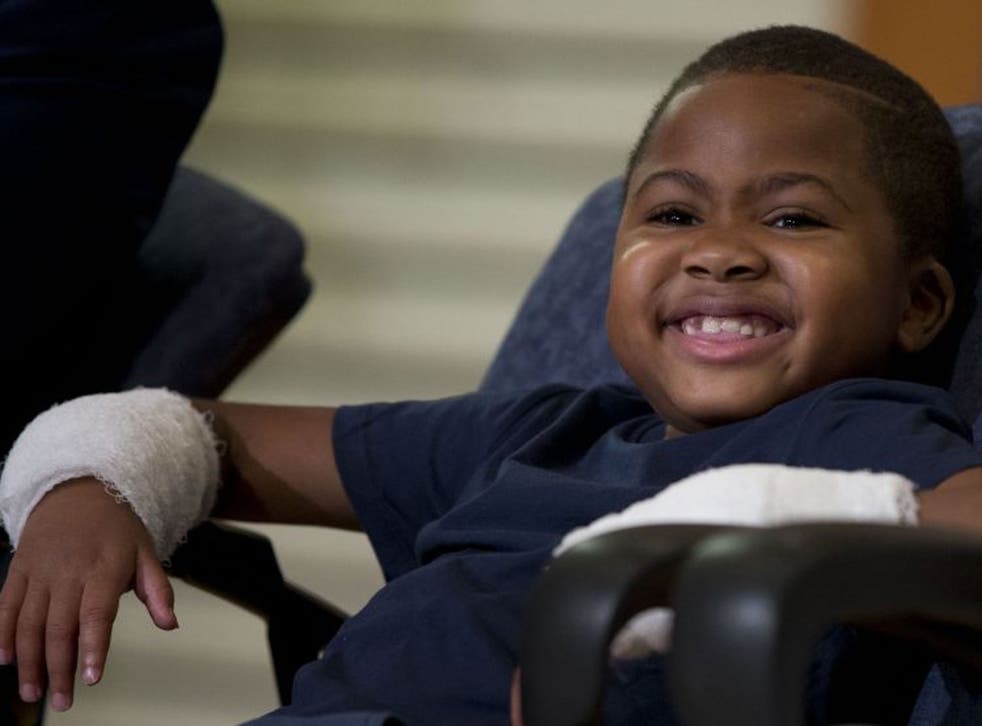 Eight-year-old boy Zion Harvey says of double hand transplant – 'it feels weird, but good'
The hospital has waived any additional costs not covered by expenses
An eight-year-old boy who was forced to have his hands and feet removed after he suffered a serious infection has become the youngest person in the US to receive a double hand transplant.
Doctors at the Children's Hospital of Philadelphia performed the 11-hour operation on Zion Harvey, from the suburbs of Baltimore, Maryland, in June.
A 40-person-strong team of medics used steel plate and screws to graft together the old and new bones, before carrying out the meticulous task of reconnecting the child's arteries, veins, muscles, tendons and nerves.
Days after the procedure was made public, the young boy appeared at a press conference with heavily bandaged hands, where he demonstrated his new grip.
Zion said waking up with new hands was "weird at first, but then good."
"He woke up smiling," said Dr. L. Scott Levin, who heads the hand transplant program. "There hasn't been one whimper, one tear, one complaint."
Read more:
Stem-cell treatment could restore babies' organs
Organ donation has fallen for the first time in a decade
Moroccan boy Yahya El Jabaly born with no nose, eyes, or functioning mouth given 18-hour life-changing surgery
Zion's ordeal began as a toddler when he contracted sepsis, which triggered multiple organ failure and the forced the amputation of his hands and feet.
By age 4, Zion needed a kidney transplant, which was donated to him by his mother, Pattie Ray.
After losing his hands, the young child learned to use his forearms to write, eat and play video games.
Doctors now hope that Zion will make his dreams of throwing a football and swinging on the monkey bars a reality.
Addressing the potential risk of allowing her son to undergo the operation, Ms Ray told reporters: "It was no more of a risk than a kidney transplant. So I felt like I was willing to take that risk for him, if he wanted it."
Several adults in the US were given new arms or hand over the past few years, however hospital officials believe Zion is the youngest person to have the surgery in the States.
Zion must now take drugs to suppress his immune system's response to the foreign hands, or else his body may reject them.
His body has already reacted well to the anti-rejection drugs he must take following his kidney transplant, meaning he was a good candidate for the hand transplant, doctors said.
Children's Hospital said it would not hold Zion's family liable for any costs beyond that which may be covered by medical insurance.
Additional reporting by AP
Register for free to continue reading
Registration is a free and easy way to support our truly independent journalism
By registering, you will also enjoy limited access to Premium articles, exclusive newsletters, commenting, and virtual events with our leading journalists
Already have an account? sign in
Register for free to continue reading
Registration is a free and easy way to support our truly independent journalism
By registering, you will also enjoy limited access to Premium articles, exclusive newsletters, commenting, and virtual events with our leading journalists
Already have an account? sign in
Join our new commenting forum
Join thought-provoking conversations, follow other Independent readers and see their replies