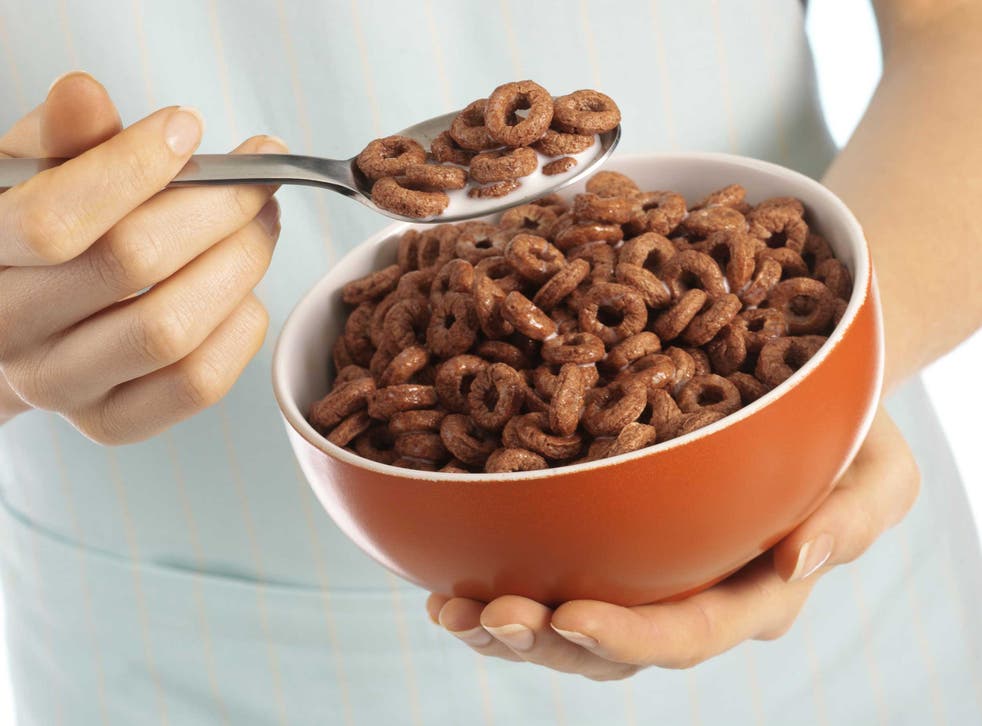 Healthy eating: Cereal boxes in your kitchen can be used to predict your weight
Keeping a box of cereal out on the kitchen counter means you are likely to weigh more than people who keep their cereal boxes tided away, according to a new study.
Researchers used photographs of more than 200 kitchens in New York to try to predict the weight of their occupants based on what foods were left out in the kitchen.
They found that in households where boxes of breakfast cereal were left on the counter top, the subject weighed 20lbs (9kg) more than neighbours who kept their cereal (if they had any) tided away.
Cornell University professor Brian Wansink, the study's lead author, said: "As a cereal lover, that shocked me. Cereal has a health-halo, but if you eat a handful every time you walk by, it's not going to make you skinny."
Cereals were not the only predictor of weight. Where a subject had soft drinks left out on their kitchen counter, they weighed between 24 and 26lbs (10-11kgs) more, while biscuits and crisps added 8lbs (4kg).
But where a subject had a fruit bowl on the counter, they weighed about 13lbs (9kg) less.
"It's your basic See-Food Diet - you eat what you see," Wansink said.
He also appeared in an online video to explain the study's findings, making a valiant effort to avoid being distracted by what appears to be dancing going on in the background:
The survey - dubbed 'the Syracuse study' because its all-female subjects lived in Syracuse, New York - was published in the journal Health Education and Behavior.
Wanswick, who is the director of Cornell's Food and Brand lab and author of the book 'Slim by Design', said: "We've got a saying in our Lab, 'If you want to be skinny, do what skinny people do'.
"If skinny people make their homes slim by design by clearing the counters of everything but the fruit bowl, it won't hurt us to do the same."
His advice? Make sure you keep your cereals and biscuits in the cupboard, not on the counter.
Register for free to continue reading
Registration is a free and easy way to support our truly independent journalism
By registering, you will also enjoy limited access to Premium articles, exclusive newsletters, commenting, and virtual events with our leading journalists
Already have an account? sign in
Register for free to continue reading
Registration is a free and easy way to support our truly independent journalism
By registering, you will also enjoy limited access to Premium articles, exclusive newsletters, commenting, and virtual events with our leading journalists
Already have an account? sign in
Join our new commenting forum
Join thought-provoking conversations, follow other Independent readers and see their replies