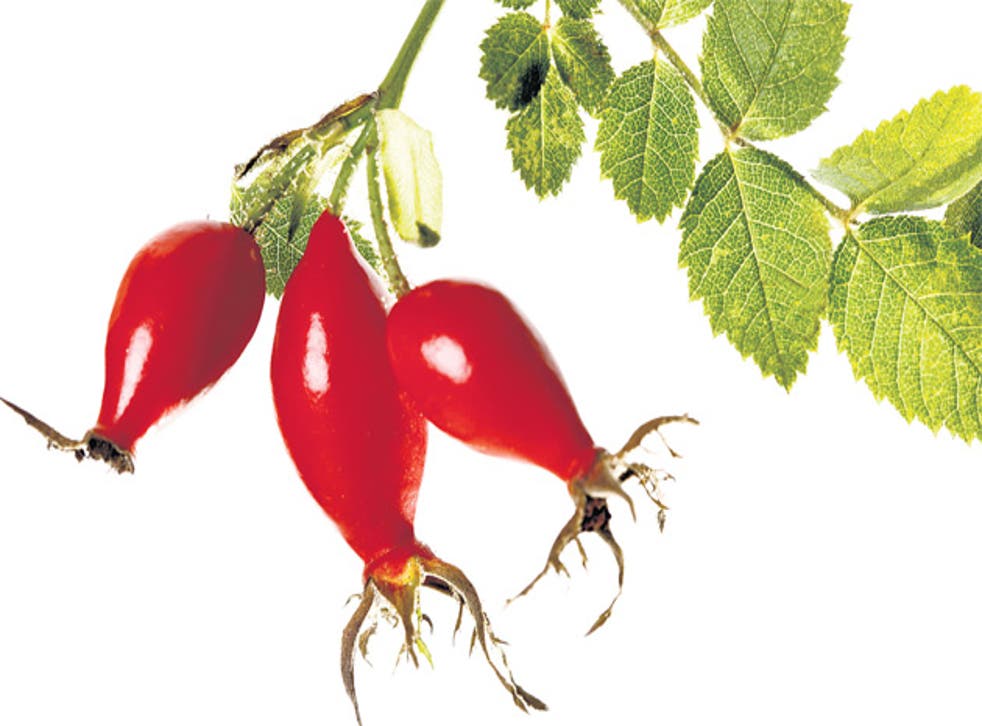 Rosehip - Make your skin zing
Forget scientific serums created in a lab – the latest cult beauty ingredient is the rosehip. Bethan Cole reports from Chile
A few miles south of Chile's capital, Santiago, vats of oil tower over the dusty, potholed road. This is the pressing plant where one of skincare's truly magical ingredients is processed: Rosa Mosqueta rosehip seed oil. Chilean gold.
Rosa Mosqueta is the main ingredient in Barefoot Botanicals' Rosa Fina range, a collection of cult preparations that aim to rejuvenate skin and combat wrinkles, scarring and redness. We meet Eduardo Parra, assistant export manager, at the gates and enter a building papered with brown hessian, Seventies-style. "Chile is the main producer of rosehip syrup," he tells us, "after South Africa, Argentina and Peru. Rosehips grow in the south of Chile high in the Andes, near the ocean where there are low temperatures."
The rosehips are harvested every three months and have a shelf life, without preservatives, of 18 months. Once the oil is pressed it may oxidise and go rancid. It's mainly used to make cosmetics although it can be taken as an antioxidant supplement. "Two tonnes are made every three months of each type: refined oil, natural rosehip seed oil and organic rosehip seed oil." says Parra. "The price of the organic oil is higher and there is a greater demand."
We pass into the laboratories where rows of flasks containing sunshine- and sunset-hued oils are lined up. The oil comes from the seeds, and each seed contains just seven per cent oil. The natural and organic oils are cold pressed twice – the first pressing is the virgin pressing – and we watch as seeds are loaded into a machine in the warehouse before being ground and pressed into oil. There's barely any waste as the skin of the fruit is used to make tea.
The founders of Barefoot Botanicals, Jonathan Stallick and Hilery Dorrian, came across Rosa Mosqueta as homeopaths after hearing that the Mapuche Indians in the Andes had been using it for hundreds of years. Stallick met Dorrian more than 20 years ago at the College of Homeopathy in London. The company started when Dorrian's daughter came home from school with head lice. Dorrian scoured health stores for a natural remedy but drew a blank. The two created a concoction of natural ingredients in a base of Sainsburys own-label vodka. It worked.
The company was born 12 years ago and has three tenets, Stallick explains: "To have a 100 per cent natural ethical aspect, to be efficacious and target eczema and psoriasis, and to have a high quality of texture and aroma. A lot of the natural brands have a sort of tacky, gunky feel. We wanted a product that could go head to head with anything. Our aromas are more subtle than other natural brands." So how does the fact that Rosa Mosqueta oil is flown in from Chile sit with their ethics? "Yes, that will ramp up the carbon footprint but we're also helping indigenous communities, so there's a trade-off," reasons Stallick.
Rosa Mosqueta's official name is Rosa Affinis Rubiginosa and it is also known as the Sweetbriar Rose. It has high levels of essential fatty acids which are considered beneficial for the health of cell membranes and the skin's barrier function. It's also a plentiful source of tretinoin, a source of Vitamin A, which is believed to stimulate collagen, regenerate skin tissue, minimise fine lines and wrinkles, and smooth and clarify sun-damaged skin. Several clinical studies back up the efficacy of Rosa Mosqueta oil.
A certain group of people in Chile have known about Rosa Mosqueta for centuries: the Mapuche Indians. Back in downtown Chile we are searching for one of their special indigenous pharmacies. Santiago's roads are like racetracks and we head downtown to an area of shabby department stores and dusty roads and find a small, blue-fronted chemist shop. There, sure enough, alongside well-known European brands such as Weleda and Floradix, is Rosa Mosqueta. "The Mapuche Indians are the indigenous tribe of Chile," says the pharmacist, "and their traditional culture has survived more or less intact. The Mapuche have used the Rosa Mosqueta rosehip for many centuries – they make a jam from it which is very rich in vitamin C and still very popular."
The Mapuche also massage each other with the oil, particularly on the face, an ancient medical technique for healing the skin. The oil is used traditionally to soothe sunburn and other burns, heal scarring, treat baby rash and stretch marks during pregnancy, and protect the skin from the harsh high altitudes. For my part, I've become a dedicated user of Rosa Mosqueta (and I'm in good company: the model Stella Tennant is also a fan). Rosa Fina Instant Youth Serum is a natural alternative to the classic Clarins Beauty Flash Balm, and Rosa Fina Anti-ageing hand and nail cream has certainly helped my eczema. We might feel we're at the cutting edge of technology, but sometimes it turns out that nature – and the secrets of the people who live in harmony with it – had the answers all along.
Beauty larder Tasty natural ingredients
Pomegranate
One of the top superfoods, pomegranates are bursting with antioxidants, which do your body a lot of good when eaten, but when added to topical skin creams they can rejuvenate the upper layers of the skin, by promoting cell growth and elasticity. Try the Pomegranate Balancing Moisturiser from Korres for an extra boost.
White tea
Forget freeze-dried Tetley: white tea comes from the youngest, freshest buds of the tea plant. The active ingredients are known as polyphenols, one of the strongest types of antioxidant, making it an excellent detox drink. Origins' A Perfect World serum is designed to help skin maintain a youthful vitality.
Olive
The Greeks had it right all along – olive extract is one of the most powerful moisture restoratives known to man. It's also a soothing ingredient, and adds a buttery texture to soaps, cleansers and creams. Provençal beauty brand L'Occitane use an olive extract in its organic moisturising lotion to calm redness and smooth dry patches.
Quince
Organic skincare expert Dr Hauschka is famous for his Quince Day Cream, which harnesses the power of the plant to de-stress and balance aggravated skin. Packed with antioxidants, the fruit is thought to be the golden apple for which Atalanta raced in Greek mythology. The lotion is rich but not heavy, and leaves a dewy radiance.
Seaweed
Kelp is taken from seaweed, which is naturally rich in vitamins and minerals and has a high iodine content. Used in wraps and washes, and ground up in potions, it prevents skin from sagging, acts as an antiseptic and can be used to diminish scarring. It's also the active ingredient in the acclaimed beauty products from Crème de la Mer.
Bethan Cole travelled on American Airlines to Santiago via Dallas, www.americanairlines.co.uk
Join our new commenting forum
Join thought-provoking conversations, follow other Independent readers and see their replies