Inside Tracy Anderson's new $900-a-month gym that Gwyneth Paltrow loves
The fitness guru's new workout studio is an overheated torture chamber for Manhattan's rich and famous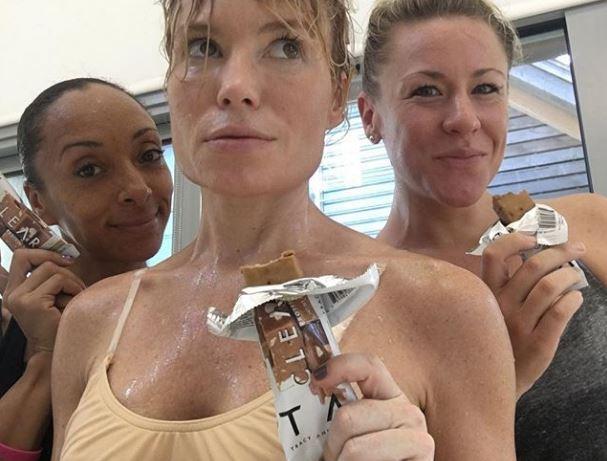 Walking into celebrity trainer Tracy Anderson's new studio on the Upper East Side of New York City is like entering the world's most glamorous hospital.
Every surface – from the walls, to the floors, to the marble countertops – is stark white and obsessively clean. Antiseptically bright light streams from the ceilings and gleams off the polished veneers.
The sparse walls are interrupted only by glossy blow-ups of Ms Anderson herself: swinging from monkey bars; posing on the cover of Health magazine; vamping in a photo shoot with Gwenyth Paltrow – one of her first celebrity devotees.
Attached to the studio is a TA-brand cafe, which serves up health tonics such as the "peach detox" smoothie: peach detox tea blended with a handful of organic greens and organic vanilla protein powder.
In the back is, inexplicably, a selfie station, where gym-goers can capture their blotchy, post-exercise faces under perfectly adjusted lighting.
Outside is a dazzling old marque board, now used to advertise the day's classes. The studio is, in fact, an old theatre, which Ms Anderson has gutted and transformed into a glamorous New York fitness mecca.
And it can all be yours, for only $900 (£700) a month.
Ms Anderson co-opened her new 59th street studio with Ms Paltrow, the Oscar-winning actress and self-proclaimed lifestyle expert, who weighs in on everything from the menu options at the cafe to the songs played in class.
The two co-owners' preferred training programme sounds somewhat like a form of medieval torture: one hour of cardio followed by one hour of strength training, six days a week.
It's also not exactly backed up by science.
According to a New York Times profile of the trainer, she has no certification in fields like exercise physiology or teaching, because she'd rather dedicate her time to "research and development of the method".
Needless to say, arriving at Ms Anderson's studio for my first class recently, I was sceptical. But watching the parade of tanned, toned legs flock out of the building, I was also a little bit hopeful.
I was greeted at the entrance by a friendly, bubbly woman named Julie, playing double duty that day as manager and receptionist. Our conversation was often interrupted by gym members eager to check in, and I remarked that it seemed like a busy day.
"Oh no, this is actually quiet," she told me. "Most of our members go to the Hamptons for the summer."
The mention of New York's ritziest getaway quickly reminded me that membership at this gym costs about as much as my rent for a month.
There's also a $1,500 initiation fee involved – if you can get in. Membership at this location is limited to about 300 people total. Women not lucky enough to score a place in the #TAmily can pay $45 for a drop-in class, but only at off-peak times.
In return for dropping almost a grand a month, Tracy Anderson members get unlimited access to her signature classes, as well as a "custom muscular structure programme".
Ms Anderson meets with each new member individually and creates a personalised training program for them, which rotates every ten days. Members can perform their customised plans in a smaller room at the studio, where a TA-certified trainer watches over their moves and tracks their progress.
The locations of the studios also speak to Ms Anderson's specific kind of clientele: There's this Upper-East-Side location, a trendy downtown studio in Tribeca, two studios in Los Angeles, one location in London, and of course, two locations in the Hamptons. (Julie told me they actually have to ship instructors out to the Hamptons in the summer because demand is so high.)
Perhaps its no surprise then, that the attendees at Wednesday's class were largely young, white, well-groomed, and well-dressed.
In fact, I appeared to have broken the unspoken rule of wearing black leggings and a breezy black tank top to every class. I briefly contemplated buying pair of TA-brand leggings, but took one look at the price tag – $80 – and baulked.
Waiting for the class to start, I perused some of the other merchandise at the front of the studio. Along with Ms Anderson's signature protein powder, they were selling TA-brand "Clear" bars – organic protein bars which Ms Anderson suggests as a meal replacement for weight loss. ("If you have an unhealthy amount of weight to lose, there is no such thing as a 'snack' – you broke that bank a while ago," she recently told Ms Paltrow's wellness website, Goop).
I picked up a box of the protein bars to examine them. They were less than 250 calories each. I put the box down.
It is probably worth mentioning that Ms Anderson has attracted much of her covetable client list, which includes the likes of Jennifer Lopez and Madonna, by teaching women how to shrink. Literally.
"She makes everything small!" Ms Paltrow recently gushed to Oprah. "She wants women to be long and lean and defined."
The five-foot-tall trainer has also spoken out actively against women lifting heavy weights, for fear of ruining their feminine figures.
"While bulkier muscle looks OK on women in their 20s and 30s, it doesn't age well," she told Goop.
Apparently, 220-calorie meals are just part of the programme.
Curious about what else a TA-devotee can eat, I wandered into the adjoining cafe.
The kitchen was closed (they were only serving lunch as of press time), but the menu was pretty much exactly what you'd expect from a health food joint: protein smoothies, gluten-free sandwiches, and of course, avocado toast.
Julie told me the meals will be available for delivery via Postmates soon, which, according to Ms Anderson, will allow members to "know they are eating in a way that is aligned with how they moved".
I still have no idea what this means.
All my window-shopping options exhausted, it was finally time for the class to start. I'd signed up for Ms Anderson's "aTAin defintion" class, which promised to be "50 minutes of mat-based work which will involve your arms, your abs, and your legs," and to "activate and engage the full spectrum of major and minor accessory muscles". Julie offered to sign me up for the dance-based "catalyst cardio" class; I politely declined.
Walking into the sprawling classroom, I realised I had forgotten one crucial part of the Tracy Anderson method: All of her workout rooms are heated.
Stepping into a TA-brand workout room is like descending into a hot subway platform – the kind most New Yorkers spend the entirety of their summer trying to avoid. Each room is specifically set to 86 degrees, and 65 percent humidity, via a combination of humidifiers and infrared lamps.
The reason for this torture changes depending on who you ask: Julie told me it's to keep members alert and increase calorie burn, while my instructor told me it's to allow your body to move more easily, and improve your skin. Either way, it is extremely uncomfortable.
There were only four other women in my class that day, plus the instructor, making it possibly the least-crowded space I'd inhabited since moving to Manhattan. Each attendee was given a TA-brand mat, three-pound hand weights, ankle weights, and an armful of white towels.
The workout room was, unsurprisingly, all-white, with only a few artfully displayed resistance bands for colour. Amazingly, however, the class itself managed to be even more clinical than its surroundings.
Tracy Anderson instructors, I learned, do not speak during their lessons. Instead of following along with the instructor's cues, I was to watch her movements and do as she did. The entire class proceeded completely un-narrated, set only to the sounds of top-40 pop blasting from the speakers.
In theory, according to Ms Anderson, this method keeps the brain focused on the workout, and tricks the body burning more calories. In practise, it makes the whole thing exceptionally difficult, since the exercises move at light speed and seem to change every thirty seconds.
Somehow, however, the four other attendees in the room seemed to know exactly what to do. They swayed their hips and pumped their arms seamlessly, while a long-suffering assistant stopped by my mat to show me the unnatural way I should be contorting my body to match the rest of the class.
We proceeded like this for the better part of an hour, undulating on the floor, swinging three pound weights over our heads, and thrusting our weighted ankles to the sky, all while staring intently at the expressionless instructor at the front of the room.
To an outsider, it must have looked like we were participating in an odd, futuristic dance ritual – albeit in a future where all women are cyborgs who can not only lift their toes above their heads, but also want to do so repeatedly in an overheated room in Manhattan in the middle of the summer.
Leaving the class that day, my mind exhausted and my body drenched in sweat, I was stopped by my instructor, who asked how my first classed went.
"Hard!" I replied. "Hot!"
"Welcome to our world," she said, and threw me a cyborg smile.
Join our commenting forum
Join thought-provoking conversations, follow other Independent readers and see their replies