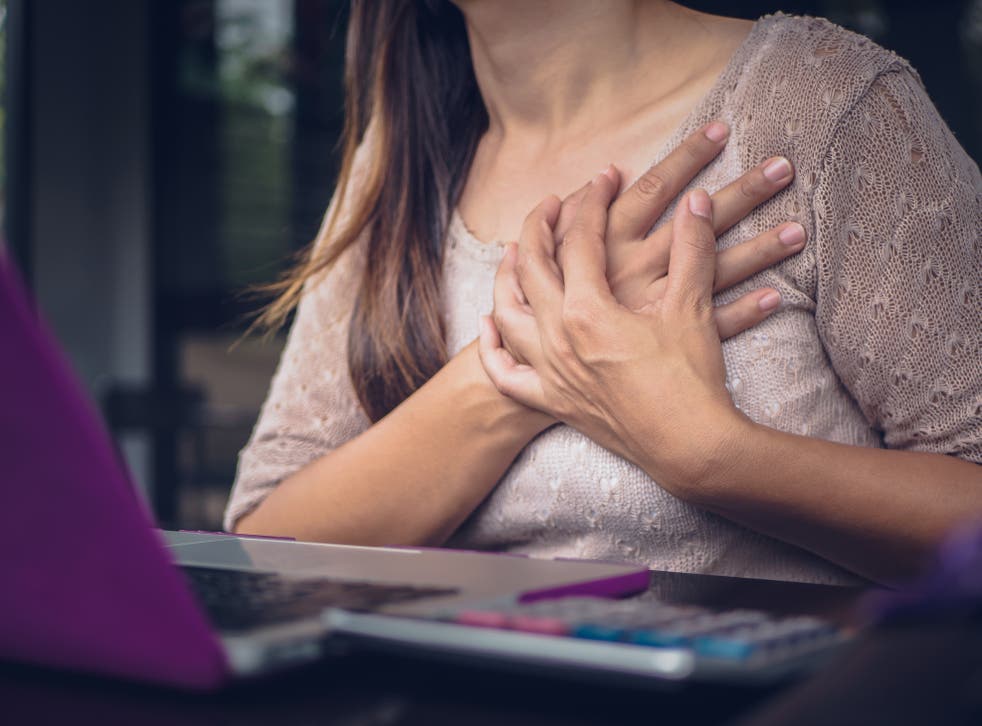 Women who suffer heart attacks 'half as likely as men to receive treatment'
'Unconscious biases may influence the diagnosis'
Sabrina Barr
Tuesday 15 October 2019 09:55 Comments
Women who suffer from heart attacks are half as likely as men to receive the recommended medical treatment, a new study has claimed.
Researchers from the University of Edinburgh investigated how 48,000 people responded to the use of high sensitivity troponin blood tests, which were calibrated differently for women and men.
Just under half (47 per cent) were women, had gone to Accident and Emergency hospitals in Scotland after suffering from chest pain. Following the troponin blood test, a similar proportion of women (22 per cent) and men (21 per cent) were found to be suffering from a heart attack or injury.
However, despite their diagnoses, it was discovered that the female patients suffering from heart attack or injury were half as likely as the male patients to receive adequate treatment.
Only 15 per cent of the female patients were fitted with a stent, in comparison to 34 per cent of the male patients.
Meanwhile 26 per cent of the women were treated with dual antiplatelet therapy, in comparison to 43 per cent of the men, and 16 per cent of the women received preventative treatments such as statins, in comparison to 26 per cent of the men.
The study was funded by the British Heart Foundation (BHF) and published in the Journal of the American College of Cardiology.
The study follows recent research also funded by the BHF that found that a "heart attack gender gap" caused around 8,000 women in England and Wales to needlessly die over a 10-year period, as they did not receive the same treatment as men.
Dr Ken Lee, clinical research fellow at the BHF and author of the latest study at the University of Edinburgh, stated the the diagnosis of a heart attack "is only one piece of the puzzle".
Health news in pictures

Show all 40
"The way test results and patient history are interpreted by healthcare professionals can be subjective, and unconscious biases may influence the diagnosis," Dr Lee said.
"This may partly explain why, even when rates of diagnosis are increased, women are still at a disadvantage when it comes to treatments they receive following a heart attack."
Dr Lee added that by "addressing a biological difference between men and women", the team were able to "detect more women who've had a heart attack".
"This women would otherwise by misdiagnosed," the academic stated.
"It's now important that this blood test, with its specific measures for men and women, is used to guide treatment and that we address these disparities in the care of men and women with heart attack. Women everywhere should benefit from improved heart attack diagnosis."
Support free-thinking journalism and attend Independent events
Dr Sonya Babu-Narayan, cardiologist and associate medical director at the BHF, said that it is "extremely promising" that the use of high sensitivity troponin blood tests can improve diagnoses of heart attacks.
"But this progress in diagnosis needs to translate into better treatment and improved heart attack survival chances for women," Dr Babu-Narayan said.
"It's essential that healthcare professionals are aware of the inequalities in heart care for women, and that everyone can spot the symptoms of a heart attack."
Dr Babu-Narayan added that with increased research and awareness can help to "close this heart attack gender gap".
Register for free to continue reading
Registration is a free and easy way to support our truly independent journalism
By registering, you will also enjoy limited access to Premium articles, exclusive newsletters, commenting, and virtual events with our leading journalists
Already have an account? sign in
Join our new commenting forum
Join thought-provoking conversations, follow other Independent readers and see their replies