How living in London could make you fatter: People who live near busy main roads may have increased risk of obesity, study claims
Researchers have investigated the link between obesity and noise pollution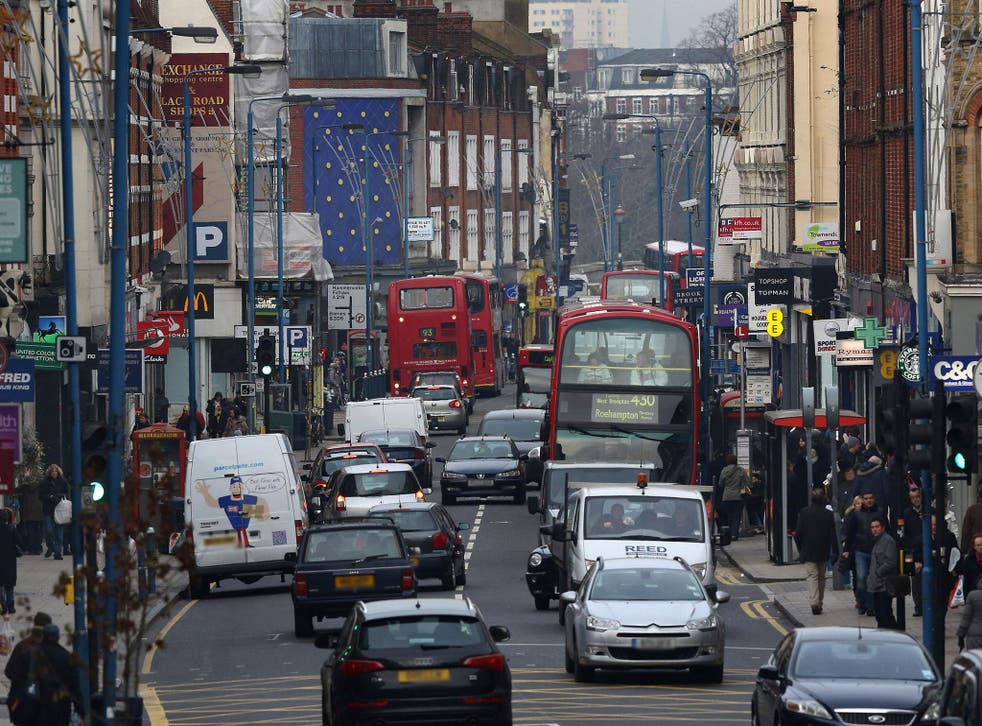 It is known the world over as a major hub of commerce, culture and activity – but with its high number of busy main roads and five major airports, living in London could increase the risk of obesity.
A Swedish study has found that living next to a noisy main road or under a flight path could raise the chances of suffering from weight problems, due to the effect of noise pollution.
Researchers claim the noise pollution produced from traffic on main roads can have an impact upon residents' sleeping patterns – which may in turn affect their inclination to exercise.
The study, published in the British Medical Journal's Occupational and Environmental Medicine, suggested those who live near main roads may experience reduced energy levels, and therefore choose a more sedentary lifestyle, because of disrupted sleep.
According to researchers, those living near an airport or under a flight path were most likely to suffer from weight problems due to the effects of noise pollution.
The six types of obese individuals, according to research

Show all 6
Andrei Pyko, lead author of the study at Sweden's Karolinska Institutet, said: "Traffic noise is a common and increasing environmental exposure, primarily due to ongoing urbanisation and growth of the transport sector.
"Road traffic is the dominating source, followed by railway and aircraft noise. Health effects related to traffic noise are widespread and span from annoyance, sleep disturbances and changes in stress hormone levels to adverse effects on the cardiovascular system.
"Increasing evidence points to traffic noise as a risk factor for cardiovascular diseases such as hypertension, myocardial infarction and stroke. Recent findings suggest that traffic noise may also affect the metabolic system, for example, inducing central obesity and type 2 diabetes."
The study of 5,075 men and women in Sweden, found there was a particularly high risk for those exposed to all sources of traffic noise.
Dr Pyko said: "Sleep is an important modulator of hormonal release, glucose regulation and cardiovascular function. Sleep disturbances may affect immune functions, influence the central control of appetite and energy expenditure as well as increase circulating levels of the stress hormone cortisol."
He said short sleep duration may lead to an increased appetite and reduced energy expenditure.
In November last year, research found obesity cost Britain's economy £47bn a year – more than war, terrorism or armed violence.
The study, commissioned by consultants McKinsey and Company, recommended a series of interventions in a bid to tackle the issue.
The health watchdog Public Health England however warned there was "no silver bullet" to address the problem.
Chief nutrionist Dr Alison Tedstone said one in four people in the country was obese, while 37 per cent were overweight.
She said: "If we reduce obesity to 1993 levels, where 15% of the population were obese, we will avoid five million disease cases and save the NHS alone an additional £1.2 billion by 2034."
Meanwhile, in January this year, experts warned air pollution in one of London's busiest roads had exceeded the legal limit for the whole of 2015, in the space of just four days.
Campaign group Clear Air In London reported the excessive levels for nitrogen dioxide (NO2) in Oxford Street had passed the limit set by the EU by January 4.
The limit was also passed the following day in Putney High Street, Clean Air In London founder Simon Birkett said.
Mr Birkett has called for a ban on diesel in the worst affected areas by 2020.
Register for free to continue reading
Registration is a free and easy way to support our truly independent journalism
By registering, you will also enjoy limited access to Premium articles, exclusive newsletters, commenting, and virtual events with our leading journalists
Already have an account? sign in
Register for free to continue reading
Registration is a free and easy way to support our truly independent journalism
By registering, you will also enjoy limited access to Premium articles, exclusive newsletters, commenting, and virtual events with our leading journalists
Already have an account? sign in
Join our new commenting forum
Join thought-provoking conversations, follow other Independent readers and see their replies