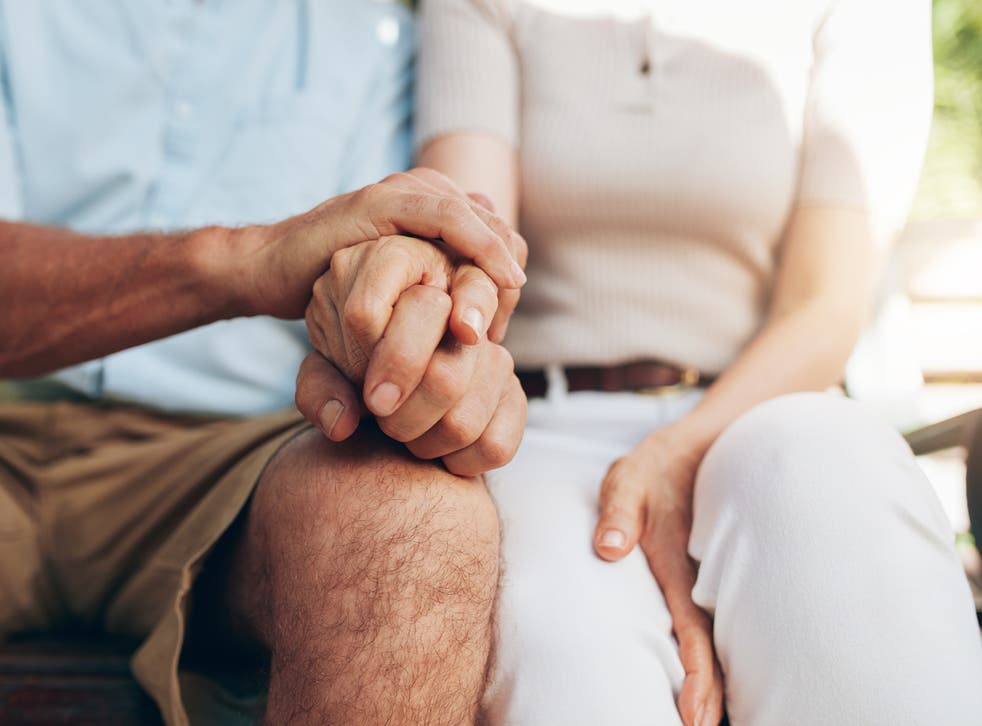 Beautiful photo of husband caring for wife with dementia goes viral
'She doesn't always remember his name, but she knows she is safe with him'
Sabrina Barr
Friday 27 April 2018 11:28 Comments
A touching photo of a husband lovingly holding his wife who's been diagnosed with dementia has gone viral on Twitter.
In 2012, Phyllis Feener was diagnosed with a subtype of dementia at 52 years old.
Her family were devastated to discover that Phyllis had been diagnosed with early onset dementia at such a young age, as they had assumed her recent bouts of memory loss had been caused by menopause.
Over the past five years, Phyllis' husband Stan has provided immeasurable comfort for his wife by working from home so that he can always be there for her and setting up a GoFundMe page to help fund future care.
Yesterday, Phyllis and Stan's daughter Kelli Taylor shared a photo on Twitter of her parents sitting together on an armchair.
"My parents have been married for 34 years," she wrote.
"My mum is in the final stages of young onset dementia (diagnosed five years ago at 53).
"My dad cares for her full-time. She doesn't always remember his name but she knows she is safe with him.
"If that's not true love, I don't know what is."
Kelli's beautiful photo highlighting the strength of her parents' love has struck a chord with thousands of people on social media.
Her tweet currently has more than 50,000 retweets and more than 314,000 likes, with many people wishing the family well and sharing their own stories of caring for relatives with health conditions.
"That has to be heartbreaking," one person wrote. "My wife died of cancer eleven years ago."
"Even near the end, when I thought she didn't know me, I asked her who I was. She said my name, and 'you're my husband'.
"She said it like she was proud of it. Made it a little easier for me."
Phyllis' family is striving to raise as much money as possible for her so that she can feel safe, comforted and loved as she copes with memory loss.
Words of dementia sufferers woven into poetry by Susanna Howard

Show all 2
"We have no way of knowing how much time we will have with Phyllis - it just depends on how quickly her disease progresses," the GoFundMe page reads.
"It could be two years, it could be twenty years. Either way , this will be an ongoing journey and we will need help in the years to come."
There are approximately 850,000 people in the UK with dementia, with numbers expected to rise to more than one million by 2025 according to the Alzheimer's Society.
Register for free to continue reading
Registration is a free and easy way to support our truly independent journalism
By registering, you will also enjoy limited access to Premium articles, exclusive newsletters, commenting, and virtual events with our leading journalists
Already have an account? sign in
Join our new commenting forum
Join thought-provoking conversations, follow other Independent readers and see their replies