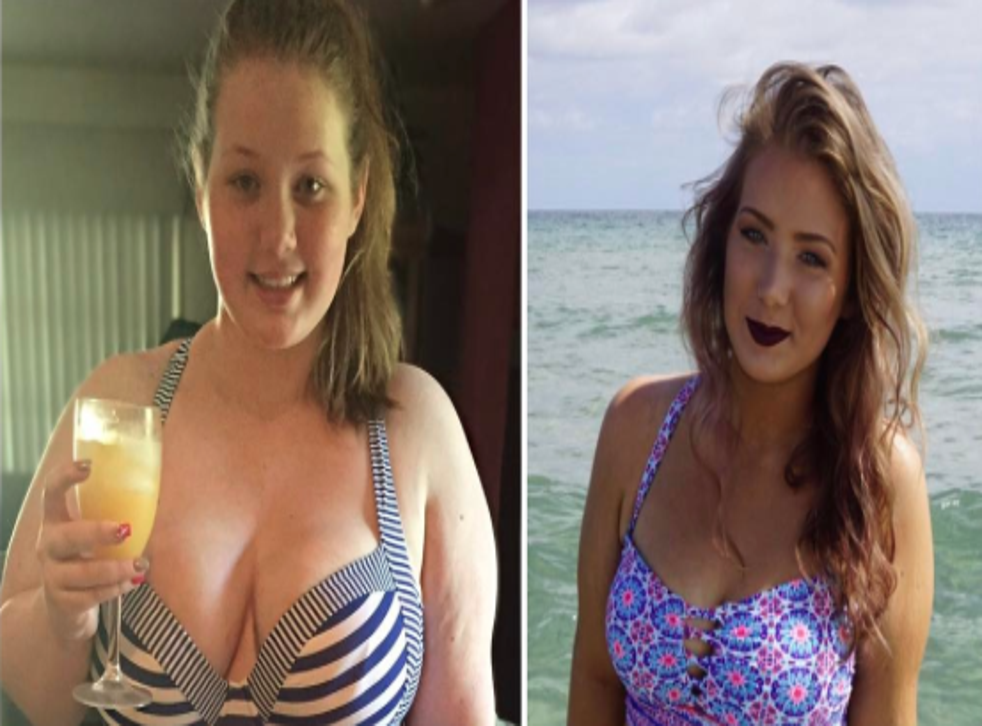 Instagram deleted this woman's 'before and after' weight loss photo for no apparent reason
"I'll continue to be damn proud of who I've worked so hard to become"
Sarah Young
Thursday 23 March 2017 12:59 Comments
19-year-old Morgan Bartley has been tracking her inspirational weight loss journey on Instagram, proudly posting photos of her changing body.
However, a recent image has been reportedly deleted, with no explanation.
The student from California has documented her weight loss efforts after struggling with her body for many years.
At age 15, she was diagnosed with ovarian torsion, a painful condition that caused the loss of one ovary and menopausal symptoms that led doctors to believe Bartley would never be able to conceive biological children.
After experiencing depression, her weight ballooned to 300 pounds in just two years but, she decided to take control and follow a path of healthy living.
The teen has posted many photos during her weight loss journey and after losing an impressive 115 pounds, she decided to share a before and after collage.
Side-by-side, Bartley posed in swimwear but there was nothing salacious about them nor did they violate Instagram's terms of use.
Nonetheless, the photo was deleted by the photo-sharing app without any warning.
Health news in pictures

Show all 40
Days later Bartley spoke out about the disappearance of the photo by reposting it with a new caption.
"I think it sucks that people express negativity toward something with only positive intentions," she wrote.
"Never let worldly pessimism or judgement prevent you from living your life and celebrating what you've done with it.
"I'll continue to be damn proud of who I've worked so hard to become."
Despite believing that someone reported the original re-post resulting in its deletion, Bartley has received nothing but praise since re-posting it.
"What is wrong with people? You look great!" one user wrote.
Others added, "You look wonderful and should absolutely be proud of yourself for the weight you have lost so far. I can't understand why anyone would have negative things to say about this picture."
"Wow! There's nothing wrong with these photos! You look fabulous! Keep up the great work and thanks for inspiring me!"
Register for free to continue reading
Registration is a free and easy way to support our truly independent journalism
By registering, you will also enjoy limited access to Premium articles, exclusive newsletters, commenting, and virtual events with our leading journalists
Already have an account? sign in
Register for free to continue reading
Registration is a free and easy way to support our truly independent journalism
By registering, you will also enjoy limited access to Premium articles, exclusive newsletters, commenting, and virtual events with our leading journalists
Already have an account? sign in
Join our new commenting forum
Join thought-provoking conversations, follow other Independent readers and see their replies