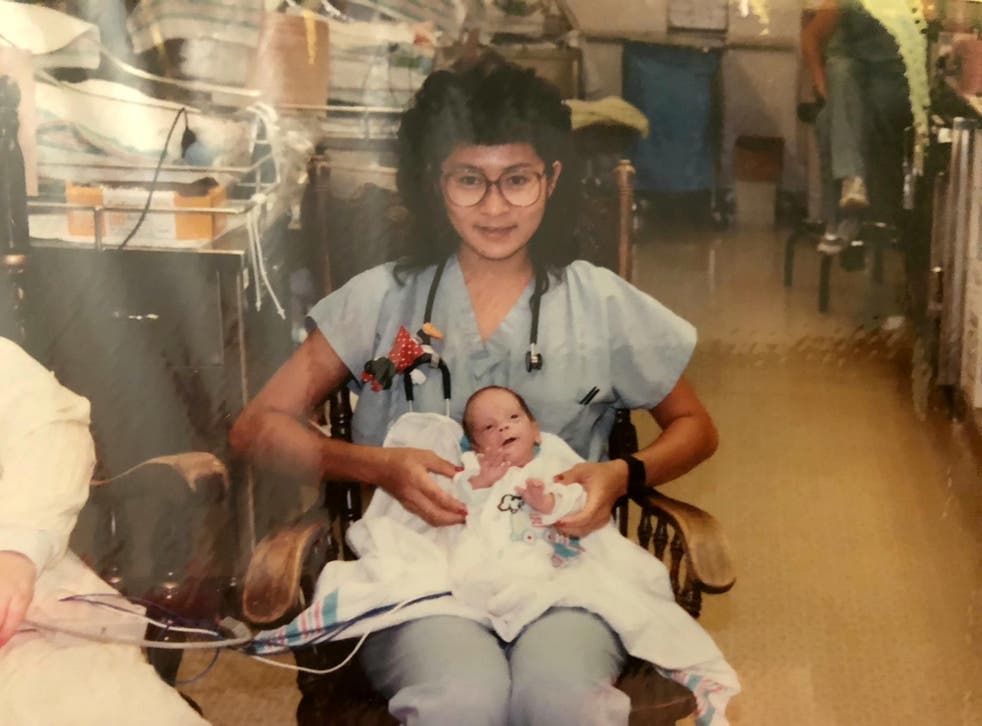 Intensive care nurse discovers new colleague was premature baby she cared for 28 years ago
'I never expected to meet a provider who took care of me when I was a baby'
A neonatal nurse has revealed how she discovered her new colleague was a baby she looked after in intensive care three decades earlier.
Vilma Wong, 54, is an NICU nurse at Lucile Packard Children's Hospital in Palo Alto, California, where she has worked for 32 years.
Dr Brandon Seminatore, 28, is currently completing his residency at the same hospital - where he was born at 29 weeks in April 1990.
For a month after being born, Dr Seminatore was looked after by Wong in the NICU because he was born so prematurely.
Now, however, the pair have reunited.
Wong, from Fremont, California, recognised her former patient's name as soon as she saw it - but she couldn't remember why it rang a bell.
It wasn't until Seminatore, from San Jose, California, revealed he'd been a patient in the unit 28 years earlier that the nurse put two and two together.
Seminatore, who is specialising in child neurology, even found a picture of himself as a baby being held by Wong.
"A few weeks ago Brandon joined my team and was taking care of one of my patients," explains Wong. "I asked who he was and his name and last name sounded very familiar.
"I kept asking where he was from and he told me that he was from San Jose, California, and that, as a matter of fact, he was a premature baby born at our hospital.
"I then got very suspicious because I remember being the primary nurse to a baby with the same last name. I asked him if his dad was a police officer and there was a big silence and then he asked me if I was Vilma.
"I said yes."
Seminatore's mother has asked him to look out for a nurse called Vilma in the NICU, but the young doctor had presumed she would have already retired.
The fact that the pair did meet was "surreal," according to Seminatore.
"I never expected to meet a provider who took care of me when I was a baby," he says.
"When Vilma recognised my name, I remembered the photos my parents had shown me and it truly sunk in that I was one of these babies. I've come full-circle and I'm taking care of babies with the nurse that took care of me."
Seminatore texted his parents as soon as he and Wong had made the discovery, and they replied straight away with the picture from 28 years earlier.
And Wong was equally overwhelmed by the discovery, saying, "I was in shock initially but overjoyed to know that I took care of him almost 30 years ago and now he's as a paediatric resident to the same population he was part of when he was born."
After both pictures were shared on Facebook by Stanford Children's Health, the post quickly went viral, garnering nearly 30,000 reaction.
For mother-of-two, Wong, however, the most important aspect is seeing patients like Seminatore, who was critically ill at birth, thrive.
"I love my job as an NICU nurse and I consider myself very lucky to be in a profession that I love and make a difference in somebody's life," she says - Wong came to the US from Nicaragua when she was 16, got her BS and MS nursing degrees and her first job was at the hospital she still works for now.
"It's really special to see that almost thirty years later Brandon has a passion to treat patients who are in the same position he was all those years ago," she adds.
And Seminatore feels newly inspired after bumping into his NICU nurse again.
"Meeting Vilma showed me the dedication and love she has for her career," he says. "She cares deeply for her patients, to the point that she was able to remember a patient's name almost three decades later.
"Not all of us will get the chance to see our patients grow up, and I was so happy to be able to share that moment with her."
Join our new commenting forum
Join thought-provoking conversations, follow other Independent readers and see their replies