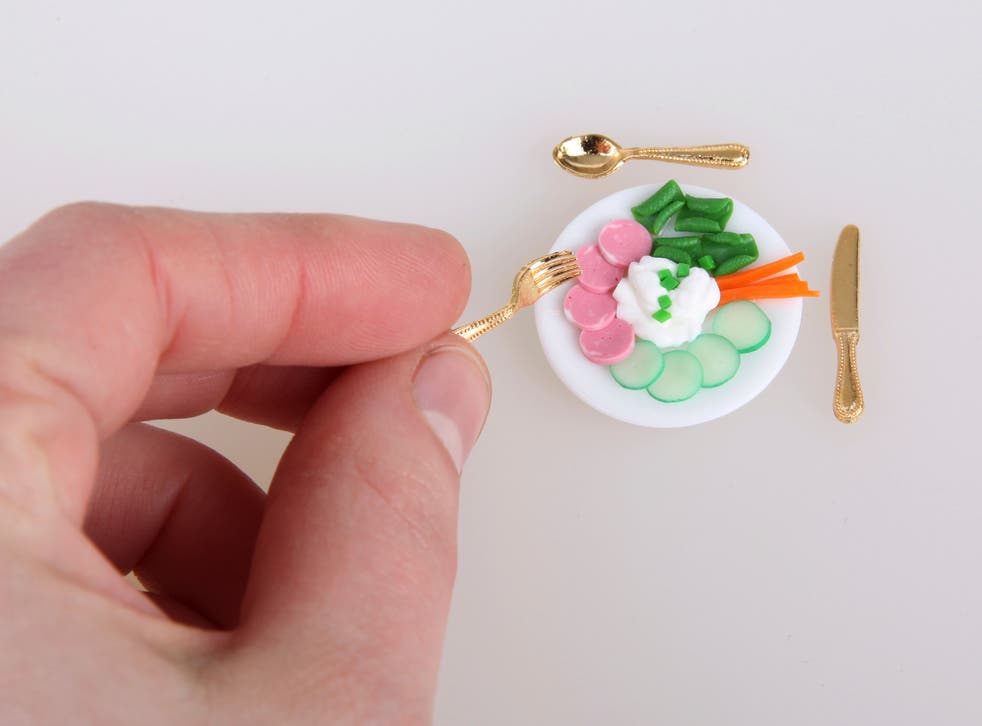 Is it safe to eat 1,200 calories a day?
'For some women it could temporarily shut down their fertility.'
Kashmira Gander
Wednesday 05 October 2016 12:40 Comments
Could you survive on 1,200 calories per day?
That's the potentially dangerous challenge thousands of people are setting themselves in pursuit of the perfect body.
Countless apparent fitness gurus swear by the saying "1,200 is plenty", while the indulgences of the holiday season have caused Google searches of "1,200 calories" to spike every January since 2005.
But restricting food can impact fertility and cause anxiety, a dietitian has warned.
There is, of course, a Reddit community devoted to the diet, where users share images of their neat and colourful but sparse meals.
However, nutrition expert Ursual Philpot, a spokesperson for the British Dietetic Association, has warned against this approach to eating.
While 1,200 is the minimum level of calories that the average person can survive on without the body going into starvation mode, that does not mean it is healthy, she told The Independent.
An older person who is inactive or an overweight person may be able to eat 1,200 a day, she said. But there is no "one size fits all" solution for diet, and it is difficult to get the right level of nutrients with a strict regime unless a person carefully plans their meals.
"On a 1,200 calorie diet, your body has to make adjustments. You can't live optimally on that. If you are young and active, you would lose weight and fat over time, but your body would make metabolic adjustments.
"You might get cold hands and feet more easily, and you would be preoccupied with food a lot of the time. You would feel anxious, and you wouldn't feel well overall.
"For some women it could temporarily shut down their fertility."
She explained that calorie recommendations should simply be seen as a starting point for considering what to eat.
"It is like saying all men should wear size 9 shoes. You get people who can live on 1,200 and others who need 2,400."
"It depends on how you feel. If you feel dreadful, tired, cold, preoccupied with eating and food, and a bit spaced out and dizzy then it is way too low."
Food trends in 2016

Show all 11
The food that individuals should eat also differs, she added. An active person should eat fat and carbohydrates, while someone who is overweight may be able to lose weight with a low carbohydrate and high protein diet.
"If I had to recommended a diet, I would say the Mediterranean with a moderate amount of low GI slow release carbohydrates, high quality protein, lots of vegeteables, olive oil, oily fish, nuts and legumes," she said. "But how much a person should eat is highly dependent on factors including age, genetics and activity levels."
Those aiming to lose weight should aim to shed between three to 10 per cent of their body weight to avoid gaining the weight back.
"Be sensible. The populations that are slimmest and healthiest don't live of 1,200 calories, they don't cut carbs, they don't blend their own green milkshakes. Think about the bigger picture here and think about health and longevity and enjoying food.
"If a diet has worked for one person that does not mean that is the way that everyone should be eating."
Register for free to continue reading
Registration is a free and easy way to support our truly independent journalism
By registering, you will also enjoy limited access to Premium articles, exclusive newsletters, commenting, and virtual events with our leading journalists
Already have an account? sign in
Join our new commenting forum
Join thought-provoking conversations, follow other Independent readers and see their replies