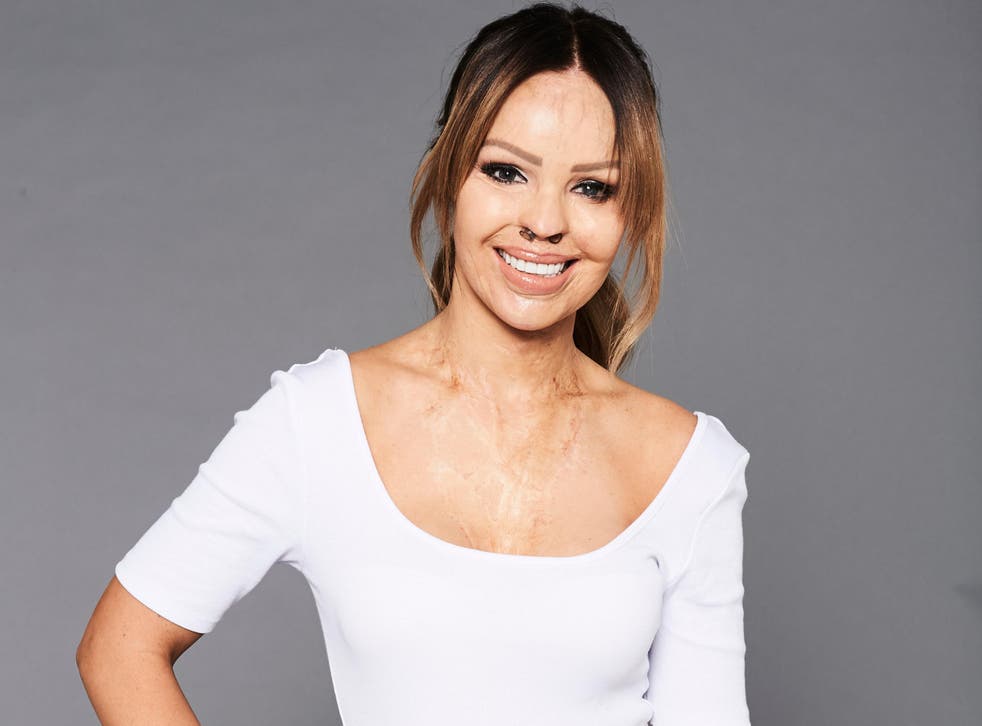 Katie Piper: Model left burned after acid attack shares tips on rebuilding confidence
Model and TV presenter tells the Independent how she found her confidence again after the brutal acid attack, at the hands of an ex-boyfriend, which changed her life
Eight years after being the victim of a heinous acid attack which left her with third degree burns and blind in one eye, Katie Piper probably did not expect to be writing a book on confidence.
The TV personality has written her fifth book: Confidence: The Secret, which she describes as part self-help and part autobiographical.
"I wrote it in response to the questions I'm always asked: 'How are you so confident? How did you get through things?' I did not want it to be a fluffy read like: 'Oh I'm just positive or I'm brave' because that doesn't really cut it at a point of real disaster in your life when you have a lot of self-doubt," she tells The Independent.
The "disaster" that happened to Piper is well-documented after she chose to waive her right to anonymity as a rape survivor. Aged 24, she had sulphuric acid thrown in her face by Stefan Sylvestre, an act organised by her ex-boyfriend Daniel Lynch who had previously brutally raped and violently assaulted her (both men are currently serving life sentences in prison). The attack left her permanently scarred, she has since had over 100 operations.
Inspiring body positivity quotes

Show all 12
Piper chose to speak out and share her story because she was tired of being "a faceless, voiceless person".
"I felt cocooned by something and wanted to break free. I am glad I did it because the thing I am most passionate about is normalising this in society, burns and scars, the more you see and hear of it in everyday life, the less of a taboo subject it comes."
Confidence is something she has amassed since her recovery: "Everything [physically] is really well documented, that was the point of the book, my psychological recovery is on-going," she explains. Things which have helped Piper recover psychologically include exercise and the help of loved ones.
"It is recognising that I can't do things alone: relying on and confiding in people, letting people in and not seeing that as a failure. Reaching out to someone doesn't mean you cannot do this."
Since the documentary which propelled her to household name-status, Katie: My Beautiful Face, Piper has successfully carved a career for herself, fronting numerous TV series, modelling and designing baby accessories after having her daughter Belle. She has also established her foundation which supports and mentors people with scars and disfigurements. She says for a person with a disfigurement a different approach is needed to restore confidence.
"You can't just tell someone that has come out of a coma: 'Believe in yourself, be confident' it is kind of patronising. Actually, there is a big thing for allowing yourself to be depressed or not coping and recognising that is normal and real life.
"There is so much on Instagram with positive quotes and about being positive, we have to be careful about not making people who are not positive feel like they are failing or not coping. That is ok, who wants to walk around like a robot, constantly repeating affirmations?"
Piper is of the view that no one is exempt from finding confidence, it is something everyone can access: "It is not an exclusive club. It is not a quality that only some people are blessed with. Don't look at people and envy them and think: 'I wish I had some of her confidence'. Everyone has it, you just have to bring it out, develop it, trust it and go with it."
For Piper, recapturing the confidence she had prior to the attack ("I was really confident, I was going out, clubbing, leading a selfish, carefree young person's life in London") was something she achieved at her own pace, a message she is keen to pass on to others.
"I didn't come out of hospital trying to be as confident as Obama the next week," the 33-year-old says laughing. "Set yourself achievable goals so that you are always experiencing success. Do not set yourself unachievable things and make yourself feel like a constant failure. You have got to be realistic. Life is all about striving to be best you can be, not a celebrity you have never met or an unrealistic image in your mind; you are being your own worst enemy doing that."
And the main thing that has helped Piper regain her confidence after everything she has been through: Self-acceptance of "yourself and your situation".
"Accepting the things that you cannot change and letting go of them and putting your energies into the ones you can change," she summarises.
Confidence: The Secret by Katie Piper is out now, £12.99, Quercus.
Join our new commenting forum
Join thought-provoking conversations, follow other Independent readers and see their replies