The Independent's journalism is supported by our readers. When you purchase through links on our site, we may earn commission.
Lifestyle features
'Being careless could literally kill you': Why some people are hesitant to see friends as lockdown eases
The gradual return of many of our basic freedoms is music to many people's ears but, for others, easing back into society is a cause for anxiety, writes Harriet Hall
Tuesday 26 May 2020 18:08 Comments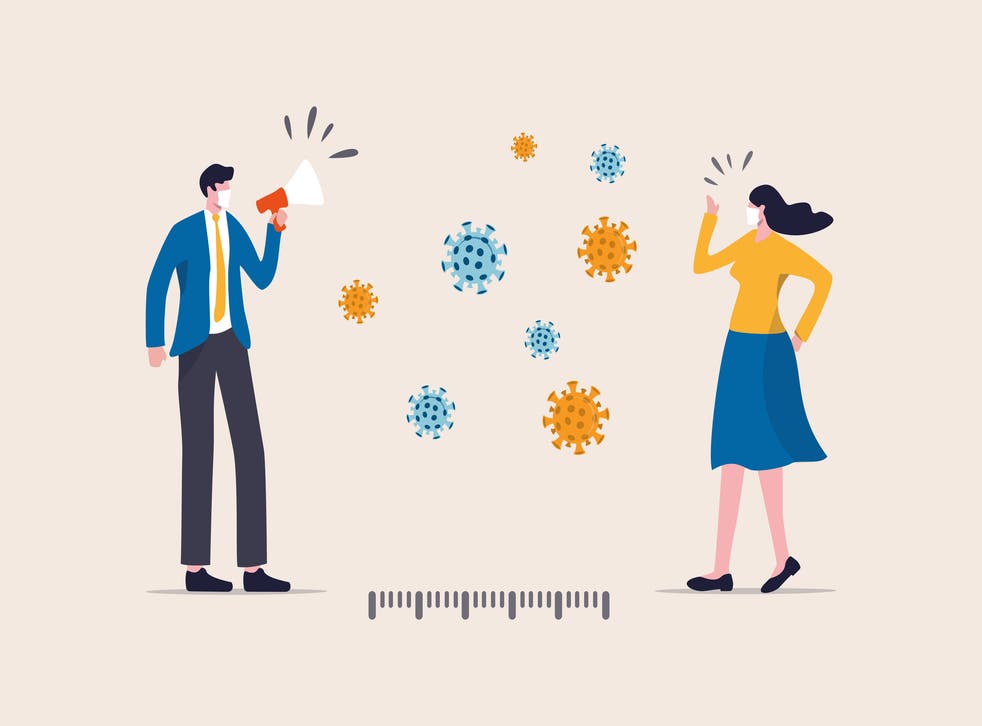 I wavered when I received the first invitation. Almost a week after Boris Johnson announced the initial easing of lockdown measures, a friend asked if I wanted to meet up, considerately enquiring: "Would you be open to a walk on the common?"
On Sunday 10 May, the prime minister set out the government's roadmap to lessening what he described as "restrictions on freedom […] of a kind that we have never seen before in peace or war." As part of phase one, people in England are now permitted to spend time outdoors with one other person outside of their household if they maintain the two metre social distancing guidelines. The government's "Stay at home" slogan was also replaced with the message "Stay alert".
While the heatwave on the late May bank holiday weekend saw people nationwide flocking to beaches and social media flooded with images of friends having socially distanced reunions, others have hesitated to embrace their new freedoms. After two months of lockdown, when the time came to see my friends, I was surprised to discover that I was one of them.
Emma Stevens*, 31, from Surrey feels the same. "I've got into a headspace of not seeing anyone for this many weeks and it's hard to now change that mindset," she tells me. "I worry a bit about if friends will keep to the distancing when we see each other because they're less hesitant about meeting up than I am."
The results of a recent Ipsos Mori survey suggests that many Britons feel uncomfortable at the thought of resuming normal life post lockdown, with 33 per cent remaining sceptical about the idea of meeting friends and family outside of their household.​
Speaking to Radio 4's Today program, Professor Sir David Spiegelhalter, a statistician at the University of Cambridge, said that people's reluctance to return to normal is a sign that the government's stay at home message has been "too successful". He suggested that a public campaign to persuade people to get out and about may be necessary once lockdown is fully lifted.
It's not altogether surprising. Chartered psychologist and resilience specialist Dr Rose Aghdami believes that the reason for our hesitancy lies largely in the process of habit forming. She explains that it takes a human an average of 21-30 days to form a new habit and that, after two months of lockdown, the idea that we are safest at home is now well-engrained in our lives, making it harder to mentally adapt. "If we hear the same message very consistently over a period of time then we are likely to at least begin to believe it – that's a known strategy." she tells The Independent. "We need to gradually unlearn these new habits and begin to re-establish our old ones."
But the anxiety that is causing some people to pause before leaping back into a social life is far from unfounded. In the absence of a vaccine and with question marks hovering over antibodies and immunity, the best way of not catching Covid-19 is by avoiding other people as much as possible. While we are reminded daily about infection rates and as the UK death toll devastatingly passes 40,000 – making Britain one of the worst-affected countries in the crisis – the virus looms large in our awareness.
Chartered Clinical Psychologist Dr Hamira Riaz explains that "lockdown has become synonymous with safety" and that our response to the easing of lockdown will largely depend on our individual approach to risk-taking. "The more risk friendly amongst us will welcome the newly sanctioned freedoms, whereas those who are more innately risk-averse will feel anxious about navigating the 'new normal'," she says.
Mixed messages also haven't helped. The prime minister's communication strategy has been surrounded by accusations of vagueness, with many reporting feeling unclear about the specifics of the "stay alert" slogan. Added to the fact that governments in the devolved nations did not echo England's easing plans, with stricter lockdown measures remaining largely in place in Scotland, Wales and Northern Ireland, Scottish First Minister Nicola Sturgeon retaining the "stay at home" messaging and disputes around the efficacy of wearing face masks, it's unsurprising some would want to remain extra vigilant.
"The government's handling of the virus has made me struggle to trust the advice and feel that it's safe to see people," says Emma. She would have preferred lockdown to continue for a further three weeks until the transmission rate had reduced further. "The lateness of the lockdown and the UK lockdown being less severe than other countries was concerning to me. Then to see it be lifted when our death toll has been appalling… the whole thing just makes me nervous."
Lauren Couchman, 30, from Nottingham, has also been distrustful of messaging. "If the R value went down, I would feel more comfortable. But there's still talk of a risk of a second spike. The big announcement the other week was totally confusing, 'there is a risk but there isn't a risk, it's going down but it's not going down' – pardon?" she says.
For other people, the logistics of seeing friends or family at a two-metre distance simply make it more of a stressful than pleasurable experience. While Katie Jackson, 39, from South Yorkshire, has gradually started to see her mum and two other friends individually for socially distanced walks, she says it's difficult to feel relaxed. "I don't let up thinking about the two metres. If you get to a smaller path you have to remember to go in single file and it really affects the experience," she says. Added to the emotion of not getting close to family, she's finding it very difficult to adapt. "I'm so close with my mum so seeing her and not being able to hug her is so difficult. You just want to cry."
Socially distanced socialising can quickly become a chore, explains Dr Aghdami. "It's not a relaxed social encounter which we are familiar with – we have to wear masks, carry hand sanitiser, keep our distance – and that interferes with our natural expectations of what is relaxing. I've heard a lot of people saying they feel exhausted after seeing people now."​
For other people, of course, there is more at stake. Those in the high-risk group have been advised to continue shielding until 30 June, but the moderate risk group – people with diabetes, asthma and those on specific medications among others – are advised to "stay at home as much as possible" and if they do go out, to "take particular care to minimise contact with others outside [their] household". For them, the idea of socialising can be a nerve-racking experience.
"I've never felt really vulnerable in society before," asthmatic Nathalie, 34, from West London tells The Independent. "My asthma is pretty well controlled, but I feel it every single day and every winter I get a chest infection, so I know all too well what it's like to struggle to breathe." Staying in more than most people has had a negative impact on Nathalie's mental health but she's not planning on meeting anyone for a socially distanced activity quite yet. "Of course, I'd love to meet my friends, but I don't know if I trust anyone else to follow the protocols as stringently as I do. And being careless could literally kill you."
Pregnant women are also in the moderate risk group, though this is as "a precaution" states the NHS. As a result, Natalie Correrell, 28, from Greater Manchester, who is 31 weeks' pregnant, does not "think socially distanced socialising is worth the risk until the baby is born". She tells me she has met her mum for a walk but is still being "extremely cautious." "I don't want to risk preterm labour or having the virus while birthing. Additionally, if my partner tested positive, he would not be allowed at the birth and I would be having my first baby alone." She plans to continue avoiding shops and socialising until the transmission rate has significantly reduced.
Despite some people's reservations, Mark Woolhouse, Professor of Infectious Disease at the University of Edinburgh says that "outdoor transmission is extremely rare." He's keen to point out that the change to socialising rules isn't the result of a change of facts, rather a response to further scientific evidence that confirms what scientists already suspected. "Outdoors is safe now because it was always safe," he says. "But it's taken policy time to catch up and they wanted to be sure with evidence that it was safe. Of course, no one can say there's 'zero risk' but seeing someone at a social distance outside is not something that I would personally be concerned about."
With the mental health benefits to seeing friends and family being well reported and campaigners warning of a "tsunami" of mental health problems after lockdown, it's clear that rebuilding our support groups is vital. After all, humans are social animals. So, what can people do to abate their concerns and begin seeing friends at a distance?
The most puzzling moments from the Dominic Cummings press conference
"If someone feels that they ought to continue to limit their social interactions, that remains their prerogative," says Dr Hamira. "But if someone is making those decisions based on an amplified and unsubstantiated preoccupation with fear, they ought to seek support. Fear breeds fear, it can easily become a vicious cycle when it takes hold."
One way to begin to overcome this fear is by a process known as nudging, suggests Dr Aghdami. "Go beyond the comfort zone by nudging yourself to do something a little uncomfortable." She suggests starting with a walk around the block to see one person at a distance – "someone you know well so there's no added social pressure" – and then very gradually changing that. "So, you might go out for a longer walk next time and then develop further to sitting on a bench with a friend the time after that," she suggests. "It's much better to take small steps and build up confidence than to do too much too soon. And, if you're feeling anxious, abdominal breathing is a great technique."
As the lockdown continues to be eased across England, Boris Johnson announces the opening of all non-essential shops from the 15 June and discussions of family bubbles abound, the country is very gradually beginning to ease its way back to normalcy. Feeling comfortable enough to begin introducing people outside our households into our routines, even at a two-metre distance, could help pave the way to our lives beginning to bear some semblance to the past – even if it's just one socially-distanced step at a time.
*Names have been changed
Register for free to continue reading
Registration is a free and easy way to support our truly independent journalism
By registering, you will also enjoy limited access to Premium articles, exclusive newsletters, commenting, and virtual events with our leading journalists
Already have an account? sign in
Join our new commenting forum
Join thought-provoking conversations, follow other Independent readers and see their replies