Channel 4 show 'Lose a Stone in 21 Days' condemned as 'irresponsible' as eating disorder charity keeps helplines open during show
'I can't believe this has been allowed to be promoted, this is triggering and completely unsustainable,' one critic states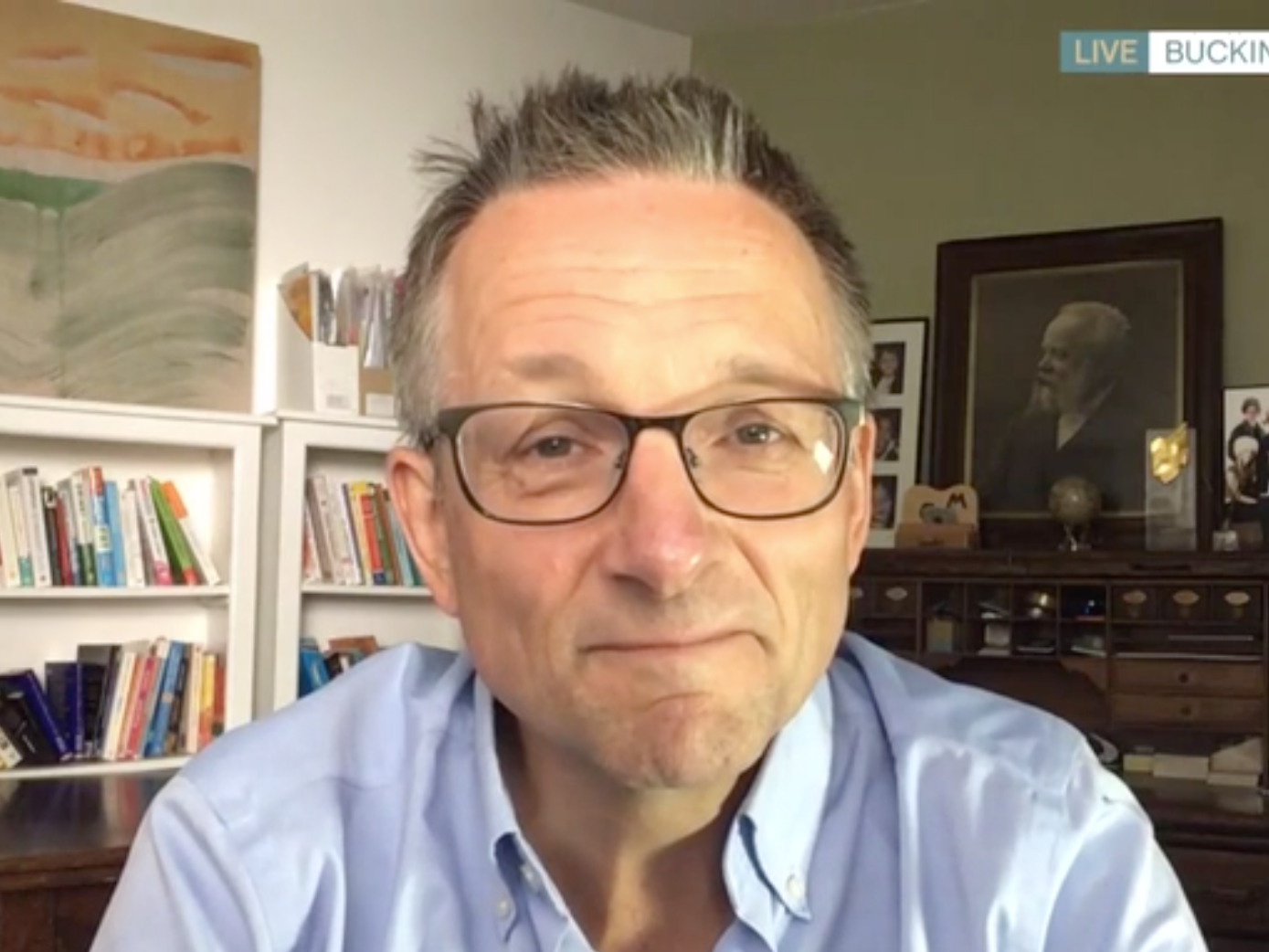 A programme on Channel 4 that claims it can teach viewers how to lose a stone in just 21 days has been heavily criticised on social media for promoting "unhealthy relationships with food" and being "triggering" for people with eating disorders.
The first episode of Lose a Stone in 21 Days with Michael Mosley aired on Channel 4 on Wednesday 5 August.
The show, which is led by qualified doctor and television presenter Dr Michael Mosley, claims that its aim is to help the nation "get our health back on track" with a "lifestyle intervention and diet", stating that "lockdown has been bad for the nation's health".
However, the doctor's assertion that people can lose a stone in 21 days by consuming 800 calories a day has received a huge backlash on Twitter.
Dr Mosley told Eamonn Holmes and Ruth Langsford on ITV's This Morning that the methodology for the show is based on several recent "big randomised controlled trials", adding that he is being assisted by his wife, GP Dr Clare Bailey, who recently ran a study where participants consumed 800 calories for eight weeks.
The NHS states that while the ideal daily intake of calories depends on several factors including age, metabolism and how active a person is, the average recommended daily intake of calories is 2,000 for women and 2,500 for men.
In response to the programme, eating disorder charity Beat announced that it was extending the hours of its helpline to coincide with the airing of the show, remaining open until 11pm as opposed to the typical 8pm.
One Twitter user described Lose a Stone in 21 Days as "so problematic on so many levels", stating that a person should not try to consume 800 calories a day "unless instructed by a doctor (for some reason)".
"[The show] serves to do nothing but create deeply unhealthy relationships with food that aren't sustainable," they added.
Another person stated that the programme should be accompanied by a trigger warning for people who may struggle with their relationship with food.
"I'm still raging after the show last night," someone else commented. "So dangerous and irresponsible. I'm confused as to how it was deemed appropriate to be aired."
"Shocking, I can't believe this has been allowed to be promoted, this is sick and triggering and completely unsustainable," another said.
In response to Lose a Stone in 21 Days, Caroline Price, director of services at Beat, said in a statement sent to The Independent that it was "incredibly worrying to see a national programme yet again promoting extreme weight loss and crash dieting".
"The promise inherent in the title is likely to attract people suffering from or vulnerable to eating disorders and risks encouraging those affected to attempt the methods shown despite the damage this could cause," Ms Price said.
"Research has shown that dietary restraint, including the restriction of calories, has been found to be a risk factor in the development of an eating disorder."
Ms Price said that while the show "did not appear to look after the participants' mental health in any way", such as by having participants take part in consultations with a psychiatrist, "it did have an alarming focus on the participants' weight, BMI and measurements, as well as encouraging them to carry out activities that we know those affected by eating disorders may engage in, such as destroying food to avoid eating it or fixating on eating a restricted number of calories".
The Beat director of services said that the charity "wrote to Channel 4 in advance of the programme voicing our concerns and providing guidance on reporting in a responsible and non-triggering way".
However, Ms Price said that the programme caused "enough stress and anxiety to our beneficiaries" that it decided to extend its helpline hours while the show was on air, resulting in "51 per cent more contact during that time".
"It is very disappointing that once again, their needs have been ignored by broadcasters," she stated.
In a statement sent to The Independent, Channel 4 said: "The series examines the evidenced link between Covid-19 and the very real threat it poses to those who have a BMI in the obese or overweight categories."
The broadcaster pointed to a recent study led by Liverpool University and involving Imperial College London that found obese people are around 37 per cent more likely to die if they catch Covid-19.
"All episodes clearly state that a short-term 800-1000 calorie diet is only suitable for people whose BMI puts them in the overweight or obese categories and that it should be done with proper medical supervision," said the statement.
Channel 4 maintained that the health and welfare of each contributor is of "paramount importance" to them and that "strict guidelines were followed before, during and after filming".
They also confirmed that several health checks were undertaken on contributors "before they embarked on the regime" and that "support is ongoing", with viewers also being directed to programme support information following the broadcast.
Channel 4 also say they provided a "substantive response regarding the premise of the show and support" with Beat when contacted by the charity.
If you have been affected by this article, you can contact eating disorder charity Beat for support by calling the helpline on 0808 801 0677, the studentline on 0808 801 0811 or the youthline on 0808 801 0711.
The helplines are open every day from 12pm to 8pm Monday to Friday and from 4pm to 8pm on weekends and bank holidays.
You can also contact the charity via webchat.
Join our commenting forum
Join thought-provoking conversations, follow other Independent readers and see their replies