LIFESTYLE FEATURES
'I had a miscarriage alone while my partner had to stay at home': The continued lockdown on maternity wards
Despite promises that policies are relaxing, women are still regularly experiencing scans, birth and miscarriages alone. Sophie Gallagher speaks to those worried a new lockdown will only make things worse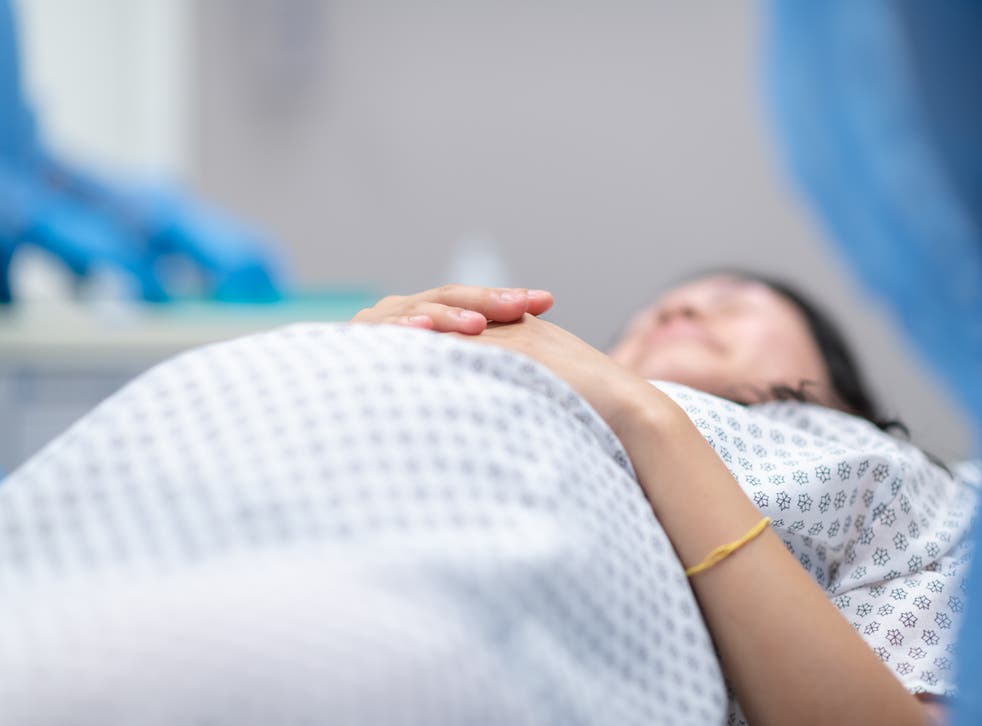 Lucy Harris had been sitting alone in the cold patient room at Southmead hospital in Bristol for over an hour, waiting to hear about the fate of her unborn baby; there was a vase of fake flowers on a table nearby and a nondescript painting on the wall. It was the 32-year-old's first pregnancy, and since getting a positive test on 13 September, she and partner Dave had started working on the nursery and been talking to her stomach daily.
But after unexplained bleeding, Harris was referred to the early pregnancy clinic on 22 September. Despite the hospital being only 15 minutes from her house, because of the ongoing coronavirus pandemic, they were told Dave wasn't allowed to attend any of the appointments, two sonograms and numerous ultrasounds that followed – to check if their child was still alive.  
"The whole process of driving there alone, finding parking and the right building was nerve racking in itself," Harris tells The Independent. "Had Dave been there he would have been able to share it with me, listen to my worries, comfort me, distract me, hold my hand." There was not a single partner on the ward at any of her visits, says Harris.
At the clinic, Harris was told there was a gestational sac in the uterus but that it looked empty, meaning the pregnancy was probably over. "It all felt surreal, I was bombarded with information and leaflets and didn't really know what to think. I drove home in tears, desperate for a hug."
She later had to go back for two further scans (at seven weeks and eight weeks) to confirm the prognosis before a final visit for a surgical miscarriage on 22 October. Again, Dave was not allowed. "It was awful being alone. What really bothered me was feeling I had to hold it together. I couldn't really just cry because I needed to retain my wits – listen to the next steps, make sure I got all the information. Had [Dave] been there he could have dealt with that stuff." 
North Bristol Hospital Trust told The Independent their policy was that – despite Lucy's experience – partners were allowed at 12 and 20-week scans, and some specialist scans, from 8 September onwards, when NHS England issued a document on reintroducing partner access (a subsequent letter on 19 September told trusts "this must happen now").
Helen Blanchard, director of nursing at North Bristol, said: "To ensure the safety of every woman, baby and member of staff there have been some limitations to our maternity visiting policy throughout the pandemic. However, we have always operated within national guidance." She added that women's needs have always been managed on a "case by case basis" and the trust was "sorry to hear" about concerns raised.
***
During the March lockdown, most non-Covid related treatments were postponed or cancelled. A move which experts said caused 600,000 smear tests to be delayed and as many as 3,000,000 to miss out on vital cancer screening. As for midwifery appointments, many were moved online or women were asked to come alone in a bid to ensure all "non-essential" hospital visits ceased. 
But as lockdown gradually eased, people returned to offices, and hospitality venues pulled up the shutters, many maternity wards continued to turn away partners for all but a very brief stint of active labour. Throughout the summer, Boris Johnson faced criticism for this inconsistency with petitions committee chair Catherine McKinnell telling the prime minister it is easier for a new father to "go to the pub or grouse shooting than to attend his own baby's growth scans"; the rise of the #ButNotMaternity hashtag, the separate "By My Side" campaign and a petition signed by 540,000 people, all called for the same thing.
At the start of September, NHS England finally published an update to the policy, but in doing so acknowledged the "challenge" of it and that changes should always hinge on the "current national pandemic risk and government policy". With this tentative encouragement, by the end of September, three quarters of NHS trusts were still not allowing partners in for all of labour, and 50 per cent were restricting access to the 12-week scan, 20-week scan and the duration of labour, according to data compiled by The Guardian.
Given England has now gone back into lockdown and the daily number of Covid cases is averaging 25,000, it seems fair to assume that a promised review of the NHS England documentation this month won't bring further sweeping relaxation of the rules but perhaps instead a clawing back of those that had eased off – similar to restrictions reimposed by hospitals like Liverpool Women's Hospital when the region entered Tier 3. In fact, it has been reported that almost 25 per cent of NHS Trusts are now considering reimposing restrictions. North Bristol Trust told The Independent that the rise in coronavirus cases means they will be reintroducing some restrictions from the week beginning 9 November. 
Claire Muscat, 35, from Hertfordshire had early bleeding in her pregnancy and was worried about miscarrying. She had to go to an eight-week scan at Lister Hospital in Stevenage alone, while partner Rob sat in the car in a nearby street. "I was utterly convinced I was losing our baby," she says. "I was an emotional mess and attending alone was something I wouldn't wish on anyone."
She also had to attend a 12-week scan by herself but by 20 weeks the rules were relaxed and Rob could come. Although their baby is healthy, Claire says they are worried about policies getting stricter again before the birth so are considering a home birth or driving to a hospital 50 minutes away (their local is a three-minute drive), which allows partners.
"It shouldn't be a postcode lottery. I'm definitely feeling pressured to choose a home birth solely on the basis of having my partner present. When I spoke to my midwife about my concerns of labouring alone, she advocated quite strongly for home birth. Outside of Covid I can confidently say I would not choose this."
Katie Chilton – director of midwifery at East and North Hertfordshire NHS Trust, which runs Lister Hospital, told The Independent: "A woman's partner can be with them during labour at our maternity unit, which has been the case throughout the pandemic. There are no current plans to change our maternity arrangements, and we wish to reassure those in our care that our maternity teams will be there to support them every step of the way – in whatever birth setting they choose." Since 5 October, partners at Lister hospital can also attend the 20-week scan.
In a bid to reassure mothers going into the winter months, on 31 October Boris Johnson promised that 15-minute Covid tests would be prioritised for maternity settings so women wouldn't have to give birth alone. MP Alicia Kearns said it meant there was "no excuse" for partners to be left out now. But women have already raised issues, saying that they continue to have their partners turned away at the door as recently as 5 November.
A spreadsheet compiled by doula Jess Celestine shows that as late as 25 October, the picture was inconsistent across the board, with many trusts still refusing access to scans and at the induction of labour - only letting partners arrive when labour is established, which can mean hours alone for some women like Jennifer McKechnie, 30, from Oldham.
McKechnie was admitted into hospital for the birth of her daughter by herself on Monday 3 August – the same day the government's Eat Out To Help Out campaign began. She ended up spending 2.5 days there alone. "When my contractions had started and I felt like no one believed I was in labour I had a few wobbles, lots of crying and talking to my unborn baby just to try and reassure me I was ok. This was where the long periods of time alone really hit home."
It wasn't until 9pm on Wednesday that McKechnie's waters broke. Only at this point was she permitted to phone her husband to come, but even when he arrived at the hospital he wasn't let in until midnight. "I remember asking the midwife if she would hold my hand through the contraction, which she happily did but it wasn't the same as my husband. It was the first human contact I'd had since I hugged my husband goodbye on the Monday afternoon."
Tameside and Glossop Integrated Care NHS Foundation Trust told The Independent the policy was still in place in August as a result of the government allowing trusts to make locally-based decisions. The trust has since continued with restrictions "due to continued high rates of Covid-19 in the region" but that is "under constant review". Current guidance asks women to attend scans alone with partners waiting outside. In the event of concerns on the scan, partners can join "when appropriate".
Joeli Brearley, CEO and founder of Pregnant Then Screwed, says there is concern that despite promises of 15-minute tests and lifting restrictions, the second lockdown will see women continue to come up against the same obstacles. "We are seeing a mixed picture across hospital trusts in light of new lockdown measures. Some have continued to keep restrictions lifted; others have put restrictions back in place after temporarily lifting them. 
"We appreciate that for areas with high infection rates it can feel risky to keep restrictions lifted, but we don't believe that this assessment takes into consideration the mental and physical health impacts these restrictions are having. Let's not forget that a pregnant woman's partner is in a bubble with her, and it is only the pregnant woman that the staff need to be intimate with."
There is also concern that due to the rules, women are potentially missing appointments, which could lead to problems going undetected. This week, the Healthcare Safety Investigation Branch launched a review into an increase in stillbirths between April and June. During that period, there were 40 stillbirths after labour began, compared with 24 in 2019. The Royal College of Obstetricians and Gynaecologists is also set to review perinatal outcomes during the pandemic, estimating 86 per cent of maternity units reported a reduction in emergency antenatal presentations in April, suggesting women may have delayed seeking care. 
Wendy Powell, maternal health expert and founder of #ByMySide birthing partner campaign, says she thinks "it is absolutely a possibility" that restrictions will be reimposed on maternity wards in light of a second lockdown. "Progress had been made up and down the country over the past few weeks with more and more Trusts reducing their restrictions, but the latest lockdown threatens to completely dismantle that."
Mary Ross-Davie, a director at the Royal College of Midwives, said they "understand completely" that restrictions can be "deeply upsetting" but "Covid has forced maternity units to make really difficult decisions". "We have entered a significant upswing in the pandemic and need to stop that spreading to and within our maternity services and hospitals. Restrictions will vary across the country because every maternity unit is different."
Powell holds hope that if the 15-minute tests can be implemented it could bring an end to the problem. But with test and trace having suffered one of its worst weeks yet for tracing contacts, and the drive-thru Covid test scheme still taking an average of 39 hours to process tests (the target is 24), the prospect of a widely available 15-minute scheme for all maternity wards seems optimistic. "Without it I fear we are heading straight back to tighter restrictions," Powell says.
For now, at least publicly, women are being told that restrictions are easing. But behind the scenes things are still far more grey than that – with no certainty around any potential rollout timeline of tests. The BMJ even questioned which test the government would be using as it was not named. Given Mr Johnson recently became a new father himself, for the sixth time, his personal investment should go way beyond ensuring his pandemic legacy.
In a response to a query over trust policy, NHS England directed The Independent to its guidance published on 8 September.
Join our new commenting forum
Join thought-provoking conversations, follow other Independent readers and see their replies