LIFESTYLE FEATURES
'I'll lose everything': How gym-obsessed men are coping with body image in lockdown
The government has not given a date for gyms reopening. Although it might seem a small consideration during a pandemic and historic recession, Natasha Preskey finds the men relying on them for more than just fitness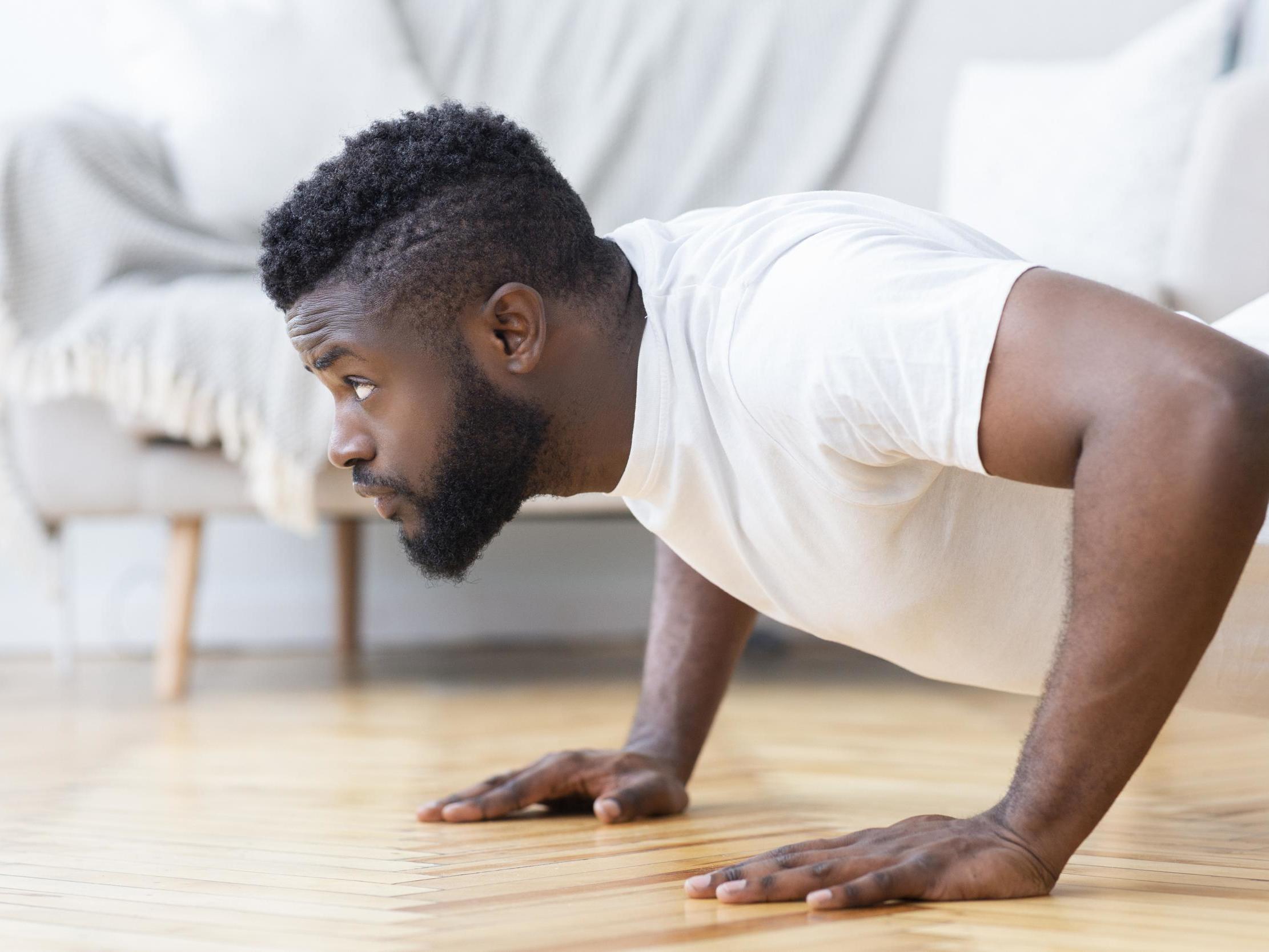 The week in March that Covid-19 closed gyms, Alex's phone wouldn't stop buzzing. Like the 28-year-old Londoner, many of Alex's friends had spent years honing their fitness regimes, and were now facing three months, or longer, without the equipment they needed to stick to them. "Everyone was worried," he tells The Independent, of the messages he and his mates exchanged that week. "They were [saying] 'I'm gonna lose everything, all these years, all this training'."
Pre-lockdown, Alex had been visiting the gym five times a week and was following a strength-training programme designed by American coach Jim Wendler, which he originally found on subreddit r/Fitness. He recorded what he was doing using a spreadsheet, but says the routine is impossible to replicate without gym equipment. "With the spreadsheet, or with dumbbells and a bench press, I know what I'm doing," he says. "Working out from home, it was like, 'Okay, do I just do 200 push ups? Do I do 10 push ups every hour when I'm awake?'."
Alex has gradually adjusted his routine during lockdown, using the little equipment he has. He and his friends talk about what exercises work for them, how much they're lifting, and offer each other advice and motivation. "My male friends will send shirtless pictures to be like, 'Look, I'm doing okay' – or for posterity before it all goes – and also I send my friends workouts," he says. "I imagine it's the same way that people say 'Great selfie!' – it's just that sense of encouragement, really."
Optimistic reports have suggested gyms may open in early July, but no concrete plans have yet been announced by the government. There are approximately 7,000 gyms in the UK and every one in seven people is a member of a gym. A 2019 report found there are more than 10 million memberships, which are worth more than £5 billion to the economy. Although there aren't clear statistics breaking down the gender makeup of these memberships, 65 per cent of men in the UK are classed as physically active, compared to 60 per cent of women.
For centuries women have been the primary target of societal body critique: magazines, adverts and diets all forcing them to dread not being "beach body ready". But increasingly men are not immune. A 2017 study from the University of Sydney found 45 per cent of men in the western world are unhappy with their body, rising from 15 per cent 25 years ago. On shows like ITV's "Love Island" we expect the male contestants to be just as chiselled and oiled as their female counterparts: professional dancer Curtis Pritchard even opened up about being fat shamed on season five. This pressure isn't unique to those in the public eye.
Before lockdown George Schofield, 27, went to the gym daily. He says: "Now I'm just going home and feeling a bit disgusting like I'm not doing anything worthwhile with my time...when I went back to work after three weeks off, someone was like 'Have you put on weight?' and I was like 'Oh, please don't', then someone else said 'Oh you've definitely put on weight' – then I Facetimed my mum and she was like, 'You've put on weight, haven't you?'"
On social media, just as there are "skinny jabs" and "waist trainers" being advertised to women, there are endless protein powders, home-delivered protein snacks and food supplements being pushed in front of men, promising muscular gains and a 360-overhaul of their image. At a basic level this is being driven by a desire to sell products, Glen Jankowski, senior lecturer in critical and social psychology at Leeds Beckett University, explains. "Men's body image pressures aren't being driven from women swiping left or right on Tinder – that's so minimal," he says.
Silence for key workers who lost lives to coronavirus
Show all 30
"They're being driven by companies finding this untapped market where they can sell insecurity in order to profit." Jankowski says this pressure can leave men feeling inadequate. "The problem is a systemic one that requires systemic upheaval," he explains. Regardless of the reason behind it, for those, like Alex and George, who workout regularly, going to the gym is not only an avenue to body betterment but an outlet for managing difficult emotions. And at a time of particularly high stress and anxiety – like a pandemic – the loss of this crucial coping mechanism is not easy.
"Stress that's caused by not knowing what's going to happen or not knowing how to cope might increase things like rumination about body shape," Professor Viren Swami, a social psychologist at Anglia Ruskin University, who specialises in body image, tells The Independent. Swami adds that this can leave men "wanting to reassert a degree of control through alternative means, whether it's, for example, buying weights to use at home or changing exercise patterns".
Freddie Cocker, 26, uses exercise as a "big part" of looking after his mental health and being in the gym helps him feel connected to other people, saying: "It's really good for my self-esteem, I struggled with body image as a child, I was slightly overweight, and I was bullied for that. I started going to the gym when I was 21 and seeing improvement in myself was quite big for me. So losing that when lockdown happened was a big setback."
For many men, going to the same gym at the same time every week, or playing team sports, evokes a sense of camaraderie and community, which isn't easily replicated elsewhere. In England, the Mental Health Foundation says men are less likely than women to disclose mental health issues to family or friends, so having a place where they do feel safe to talk and connect with others is crucial. "It's being in a gym and talking to people and doing your weights and having someone spot you," Freddie says. "It's definitely good to be connected with people."
Professor Swami says this is not an uncommon approach: "There are men who are able to emotionally express themselves but I think part of the problem is the way in which men talk is often very, very different to the way women talk about their emotions," he says. "For example, if it's a Whatsapp group, and they're all talking about going to the gym, expressing any kind of negativity might be seen as transgressive in terms of masculinity."
Swami says the process of working out together can allow men to "demonstrate masculinity" while also offering space to express emotion. "There's lots of evidence to suggest that people who go to gyms, and particularly men who've been weight training a long time, are much better at having conversations that are sometimes quite difficult – things about depression and mental health," he explains. "They're much more likely to have those conversations with other people who they perceive to be good and trustworthy friends than they are with complete strangers."
The sheer loss of this has been difficult for many to articulate – when they're surrounded by people going through tough times. Swami says: "I think we do jerk into 'Well, it's not life-threatening, there are lots of other people who are dying' etc, which is all absolutely true," he says. "But it doesn't mean people aren't experiencing difficult emotions about what they are able and unable to do. If being able to go to the gym provides you with a sense of self and an outlet for your emotions or physical self, not having that outlet anymore can be tricky."
For many men – as well as losing the mental health benefits of a gym – the hardest part about being at home has simply been getting hold of the right equipment to keep their body looking the same, either due to the cost or products being out of stock.
During the first week of lockdown, searches for 'dumbbells' were up 1,906 per cent on eBay compared with 2019, while searches for 'strength training & weights' had increased 1,003 per cent. Ryan Todd, a 27-year-old Londoner, was finding it so hard to access equipment, he got creative and made a gym out of old paint pots he found in his shed. "I put some bricks in them and that makes a kind of a mini-kettlebell, I suppose. But it's not ideal."
James Enderby, a 23-year-old from Ramsgate, says instead of getting too hung up on the gym closures, he and his friends are just trying to make a joke out of their morphing physiques. "We kind of laugh and joke about it and go 'Oh look at this fat belly I've got now'." But he is worried there is a more sinister long-term impact hiding below the surface: "I don't think any of us really open up to each other about the mental implications of it and how we're really feeling," he says.
While some are accepting that they can't do much about it for now, others are finding coping mechanisms to get them through to the gym reopening. For Freddie, carefully filtering his Instagram feed has been key during the upheaval of the last few months. "I'm very conscious of not following fitness influencers or those kinds of Instagram models," he says, adding that he's wary of users promoting the "unrealistic" results of "ridiculous" exercise routines and diets. "It's a million times worse for women but I definitely have seen a negative side for men."
It still isn't clear when we'll be able to get back to the gym, or even what fitness centres will look like when we do. But as society begins to grapple with the longer-term mental health implications of coronavirus and the lockdown (early data suggests anxiety levels have risen by as much as 50 per cent) it is clear that for some people, having the safe space of a gym taken away has altered more than just what you see on the outside.
Join our commenting forum
Join thought-provoking conversations, follow other Independent readers and see their replies