The Independent's journalism is supported by our readers. When you purchase through links on our site, we may earn commission.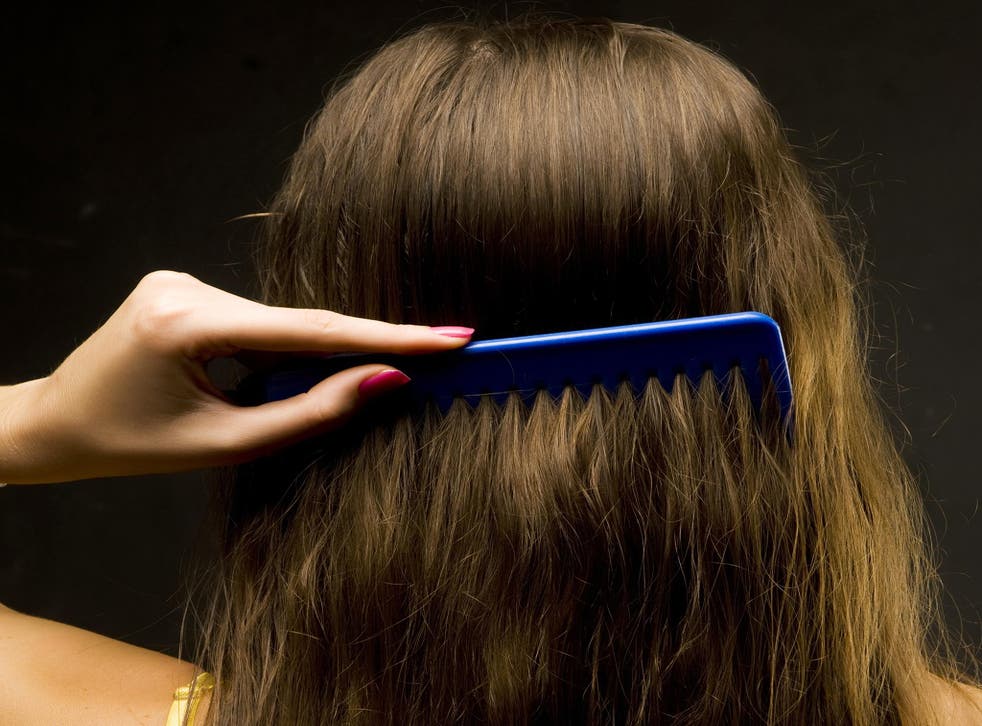 Mental health awareness week: Woman with depression shares poignant post about brushing her hair
'I cried when I washed and conditioned it because I forgot how it felt to run my fingers through it'
Mental illness is just as serious and real as any physical illness. The only difference: It is not as obvious.
It can, and does, affect anyone regardless of how they look from the exterior. The continuing stigma surrounding it, which although may be starting to open up, makes it difficult for some people to feel comfortable enough to talk about it and therefore leads misconceptions to perpetuate.
On Sunday, a woman called Katelyn Todd shared what living with depression is really like by posting a photo of herself brushing her hair for the first time in four weeks on Facebook.
"It was matted and twisted together. It snapped and tore with every stroke. I cried while I washed and conditioned it, because I forgot how it felt to run my fingers through it," Ms Todd explained in the post which has since been liked more than 150,000 times and shared more than 227,000 times. She also said she had managed to brush her teeth for the first time in a week, wash her clothes and shower.
"When I got out of the shower, I couldn't stop sniffing my hair and arms. I've avoided hugging people for a while, because I never smell good. I always smell like I've been on bedrest for a week. I have no clean clothes, because I'm too tired and sad to wash them," she wrote.
Ms Todd said depression is "bad hygiene, dirty dishes and a sore body from sleeping too much" and described more of her symptoms including hysterical crying "until there's no more tears", staring into space, feeling so distant and distracted that your family worry "you don't love them any more" as well as a general feeling of emptiness.
Depression is often described as a "black cloud" over everything a person does or a "black dog" following them around all day. While many people may feel down for a day or two, depression is a low mood that lasts for a long time affecting the person's everyday life and their ability to function. Depression can be life-threatening because it can make sufferers feel suicidal.
Mental Health Awareness: Facts and figures

Show all 10
Symptoms range from the psychological to the physical including feeling hopeless or helpless, irritable, having low self-esteem and an inability to make decisions. Physical symptoms include moving and speaking slowly, weight loss or weight gain and a lack of energy.
Ms Todd concluded her post by reminding people to take it easy on friends and family who may be going through a similar experience with their mental health and not judging them automatically instead taking time to listen and trying to empathise.
"Please be easy on your friends and family that have trouble getting up the energy to clean, hang out, or take care of themselves. And please, please take them seriously if they talk to you about it. We're trying. I swear we're trying. See? I brushed my hair today," she wrote.
You can call Samaritans free, any time from any phone, on 116 123 (this number will not appear on your phone bill), email jo@samaritans.org or go to www.samaritans.org to find details of your nearest branch.
Register for free to continue reading
Registration is a free and easy way to support our truly independent journalism
By registering, you will also enjoy limited access to Premium articles, exclusive newsletters, commenting, and virtual events with our leading journalists
Already have an account? sign in
Register for free to continue reading
Registration is a free and easy way to support our truly independent journalism
By registering, you will also enjoy limited access to Premium articles, exclusive newsletters, commenting, and virtual events with our leading journalists
Already have an account? sign in
Join our new commenting forum
Join thought-provoking conversations, follow other Independent readers and see their replies