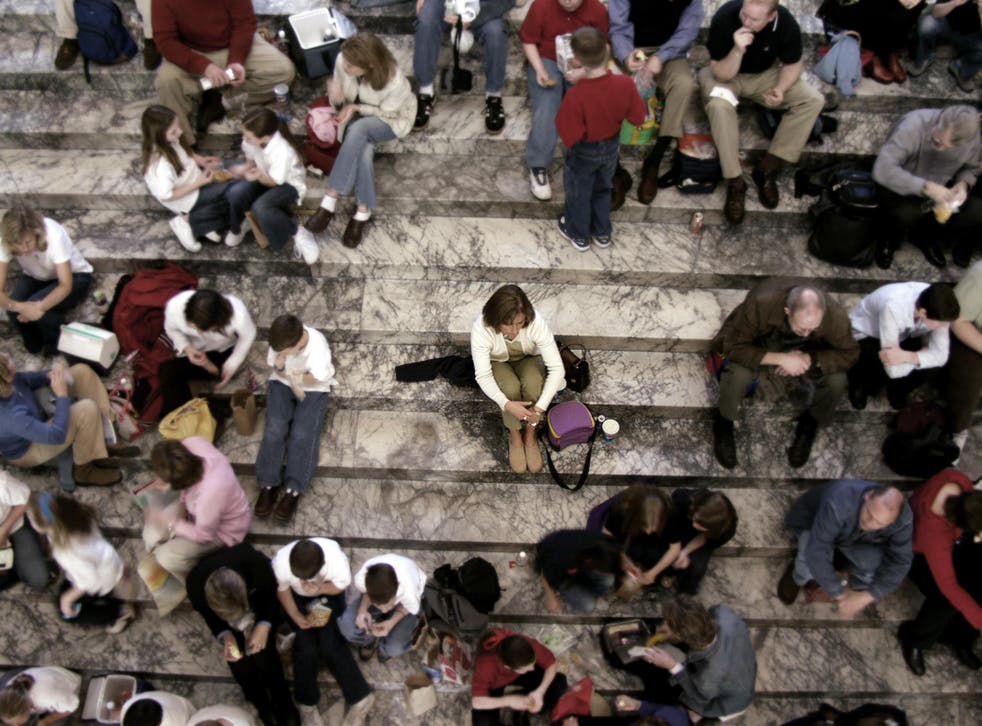 People with mental illnesses reveal how depression, anxiety and anorexia can make them seem rude
Poor mental health can make a person act out of character, but the stigma means they can find it hard to speak out 
From depression to anxiety, mental health issues are often painted as invisible illnesses, that aren't noticeable like a broken bone or a cut to the skin. Instead, the person silently battles against themselves behind closed doors.
But people who suffer from mental illness know that their conditions can indeed affect those around them. At times, symptoms like racing thoughts, paranoia and rock-bottom self-worth can make a person behave out of character. Sometimes, they can just come off as rude. And because of the stigma attached to mental illness, people can feel afraid to admit that they are acting up because their health is suffering.
Sarah, a 28-year-old who works in London, says that she has dealt with feelings of depression since she was a child. Usually a very chatty person, she says people can often feel confused by her behaviour when she is feeling depressed.
"When I'm feeling my lowest I find eye contact very hard to maintain, and the smallest interactions feel fraught. A fear comes over me that they'll find my appearance disgusting, so I try not to talk with people and keep my head down.
"When I faced with conversation, I can also be rude and short with people as a way to defend myself from other people's interactions when I am feeling my most vulnerable."
For Chloe, a 30-year-old full-time mother from Brighton, the combination of depression, anxiety, social anxiety, ADHD and dyspraxia can make social interactions very taxing.
"I often find it difficult to make eye contact, I sometimes avoid people altogether," she says. "I kind of feel like if I don't look at people or make any noise, by usually by hiding in my phone then I'm invisible. But obviously I'm not!"
Her inability to make eye contact with others has caused serious problems in her personal life, including a rift with her then-boyfriend's mother whom she was living with.
Sow Ay illustrations on mental health

Show all 18
"One of the issues was that she felt I was being rude or annoyed with her as I didn't look at her very much."
To cope, she says she forces herself to be present and "remember I'm in the same room as everyone else and they can see me and that is ok, I'm not in the way, I have as much right to be here as anyone else."
Frankie, a 26-years-old and based in London was diagnosed with anorexia in 2013, but had suffered from the condition from 2011. Her debilitating condition made her feel like she was in a constant battle with herself. "There is the person who you really are, and the part of your personality that is ill and constantly dictating what you should do."
Overwhelming feelings of failure were channelled into her eating habits, and her social interactions.
"If you have dinner plans with your friends it was always a stress because you are afraid of eating too much. If you cancel and let the disease win, and a part of you is disappointed because you know you are disappointing your friends even though a part of you is proud that you have been "strong" enough to resist the temptation.
"If you are stronger than the disease and chose to go out, it leads to a constant feeling of guilt (should I eat this or that? I am going to be heavier on the scale tomorrow? This is not worth it and I'm so weak."
Mario, a 31-year-old from Denmark, meanwhile reveals that his anxiety can make him appear like the life and soul of the party as he chats non-stop. But this also means he constantly interrupts others as he cannot bare for there to be a moment of silence in a conversation.
"I know what I'm doing is rude, but I go into fight or flight mode and can't switch off my racing thoughts. And people find it hard to believe it when I tell them I'm very anxious and shy."
"I wish I could tell people, but it seems so inappropriate to bring up mental health to explain away rude behaviour. I feel like people will think I'm making a lame excuse."
Sarah's advice to those worried that a loved one is acting-up is: "I you think someone is being rude, or actly oddly, give them some space and let them know you are there. They'll come to you when they are ready."
Register for free to continue reading
Registration is a free and easy way to support our truly independent journalism
By registering, you will also enjoy limited access to Premium articles, exclusive newsletters, commenting, and virtual events with our leading journalists
Already have an account? sign in
Register for free to continue reading
Registration is a free and easy way to support our truly independent journalism
By registering, you will also enjoy limited access to Premium articles, exclusive newsletters, commenting, and virtual events with our leading journalists
Already have an account? sign in
Join our new commenting forum
Join thought-provoking conversations, follow other Independent readers and see their replies