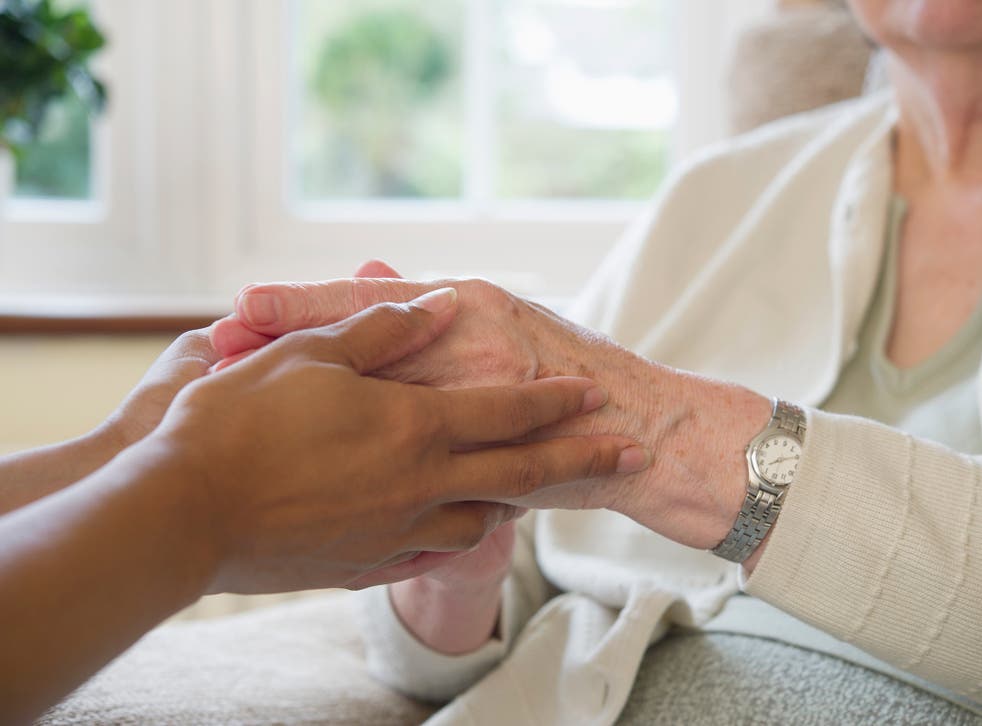 MiHomecare: One of UK's biggest care agencies being sued for paying below minimum wage
Exclusive: A former employee says she often worked 12-hour days for seven hours' pay because travel and overtime were not paid
One of Britain's biggest care agencies is being sued for allegedly paying below the minimum wage by refusing to reimburse staff for their travel time between home visits.
MiHomecare, which markets itself under the slogan "We care about care", is facing an employment tribunal claim from a former employee who says she often worked 12-hour days for just seven hours' pay because travel and overtime were not paid.
The case is the first time a major care provider has been taken to court for its failure to cover travelling between appointments.
MiHomecare is the fourth-biggest home-care services company in Britain, employing around 4,000 staff in 38 branches. If successful, this case could have implications for thousands of its employees, as well as care workers in other companies.
It is estimated that 883,000 people receive care in their own home in the UK with more than 500,000 people employed in the sector. Lawyers say the number of potential claims could run into thousands, costing care providers millions of pounds in unpaid wages.
Caroline Barlow, 56, from Devon, who issued the claim at Bristol Employment Tribunal, worked for MiHomecare looking after elderly, disabled or infirm patients in their homes. Despite the fact that travelling between appointments was an integral part of the job in rural Devon, she was only reimbursed for her petrol and not paid for her time. She reported the issue to HMRC, which is still investigating, but has now decided to take legal action herself.
Ms Barlow typically had eight appointments a day scattered around homes in the South-west – although sometimes as many as 13. "Some days nearly half of my time out of the house was spent travelling between calls," she said.
"The visits were anywhere between 15 minutes apart and an hour-and-a-half's drive away from each other."
She was paid £7.68 an hour, but since she was on the road for many more hours than she was paid, her average wage was pushed below the legal minimum wage (which is currently £6.50 an hour for over-21s).
Ms Barlow left in February after working there for four months. "It was having a detrimental effect on my health. I often left home at 6am and wouldn't get back until six at night, but I'd only be paid for seven-and-a-half hours."
The case also raises questions about 15-minute fleeting care visits, which Ms Barlow said were distressing to deliver because there was no time to check on a patient's emotional well-being. "I wasn't prepared to leave a client who was distressed, whether physically or emotionally, but that often meant I wasn't paid for the extra time I spent with them," she recalled.
Like her colleagues, Ms Barlow says she was routinely not paid any overtime when visits had to last more than their allocated time. MiHomecare argues this is out of its control because the time slots are set by local authorities.
One of Ms Barlow's clients was an elderly man whose care needs grew because he became incontinent. She reported this to the office but it did not give her any more than 30 minutes to care for him. This meant that as well as her stated role of giving him medication and feeding him, she had to persuade him to be bathed and changed because he was often in soiled clothes when she arrived.
Health news: in pictures

Show all 104
Jasmine Patel, Ms Barlow's lawyer at Leigh Day, said: "Without payment for her travel time, Ms Barlow was being paid less than the minimum wage per hour and we believe that this is an unlawful deduction of wages. Ms Barlow's travel to and from appointments was a necessary part of her job and as such, she should have been paid for it."
The legal challenge follows the discovery of an internal MiHomecare document by the Corporate Watch campaign group. The document calculated it could owe workers from just one of its branches as much as £80,000 for not paying travel time. The leaked document considered how to respond to an HMRC investigation into branches in Penarth and Swansea.
Giving a breakdown of unpaid travel time for 44 members of staff in the Penarth branch over a week in September 2014, it estimated they could be owed up to £80,000 over three years. The internal document said: "The discussion [with HMRC] should not be widened to the whole of [MiHomecare], although in reaching any settlement… we should be aware of the wider implications for the group."
A spokesman for Mitie, the outsourcing giant which owns MiHomecare, said: "We are investigating Caroline Barlow's claim and if we do owe her any money we will pay it."
Home care: In numbers
883,000 estimated number of people receiving home care in the UK
500,000 estimated number of people employed in the sector
6.4% proportion of total workforce in England that works in the adult social care sector
Register for free to continue reading
Registration is a free and easy way to support our truly independent journalism
By registering, you will also enjoy limited access to Premium articles, exclusive newsletters, commenting, and virtual events with our leading journalists
Already have an account? sign in
Register for free to continue reading
Registration is a free and easy way to support our truly independent journalism
By registering, you will also enjoy limited access to Premium articles, exclusive newsletters, commenting, and virtual events with our leading journalists
Already have an account? sign in
Join our new commenting forum
Join thought-provoking conversations, follow other Independent readers and see their replies