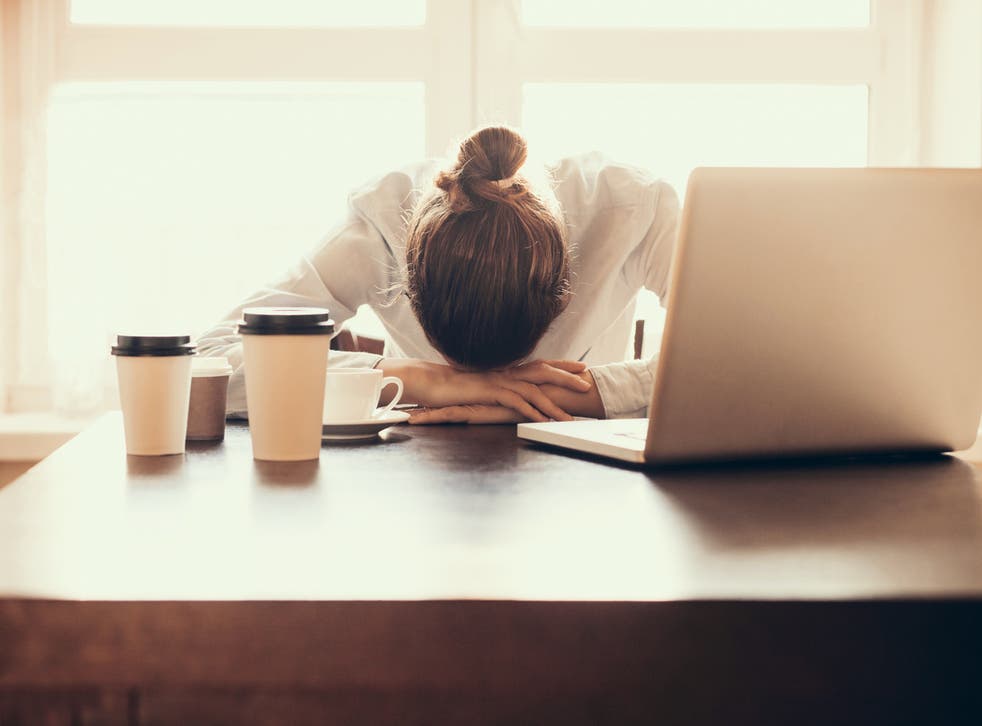 How a week of trying to be mindful left me more stressed
Rachel Hosie finds mindfulness is overhyped - and she's not alone
Rachel Hosie
Wednesday 08 November 2017 12:03 Comments
Mindfulness. It's been a buzzword for a few years.
Studies have shown it can be as effective as antidepressants, make us more resilient and less stressed.
People say that by "practising mindfulness" - for it is something you practise, don't you know - you'll become more focused, happier, thinner, funnier, cleverer and your snot will sparkle like glitter. (Maybe.)
Everyone has been harping on about why we not only need to actively practice mindfulness every day, but we need to incorporate it into everything we do - adopting intuitive eating, for example, and always "being present."
Ever on the quest for self-improvement, I decided I should probably jump on the bandwagon (five years late, I accept), and give mindfulness ago.
To do this, I downloaded a bunch of free mindfulness apps to my phone - there are tons out there, and it was a bit overwhelming from the start.
Most of these apps are designed to ease you into mindfulness with introductory courses which seem to entail plugging in for five minutes a day and listening to someone with a soothing voice talk to you.
It sounds pretty manageable, right?
It wasn't.
As I sat on a bench during my lunchbreak listening to the first five minute session, all I wanted to do was open my eyes to see what was going on around me.
Why did I so badly want to do the opposite of what the mindful American lady was telling me to do?
I was trying to be mindful, but I spent most of the time thinking about what I wanted to get for lunch afterwards.
There's a lot of focus on breathing in all the introductory sessions - I was told to "befriend my breath." I'm sorry, what? Befriend my breath, the American lady would say (for it is nearly always an American lady).
And no, I have no more of an idea as to what that means than you do.
As the week went on, fitting in a daily mindfulness session became stressful. I'd get to the end of the day and realise I hadn't found five minutes to tune into an app and attempt to tune out.
Attempting to de-stress was bringing more stress into my life.
I wasn't expecting to suddenly turn into a zen yogi, but my attempt at mindfulness had not gone to plan. I was disappointed.
And it seems I'm not the only one who's found mindfulness isn't all it's cracked up to be.
"We need to be mindful of the media hype about mindfulness - the benefits are often very overstated," clinical psychologist Catherine Wikholm, co-author of The Buddha Pill, told The Independent.
"Despite how it is often presented, mindfulness is not a panacea, it's not a cure for all modern problems. There are a lot of misperceptions about its therapeutic efficacy."
And this often leads to people becoming stressed out about getting it right and disappointed when they don't get the results they were promised.
"Given some of the pervasive misconceptions about mindfulness - such as that it works the same way for everyone, and that it's a straightforward route to feeling happier and less stressed - one common problem people may encounter is that they just don't experience the benefits they were expecting," explains Wikholm.
"There is a widespread belief that mindfulness meditation can only bring about benefits, that it has no potential for any adverse effects - and that's simply not the case. There is emerging scientific evidence that it can be associated with stress, low mood and anxiety."
And, she adds, if you have a trauma history, for example, it is possible that mindfulness meditation may trigger low mood, flashbacks and negative emotions.
I don't have a trauma history, but I did feel more stressed. And I'm not a stressy person.
I was left feeling guilty about the apps I wasn't finding time to use - they sat there on my phone, tormenting me, making me feel bad for not using them and worse when I used them and they didn't seem to work.
Mindfulness has many proven benefits and of course, it has the potential to help people. But if I've learned anything, it's certainly not the magic bullet people think it is.
I think I'll go back to being mindless but less stressed.
Register for free to continue reading
Registration is a free and easy way to support our truly independent journalism
By registering, you will also enjoy limited access to Premium articles, exclusive newsletters, commenting, and virtual events with our leading journalists
Already have an account? sign in
Join our new commenting forum
Join thought-provoking conversations, follow other Independent readers and see their replies