Morrisons gives out free sanitary products to those in need if they 'ask for Sandy'
The initiative aims to address the growing problem of period poverty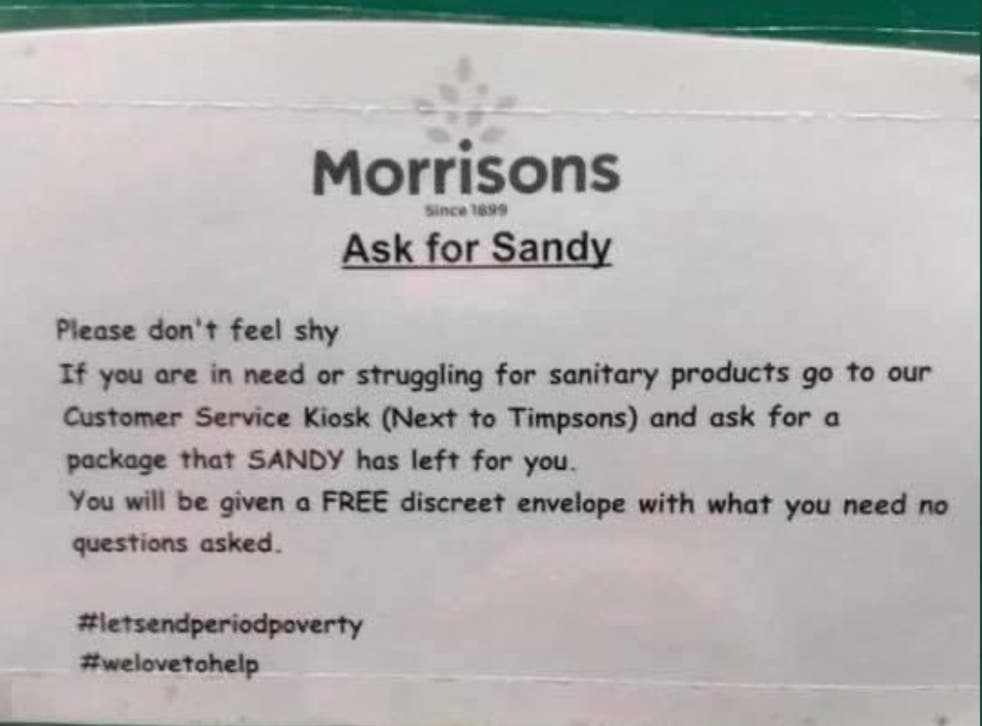 Morrisons has launched a discreet new service to address the growing problem of period poverty in the UK by giving out free sanitary products to those in need.
In a post shared on Facebook by a community champion at a Weymouth branch, a sign in one of their stores reads: "Please don't feel shy. If you are in need or struggling for sanitary products, go to our Customer Service Kiosk (next to Timpsons) and ask for a package SANDY has left for you.
"You will be given a FREE discreet envelope with what you need. No questions asked."
The sign includes the hashtags #letsendperiodpoverty and #welovetohelp.
As the scheme hasn't formally been rolled out nationwide, Morrisons advises people to check if their local store is participating in the project.
The helpful initiative has been met with widespread support on social media, with other retailers, such as Marks & Spencer calling it "a great idea" and agreeing to pass on the suggestion of a similar scheme to the relevant department.
One user on Twitter wrote: "I love this idea. I wish this was a more widespread thing, not just for homeless people but other people who are caught with a spontaneous period!".
Another noted that while the scheme was "amazing", it was "sad [that] this is an issue in 2021".
Bloody Good Period (BGP), a charity that works to alleviate period poverty in the UK, said that the problem has spiked since the start of the pandemic, resulting in it supplying almost six times as many menstrual products compared with before the coronavirus crisis.
As well as servicing homeless shelters, the charity has been providing products to food banks, community support groups, asylum seekers and refugees, those fleeing domestic violence and even NHS frontline workers.
A 2017 study by Plan International revealed that one in 10 girls in the UK can't afford to buy menstrual products, while one in seven have struggled to afford them.
"Periods don't stop in a pandemic," BGP's founder and chief executive, Gabby Edlin told The Guardian.
"As recession bites, more people lose their jobs, and more people are pushed into financial hardship and poverty. Everyone is feeling the cumulative stress of the pandemic. And periods continue to happen every month.
"If people don't have the products they need, they're forced to use alternatives like toilet paper, socks, newspaper, or to not change pads or tampons frequently – all of those options are obviously not appropriate, and can cause infections," she said.
Register for free to continue reading
Registration is a free and easy way to support our truly independent journalism
By registering, you will also enjoy limited access to Premium articles, exclusive newsletters, commenting, and virtual events with our leading journalists
Already have an account? sign in
Register for free to continue reading
Registration is a free and easy way to support our truly independent journalism
By registering, you will also enjoy limited access to Premium articles, exclusive newsletters, commenting, and virtual events with our leading journalists
Already have an account? sign in
Join our new commenting forum
Join thought-provoking conversations, follow other Independent readers and see their replies