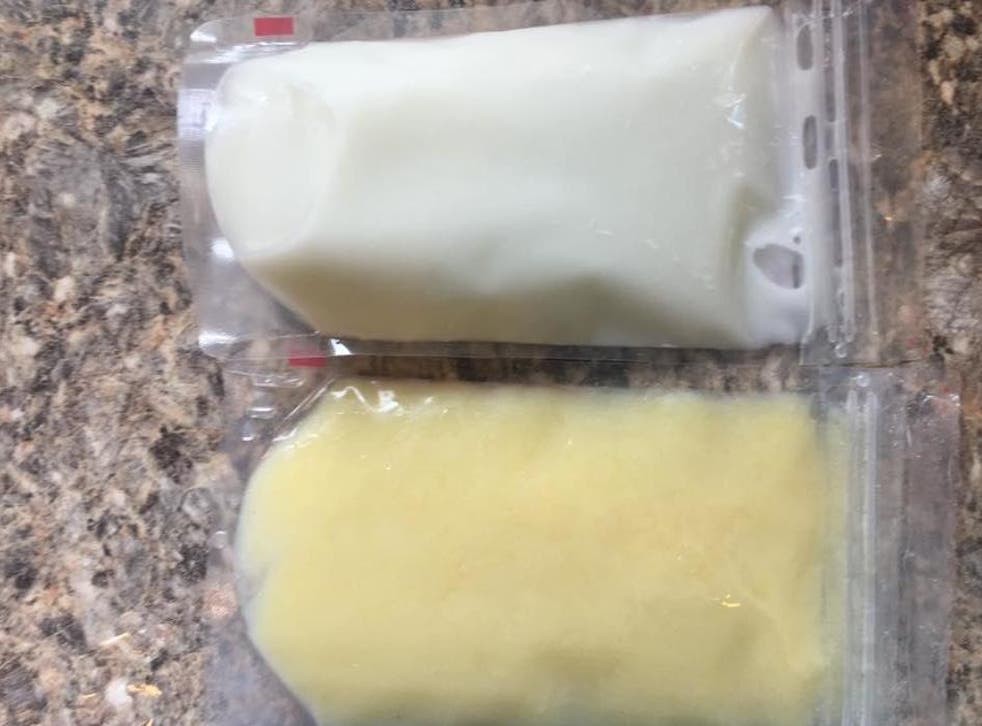 Mother shocked as breast milk turns yellow after her baby gets a fever
'It is well known that human breast milk changes circumstantially'
Olivia Petter
Monday 23 October 2017 12:42 Comments
A mother's Facebook post has gone viral after she shared an image of her breast milk, which appeared to have turned yellow.
Comparing it to milk that she had pumped the day before, Ashlee Chase says she was told by a doctor that the change in colour was due to her daughter's high fever and her body adapting the nutrients as a result.
"Top milk is from 3 days ago when a healthy Elliot was nursing," Chase wrote in her Facebook post, which shows the two distinctive-looking milks next to one another.
"Bottom is from today, after sick Elliot with a fever comfort nursed all night."
The Independent spoke to one doctor who said it may be possible that Chase's son's fever caused the change in colour to her breast milk, he stressed that further enquiries would be needed to confirm this as there are several factors that come into play.
"First, it becomes more 'watery' in hot weather," explained Professor Alastair Sutcliffe, professor of general paediatrics at UCL.
"If a there is a bug about, the mum makes greater amounts of Immunoglobulin A (IgA) in her breast milk to protect the baby from getting that bug."
The yellowish colour of Chase's milk could be down to an increased amount of of colostrum, which is rich in immunoglobulins.
"It is well known that human breast milk changes circumstantially," Sutcliffe added.
Some mothers claim that the food they eat impacts the colour of their milk and that it's not unusual for it to be tinted with blues, reds and greens depending on their diet.
The mother's post has been shared more than 7,000 times and has prompted fellow mothers to share similar experiences.
"Breastmilk constantly adapts to meet the infant's needs," wrote one user.
"This is why I nurse my 8 month daughter 6x night all week with fever. It didn't stop the bug but probably help her heal faster and soothing," added another.
Register for free to continue reading
Registration is a free and easy way to support our truly independent journalism
By registering, you will also enjoy limited access to Premium articles, exclusive newsletters, commenting, and virtual events with our leading journalists
Already have an account? sign in
Join our new commenting forum
Join thought-provoking conversations, follow other Independent readers and see their replies