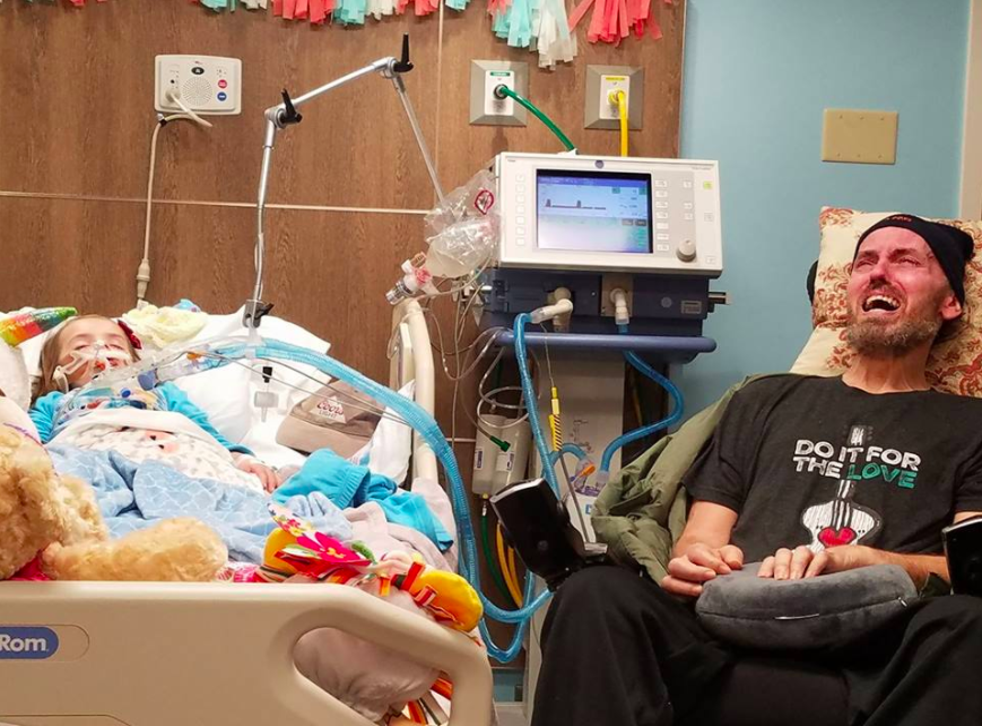 Mother shares devastating photo of dying child and father to show brutal reality of cancer
'Both of my heroes, gone, within the same year'
Rachel Hosie
Thursday 11 January 2018 11:08 Comments
A mother has shared a heartbreaking photo of her five-year-old daughter suffering from cancer in her hospital bed, with the girl's terminally ill grandfather sitting alongside her.
Ally Parker, from Pensacola, Florida is the mother of Braylynn Lawhon who was tragically diagnosed with a brain tumour on 6 December.
Lawhon was diagnosed with the most deadly form of brain cancer, Diffuse Intrinsic Pontine Glioma (DIPG), for which there is sadly no cure.
NHS England action to save lives by catching more cancers early
Parker's father, Sean Peterson, suffers from Motor Neurone Disease and can no longer speak.
The photo of the two has moved many people to tears across the world after Parker shared the picture on Facebook.
Despite having raised enough funds for an extremely expensive treatment for Lawhon, the young girl took a turn for the worse at the beginning of January, with doctors discovering a bleed coming from the tumour.
She wasn't able to receive the treatment her family had worked so hard to raise money for.
Alongside another picture of her father and daughter, Parker wrote: "These two are the strongest people I have ever known. Everyone related to us would agree.
"We all thought that they would outlive the rest of us… and we certainly never thought that my precious little Braylynn would be the first to go.
"Last year was hard for us, but I can't even begin to explain how difficult this year will be and has already been. In a few days I will have to bury this beautiful little girl.
"Months, maybe even weeks, later, I will have to bury my father. Both of my heroes, gone, within the same year."
Today, Parker explained that Lawhon is still fighting and the family aren't giving up hope.
"Tomorrow, we are having a family meeting which will include the social works and a doctor whom I have not met," she wrote. "This doctor, from what I have been told in the past few hours, is wanting to get Braylynn treatment. He believes she still has a chance.
"The possibility of her death is still very likely, but once again, we have been shown a glimmer of hope.
"During this meeting, we will discuss which facilities would be best for her at this stage, and we WILL find one to accept her.
"I couldn't be more proud of my Braylynn, she's always been a tough kid but I severely underestimated her strength. I will never make that mistake again."
Register for free to continue reading
Registration is a free and easy way to support our truly independent journalism
By registering, you will also enjoy limited access to Premium articles, exclusive newsletters, commenting, and virtual events with our leading journalists
Already have an account? sign in
Join our new commenting forum
Join thought-provoking conversations, follow other Independent readers and see their replies