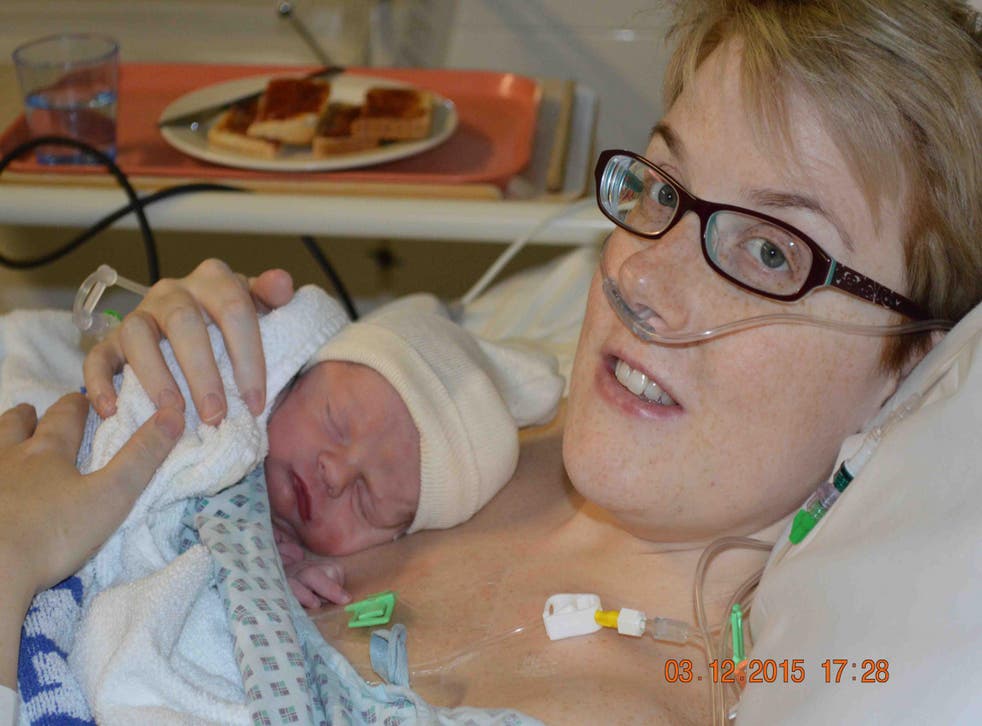 Mother who refused chemo to save unborn baby dies 11 months after giving birth
'Doing anything that might harm my unborn baby would be unthinkable,' she said
Rachel Hosie
Tuesday 29 August 2017 12:51 Comments
An expectant mother was forced to make the tough decision not to have chemotherapy in order to save her unborn baby's life.
33-year-old Tasha Trafford was 16 weeks pregnant when she found out the cancer she thought she'd beaten had returned.
But A&E nurse Trafford made the brave decision to continue with the pregnancy: "Doing anything that might harm my unborn baby would be unthinkable," she said at the time.
Her baby boy, Cooper, was born on December 12 2015, but Trafford sadly died 11 months later.
Four years earlier, just after getting married in Thailand, Trafford was first diagnosed with an incurable and rare bone cancer, Ewing's Sarcoma.
She'd been suffering back pain and regularly visiting her doctor, but it wasn't until the family paid for an MRI scan that the cancer was diagnosed.
Trafford underwent chemo and radiotherapy at Swansea's Singleton Hospital and was given the all-clear two years later. Doctors couldn't tell her the cancer wouldn't return, but she was encouraged to try and live her life as normally as possible.
In the hope of having children, Trafford had previously frozen three embryos and she wasted no time implanting one, which took on the first try.
16 weeks into the pregnancy, Trafford received the heartbreaking news that her cancer had returned.
Baby names facing extinction

Show all 10
She was desperate to see her son turn one but tragically died after 11 months with him.
"She had him for 11 months," her dad Dai Gallivan, from Clydach, Swansea, said. "She knew what was happening but we didn't speak about it much. It was a really long illness and was incredibly hard for Tasha."
The day she died, her dad had been planning on flying out to complete a charity climb of Mount Kilimanjaro for Tenovus Cancer Care.
But having seen his daughter's health deteriorating a month earlier, he decided to give his place in the climb to Trafford's brother, David.
"I knew I couldn't go. I knew in my heart of hearts if I was away then Tasha wouldn't be here when I got back".
David found out his sister had died two hours before his flight was due to take off, and he continued the trek in Trafford's memory - Dai plans to do it himself this year too.
"It's going to be a good event and my son wants me to do it because he wants me to share the same experience as him.
"I'm not worried about the climbing itself, I am pretty sure I'll be OK with that, but I know a lot of people have problems with the altitude."
Dai says he doesn't think his daughter would be surprised that he was still planning on doing the climb.
"I think she'd think it's just what I do. She'd think it's just another thing that Dad does".
To sponsor Dai visit his JustGiving page.
Register for free to continue reading
Registration is a free and easy way to support our truly independent journalism
By registering, you will also enjoy limited access to Premium articles, exclusive newsletters, commenting, and virtual events with our leading journalists
Already have an account? sign in
Join our new commenting forum
Join thought-provoking conversations, follow other Independent readers and see their replies