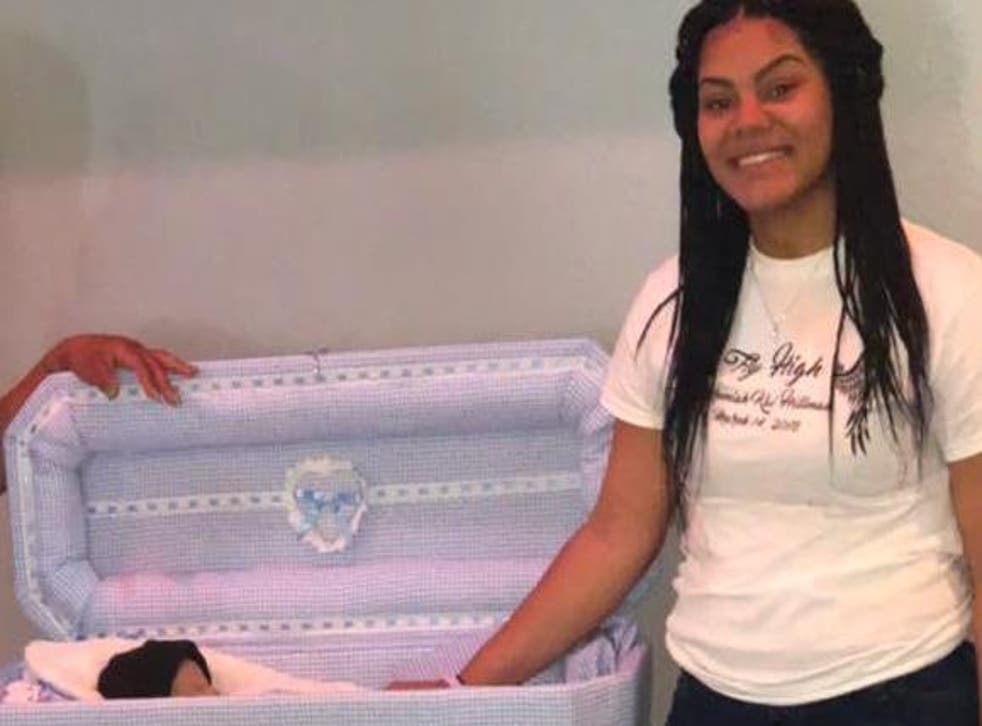 Mother defends sharing photos of her stillborn baby after receiving vile comments online
The new mum said her baby had 'every right to be shown off by his mother'
A mum has hit back at people who criticised her for sharing photos of her stillborn son online.
Zariah Jackson, 17, from Florida, gave birth to her son Jeremiah Kai on March 14 but found out shortly after his birth, "when it was silent," that he was stillborn.
Heartbroken and devastated, the young mother shared photos of herself and her son on social media.
The photos show Jackson holding Jeremiah in the hospital shortly after his birth as well as photos of the newborn in his purple casket.
According to Jackson, who spoke to the Mirror Online, she wanted to "share my pictures and my story to raise awareness of stillbirth."
In a post on her Instagram, Jackson revealed that Jeremiah was stillborn as a result of gastroschisis, a birth defect of the abdominal wall where the baby's intestines are outside the body.
But after posting the emotional photos, Jackson received hateful messages attacking her for sharing pictures of her baby.
Responding to the horrible comments, Jackson posted a scathing response on social media to anyone criticising her for showing off her son.
She wrote: "My baby had every right to be shown off by his mother just like a baby who was living.
"I shared my story not for you all miserable negative a** folk to get on my sh*t but to simply show you how God will give you something in life that's gonna make you or break you."
According to Jackson's post, the lesson she learned was to "appreciate what you have while you have it because you never know when it's going to be taken."
In addition to her post defending her son's pictures, the new mum has also been outspoken on social media about advocating for pregnancy and infant loss awareness.
And despite the abuse, Jackson told the Mirror that she is glad she shared the photos of Jeremiah, as it has helped her cope and connect with other mums who have lost their babies.
"It brought on a lot of negativity but it helped me knowing I wasn't the only mother with no baby," she said.
Register for free to continue reading
Registration is a free and easy way to support our truly independent journalism
By registering, you will also enjoy limited access to Premium articles, exclusive newsletters, commenting, and virtual events with our leading journalists
Already have an account? sign in
Register for free to continue reading
Registration is a free and easy way to support our truly independent journalism
By registering, you will also enjoy limited access to Premium articles, exclusive newsletters, commenting, and virtual events with our leading journalists
Already have an account? sign in
Join our new commenting forum
Join thought-provoking conversations, follow other Independent readers and see their replies