Napercise: Exercise classes offering 45-minute naps launches at David Lloyd Gyms
For those who prefer sleeping to spinning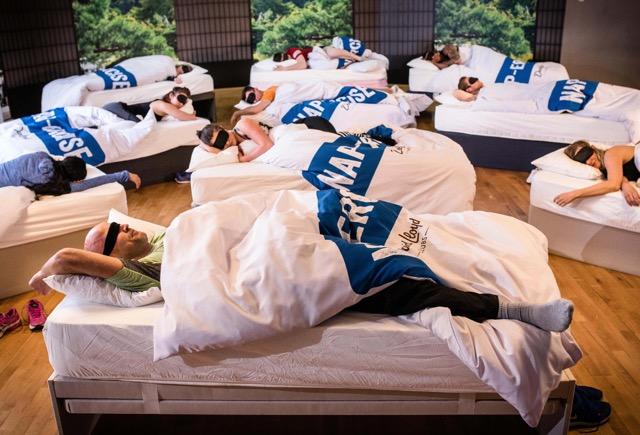 If the thought of a spin, legs, bums and tums or aerobics class makes you want to drearily hobble back to bed, the perfect 'exercise' class for you has arrived.
David Lloyd Gyms have launched a new health and fitness class which is essentially a bunch of people taking a nap for 45 minutes.
The fitness group was spurred to launch the 'napercise' class after research revealed 86 per cent of parents said they were fatigued. The class is therefore predominantly aimed at parents but you actually do not have to have children to take part.
The class is trialling in Sidcup, Kent this weekend and hopes to roll it out to its other centres across the country.
Participants of the class will find single beds, "atmospheric" sounds and a temperature which promotes calorie burning during sleep. The class will take place in the mid-afternoon.
Kathryn Pinkham, a sleep expert at Dreams who has collaborated with David Lloyd on the project, said the class actually can lead to positive fitness effects too.
"Sleep is a lot more important than people realise," she said. "We tend to focus on the short-term effects such as being tired or lacking concentration but it is also essential for our long-term physical and mental wellbeing too.
The exercise it takes to burn off high-calorie foods
Show all 10
"In addition to a lack of sleep bringing with it a higher risk of developing anxiety or depression, when we are sleep deprived we lack the energy to exercise regularly and also the mental clarity to make good decisions about the food we eat, which could negatively impact our physical health in the long-run."
The fitness company also says participants can expect to "burn the odd calorie" as the body continues to burn them during sleep.
Join our commenting forum
Join thought-provoking conversations, follow other Independent readers and see their replies