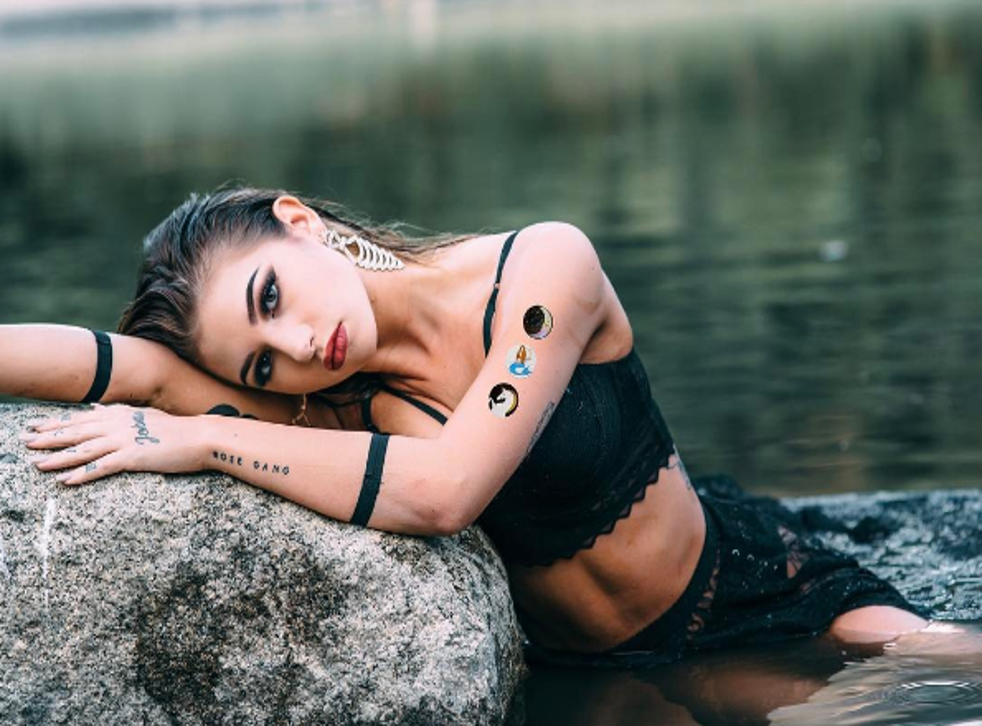 Ex-NASA scientist attacks Gwyneth Paltrow's website Goop over bizarre 'space sticker' claim
"What a load of BS this is"
Rachel Hosie
Thursday 22 June 2017 15:57 Comments
Oh, Goop.
Gwyneth Paltrow's lifestyle and wellness website really may have stuck their foot in it this time.
People love taking Goop down for their pseudoscience and tenuous claims, but the latest organisation to do so is almost definitely one to be trusted: NASA.
It all kicked off when an article appeared on Goop promoting stickers.
These aren't just run-of-the-mill stickers though. These are Body Vibes stickers that "promote healing."
You stick them on your left arm ("close to your heart") and they will then "rebalance the energy frequency" in your body. Apparently.
They should leave you calmer and with clearer skin too. Apparently.
"Human bodies operate at an ideal energetic frequency, but everyday stresses and anxiety can throw off our internal balance, depleting our energy reserves and weakening our immune systems," Goop says.
"Body Vibes stickers (made with the same conductive carbon material NASA uses to line space suits so they can monitor an astronaut's vitals during wear) come pre-programmed to an ideal frequency, allowing them to target imbalances."
Yeah, NASA. Apparently.
But wires must have been crossed somewhere as NASA have now come out to say that they "do not have any conductive carbon material lining the spacesuits."
In fact, their spacesuits are made out of synthetic materials and spandex, they explained to Gizmodo.
Body Vibes' stickers were reportedly created as a result of top secret research, but Mark Shelhamer, former chief scientist at NASA's human research division, wasn't particularly impressed by this.
"Wow," he told Gizmodo. "What a load of BS this is."
Shelhamer reiterated that NASA spacesuits don't use any sort of carbon lining, and even if they did, it would be to add support and strength to the suit rather than to monitor vital signs, as Goop claims.
"Not only is the whole premise like snake oil, the logic doesn't even hold up," he said. "If they promote healing, why do they leave marks on the skin when they are removed?"
Who knows.
Perhaps we'll have to buy a pack of 24 for $120 (£95) to find out.
Goop told The Independent:
"As we have always explained, advice and recommendations included on goop are not formal endorsements and the opinions expressed by the experts and companies we profile do not necessarily represent the views of goop. Our content is meant to highlight unique products and offerings, find open-minded alternatives, and encourage conversation.
"We constantly strive to improve our site for our readers, and are continuing to improve our processes for evaluating the products and companies featured. Based on the statement from NASA, we've gone back to the company to inquire about the claim and removed the claim from our site until we get additional verification."
The Independent has contacted Body Vibes for their responses to NASA's comments but are yet to hear back.
Register for free to continue reading
Registration is a free and easy way to support our truly independent journalism
By registering, you will also enjoy limited access to Premium articles, exclusive newsletters, commenting, and virtual events with our leading journalists
Already have an account? sign in
Join our new commenting forum
Join thought-provoking conversations, follow other Independent readers and see their replies