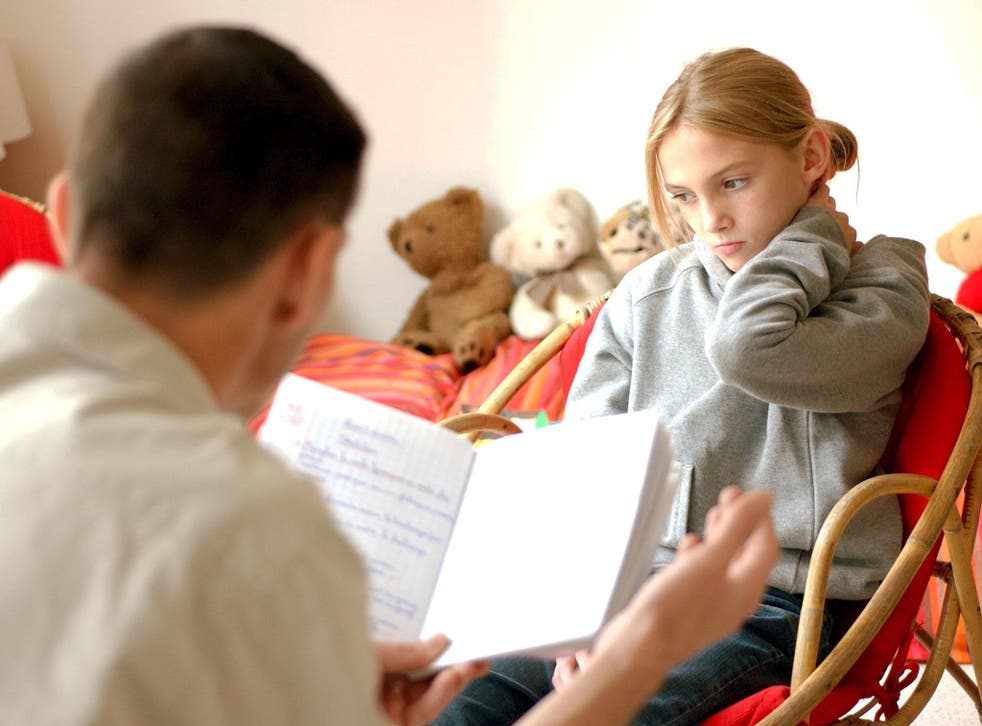 Overly-controlling parents cause their children lifelong psychological damage, says study
The negative impact on wellbeing was comparable in scale to that observed in people who have suffered a bereavement, the experts said
Parents who exert too much control over their children could be causing them lifelong psychological damage, according to a study which tracked a group of people born in the 1940s until the present day.
Researchers found that people who reported their parents had intruded on their privacy in childhood or encouraged dependence were more likely to have low scores in surveys of happiness and general wellbeing carried out in their teens, their 30s, their 40s and even their 60s.
The negative impact on wellbeing was comparable in scale to that observed in people who have suffered a bereavement, experts from University College London (UCL) said.
In contrast, people who said their parents were more caring, warm and responsive to their needs tended to be more content well into adulthood.
The findings are the culmination of a survey which has tracked more than 5,000 people since their birth in 1946. It is well-established that childhood influences can have profound effect on the developing brain, but this is one of the first studies that has attempted to measure their impact over such a long period of time.
Information on parenting styles was only available from the study participants themselves, who were asked to recall their childhoods when in their 40s, and may therefore suffer from a degree of so-called recall bias – unhappy people may be more likely to depict their parents as controlling.
However the researchers said the findings chimed with previous studies which have shown that children who are able to form secure emotional bonds with parents are more likely to have secure, happy relationships later in life.
"Parents also give us stable base from which to explore the world while warmth and responsiveness has been shown to promote social and emotional development," said Dr Mai Stafford, of the Medical Research Council's (MRC) Lifelong Health and Ageing unit at UCL.
"By contrast, psychological control can limit a child's independence and leave them less able to regulate their own behaviour."
Examples of psychologically controlling behaviour identified by the study included invasions of children's privacy and an unwillingness to let children make their own decisions, and fostering dependence upon one or both parents.
Separately, study participants were asked about behavioural control, which included elements of parenting that involve not letting children get their own way: for example, not always allowing them to go out as often as they would like. No links with psychological wellbeing were observed in relation to this kind of parenting.
Dr Stafford said that the study did not seek to blame parents.
"Parents are vitally important to the mental wellbeing of future generations," she said. "Policies to reduce economic and other pressures on parents could help them to foster better relationships with their children." Previous research has shown a clear link between economic stress in parents and poorer early child development.
The study group were participating in the MRC's National Survey of Health and Development. Of 5,362 people tracked since 1946, 2,800 remain under active follow-up and complete data was available from 2,000 people by the ages of 60-64.
The findings are published in the Journal of Positive Psychology.
What's the theory? Parenting styles
Slow parenting: allows children to go at their own pace, with little control over what they take an interest in or when they do it.
Helicopter parenting: named for the constantly hovering quality of certain mums and dads, the opposite of slow parenting is characterised by close involvement in a child's interests and hobbies. First identified in the 60s, the term has come to describe the type of parent who lines up a list of after school activities.
Tiger mum: originated in a 2011 book by Chinese-American author Amy Chua about a traditional, strict approach to motherhood that gets results in terms of grades and extracurricular achievement. It also spawned a new term for another breed of parent – the cat dad, who is laid back, stand-offish and slow to anger.
Register for free to continue reading
Registration is a free and easy way to support our truly independent journalism
By registering, you will also enjoy limited access to Premium articles, exclusive newsletters, commenting, and virtual events with our leading journalists
Already have an account? sign in
Register for free to continue reading
Registration is a free and easy way to support our truly independent journalism
By registering, you will also enjoy limited access to Premium articles, exclusive newsletters, commenting, and virtual events with our leading journalists
Already have an account? sign in
Join our new commenting forum
Join thought-provoking conversations, follow other Independent readers and see their replies