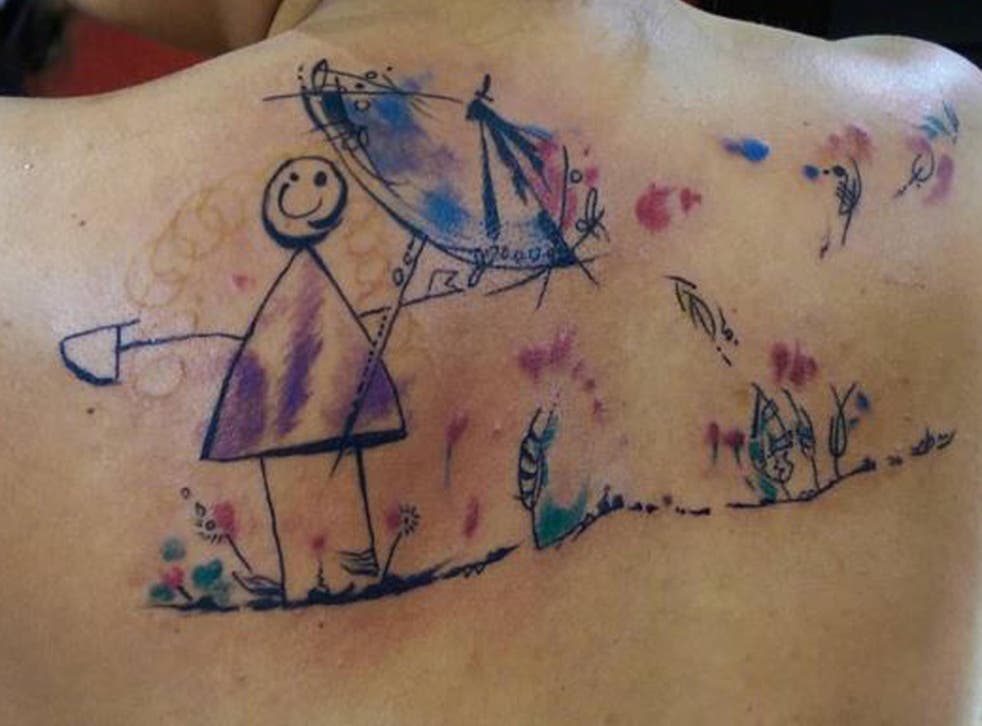 Parents too nice for their own good get tattoos of their children's bad drawings
Mums and dads everywhere are going above and beyond the call of duty
Sarah Young
Thursday 20 October 2016 18:34 Comments
An increasing number of parents are having their kids drawings tattooed on their bodies; no matter how dreadful they are.
Whether you grew up to enter the world of fine art or not, for most of us doodling was a virtual vocation during childhood.
Your sketches would plaster the fridge and any blank space of wall your parents could find but not these days. Now, mums and dads everywhere are going above and beyond the call of duty by immortalising their kids' artwork on to their skin.
From adorable love notes to questionable portraits and crude stick figures it doesn't matter. In the eyes of ma and pa, these are masterpieces that deserve to be frozen in time.
One image shows what looks like an angry monster named Brian wearing multi-coloured socks.
It's not a trend reserved for parents alone though, luckily, aunts and uncles can get on board too. One person decided to have a mash up of three separate drawings by their niece and nephews. The result? We're not quite sure, but we can spot Hello Kitty front and centre.

Another dad has even taken things one step further and actually allowed his children to tattoo him. He said ""I had the great pleasure the other day of getting tattooed by my little ones: King, who is 6 years old and my 8 year old Sykeri…I have to say they're the best tattoos I've ever received!"
We're not sure if we'll be taking the plunge any time soon but nonetheless, it's a truly unique way to hang on to those special moments in your little ones childhood; no matter how absurd they may be.
Register for free to continue reading
Registration is a free and easy way to support our truly independent journalism
By registering, you will also enjoy limited access to Premium articles, exclusive newsletters, commenting, and virtual events with our leading journalists
Already have an account? sign in
Join our new commenting forum
Join thought-provoking conversations, follow other Independent readers and see their replies