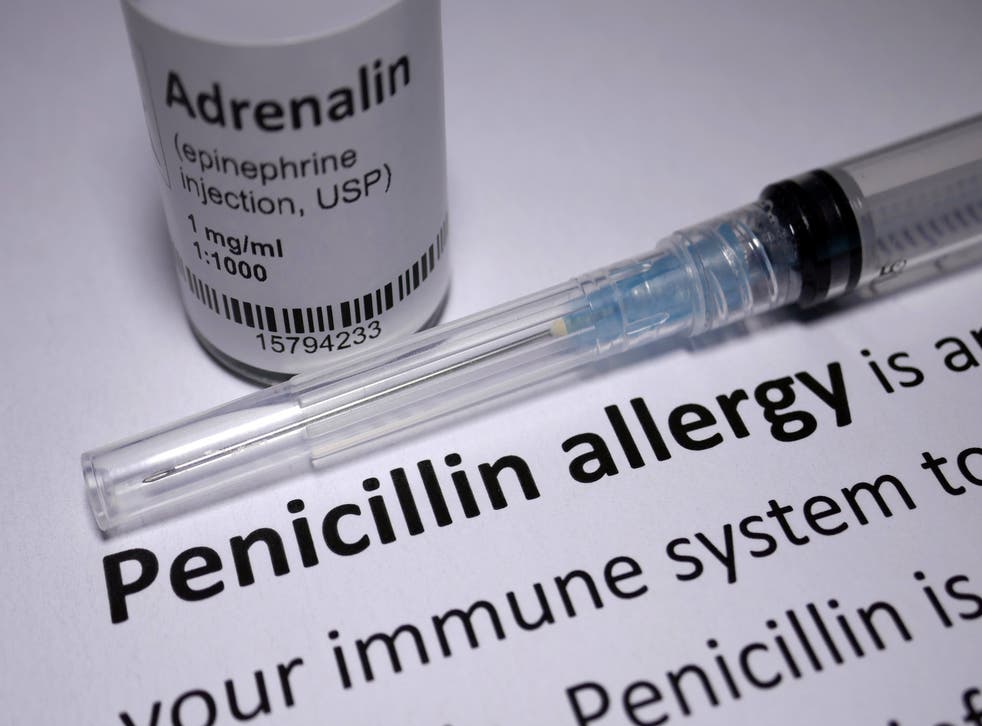 Penicillin allergy: How common is it and what are the symptoms?
It's estimated that penicillin has saved 200 million lives around the world
Penicillin is used to treat bacterial infections, including pneumonia, scarlet fever and ear infections.
Discovered by Scottish scientist Alexander Fleming in 1928, penicillin is believed to have saved approximately 200 million lives since it first started being used as a medicine in 1942.
Despite its widespread use, many people believe that they're allergic to penicillin. According to the American Academy of Allergy Asthma and Immunology (AAAAI), around one in 10 patients believe they have a penicillin allergy.
Chief Medical Officer Dame Sally Davies: Resistance to antibiotics risks health 'catastrophe' to rank with terrorism and climate change

Show all 2
But how common is it for someone to have a penicillin allergy and what are the symptoms to look out for? Here's everything you need to know:
What are the symptoms of a penicillin allergy?
Symptoms of a penicillin allergy will usually appear about an hour after taking the drug.
It's very common for side effects of antibiotics to be mistaken for allergic reactions, explains University College Hospital.
However, if you're not sure whether you're experiencing an allergic reaction to penicillin or not, there are certain signs that you should look out for.
Mild symptoms of a penicillin allergy may include the development of a skin rash, hives, itching, a runny nose, shortness of breath and watery eyes, the Mayo Clinic says.
In rare cases, a person with a penicillin allergy may experience anaphylaxis.
Anaphylaxis is a severe allergic reaction that can take effect extremely quickly, the Anaphylaxis Campaign explains.
"The whole body is affected, often within minutes of exposure to the substance which causes the allergic reaction (allergen) but sometimes after hours," the organisation states.
Symptoms of a severe allergic reaction can include swelling in the throat or mouth, a change in a person's heart rate, abdominal pain and unconsciousness.
If a person is suffering from anaphylaxis, they'll require immediate medical attention.
The NHS advises using an adrenaline auto-injector on the individual if they have one, ensuring that you know how to use it properly, and calling 999 straight away.
How common is a penicillin allergy?
Around one in 10 patients believe that they have a penicillin allergy.
However, the AAAAI admits that "the majority of patients (greater than 90%) may not truly be allergic".
In 2014, a scientific study was presented at the American College of Allergy, Asthma and Immunology Annual Scientific Meeting in which 384 patients were given a skin test for a penicillin allergy.
The researchers concluded that many patients may mistakenly believe that they have a penicillin allergy because they haven't undergone a skin test.
"These results have a significant bearing on physicians' prescriptions of antibiotics in a pre-surgical setting to ward off infection," said allergist Thanai Pongdee, according to The Pharmaceutical Journal.
"When patients tell their healthcare provider they are allergic to penicillin, the physician must substitute another antibiotic.
"These treatment alternatives may be more toxic, more expensive and less effective than penicillin or antibiotics related to penicillin."
How do you treat a penicillin allergy?
The easiest solution for treating a penicillin allergy is to avoid the antibiotic altogether.
Support free-thinking journalism and attend Independent events
However, if you've taken the drug and are suffering from an allergic reaction, then your doctor may prescribe you with an antihistamine in order to counter the effects.
If a person has a severe reaction, they will need immediate medical care.
Join our new commenting forum
Join thought-provoking conversations, follow other Independent readers and see their replies