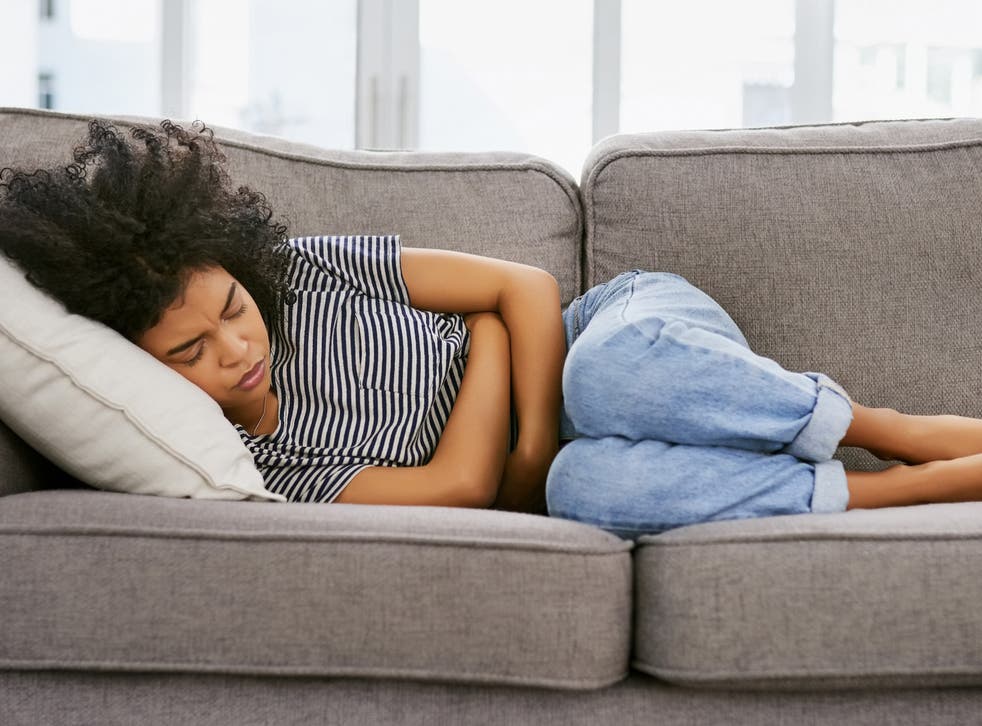 Period pain causes women nearly nine days of lost productivity at work per year, study finds
'There is an urgent need for more focus on the impact of these symptoms'
Sabrina Barr
Friday 28 June 2019 19:27 Comments
The pain caused by menstrual cramps is causing women to lose approximately nine days of productivity at work every year, researchers have found.
In a new study published in the British Medical Journal, a team of scientists from the Netherlands assessed 32,748 women aged between the ages of 15 and 45.
Conducting their study between July and October 2017, the researchers asked for the participants to divulge details about their menstrual cycles, including the average length of their periods, the severity of symptoms and whether or not they've missed work due to period pain.
According to their findings, 26,438 of those questioned reported going to work while feeling ill – also known as presenteeism – but women experiencing menstrual cramps had lower levels of productivity.
The researchers recorded an average loss of productivity of 33 per cent per year among the women due to presenteeism, which equated to an average of 8.9 days of lost productivity.
Furthermore, 4,514 women reported missing work due to period-related pain.
Just over 3 per cent of the participants said they miss work during every, or almost every, period.
Women under the age of 21 were more likely to report absenteeism due to period pain.
Meanwhile, only a fifth of women who stayed home due to their periods told their employer or school the reason for their absence.
The researchers explain that menstrual pain is causing a "great deal of lost productivity", with presenteeism found to be a more pressing issue than absenteeism.
How women around the world manage their periods

Show all 26
"There is an urgent need for more focus on the impact of these symptoms, especially in women aged under 21 years, for discussions of treatment options with women of all ages and, ideally, more flexibility for women who work or go to school," they state in conclusion.
Almost 70 per cent of the participants said that they wish they had greater flexibility with their working hours during their periods.
In 2016, a professor at University College London said that period pain can be as "bad as having a heart attack".
John Guillebaud, professor of reproductive health at the university, said that he believes period pain is "something that should be taken care of, like anything else in medicine".
Support free-thinking journalism and attend Independent events
For the past two years, teenage activist Amika George has been campaigning for sanitary products to be provided for free in schools, creating a petition called the #FreePeriods campaign.
Earlier this year, the government announced that a free sanitary product scheme is going to start from September in secondary schools and colleges across England.
During the Spring Statement on Wednesday 13 March, chancellor of the exchequer, Philip Hammond, said: "In response to rising concern by headteachers that some girls are missing school attendance due to inability to afford sanitary products, I have decided to fund the provision of free sanitary products in secondary schools and colleges in England from the next school year."
Register for free to continue reading
Registration is a free and easy way to support our truly independent journalism
By registering, you will also enjoy limited access to Premium articles, exclusive newsletters, commenting, and virtual events with our leading journalists
Already have an account? sign in
Register for free to continue reading
Registration is a free and easy way to support our truly independent journalism
By registering, you will also enjoy limited access to Premium articles, exclusive newsletters, commenting, and virtual events with our leading journalists
Already have an account? sign in
Join our new commenting forum
Join thought-provoking conversations, follow other Independent readers and see their replies