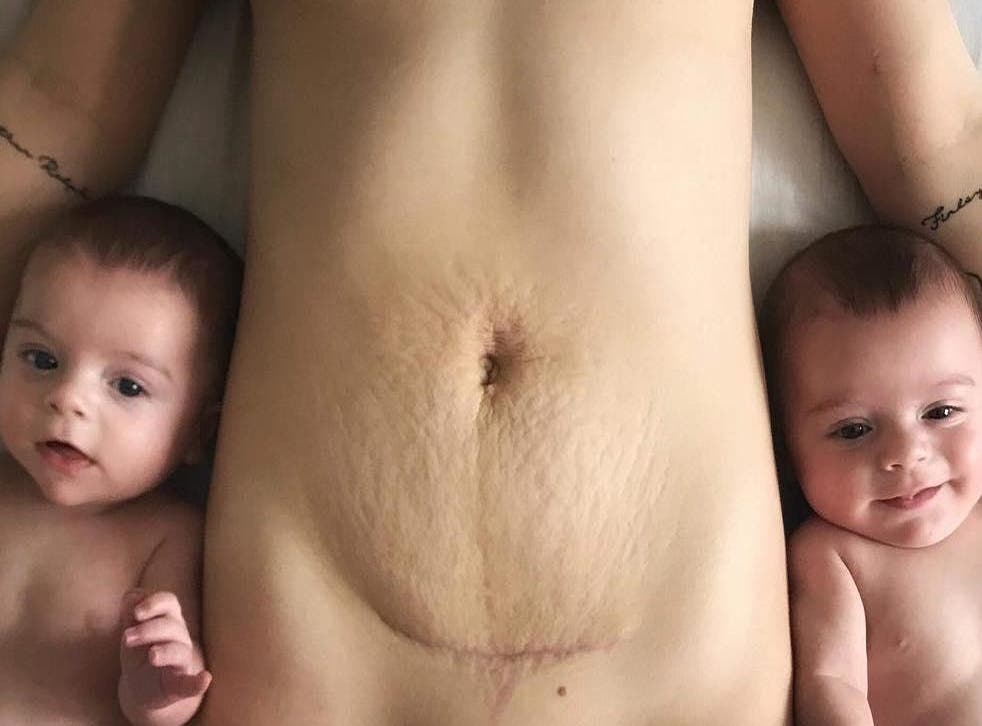 Mother urges women not to feel ashamed of post-pregnancy bodies in powerful Instagram post
'Your stretch marks DO NOT define you, your scar DOES NOT define you'
A British mother has implored women to embrace their postpartum figures in a candid Instagram post.
After giving birth to twin boys in December, Emily Marson began documenting her parenting journey along with her husband Thomas on an account dedicated to their sons, Arthur and Finley.
Writing in a heartfelt post alongside a photograph of her scarred stomach next to her baby boys, Marson explained how she has finally learned to love her body following the birth of her children.
"Okay, this is quite a personal post but I am now four months postpartum and beginning to embrace what my body has become," the young mother begins.
Describing her pregnancy, Marson explains that her sons were born prematurely, leading to several hospital visits due to dehydration and early contractions.
Ultimately, this led to her undergoing a caesarean birth, which typically leaves mothers with a visible scar on their stomach.
"Our bodies go through a lot," she continues.
"A lot of change and your body is put through an enormous amount and I am so proud of myself that I carried such beautiful children and gave them food, warmth and most importantly all the love that I never thought I had.
"With a scar that I will have for the rest of my life is a tiny sacrifice for a lifetime of beautiful memories with my family."
Addressing the physical changes she has noticed since giving birth, Marson urged mothers to see beyond the aesthetics and to look at their new bodies as a symbol for what they have achieved.
"Your stretch marks DO NOT define you, your scar DOES NOT define you, your flab DOES NOT define you," she writes.
"You are incredible, you are a mother and you are the light of your babies eyes. I wanted to share this to show the reality of our bodies and that it's okay not to be perfect because in their eyes you are exactly that."
Speaking to The Independent, Marson explained that she uploaded the image to inspire fellow mothers to be confident in their own skin.
"I wanted to normalise postpartum bodies and make people aware of the reality of giving birth and carrying children," she said.
"It's taken me a long time to accept who I am and I want to help other women accept themselves and feel beautiful just the way they are."
The post has already garnered more than 300 likes, with commenters praising Marson for her candour and sharing their own postpartum stories.
"I also had to had a c-section around the same time for my son and it was hard emotionally during recovery but seeing your post is definitely lifting and truthful words. Enjoy your twins they're cute," wrote one person.
"I had natural birth with Keanu, four months postpartum. My belly looks like that. I always remind myself when I look at my stomach, how beautiful it is to grow a human being inside us women," added another.
Marson's post forms part of a growing social media trend in which women are posting candid photographs of their post-pregnancy bodies in a bid to tackle unrealistic pressures to "bounce back" to their pre-pregnancy figures.
While celebrities are lauded for their honed post-pregnancy figures, often achieved within months of giving birth, Blake Lively was praised by fans for taking her time to lose the weight she'd gained while pregnant with her second child.
"Turns out you can't lose the 61lbs you gained during pregnancy by just scrolling through Instagram and wondering why you don't look like all the bikini models," the American actress wrote, revealing that it took her 14 months to regain her trim and toned shape.
"Feeling very proud," she added.
Join our new commenting forum
Join thought-provoking conversations, follow other Independent readers and see their replies