From Egypt to 3D printers: The fascinating history of prosthetics - and what the future holds
As a new exhibition shows, prosthetics have come a long way in the past seven centuries – and they can now even be styled for personal taste. Kashmira Gander reports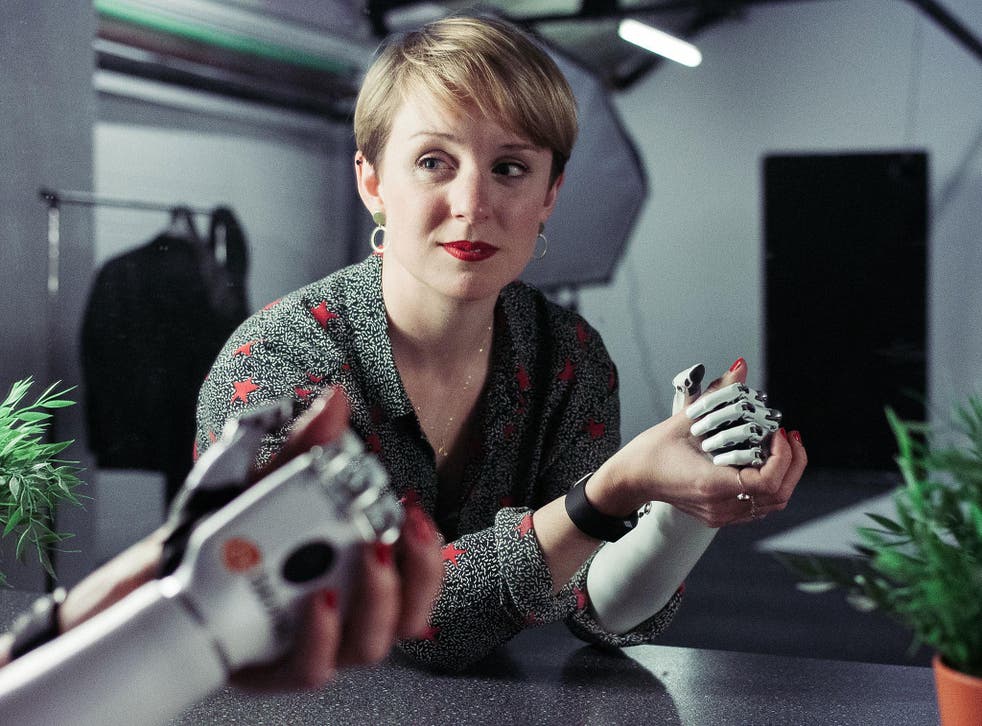 Cassie Cava was just 22 years old when she had her leg amputated. Born with a club foot, she suffered complications after breaking it walking up the stairs. Enduring operation after operation over six years, she was still left struggling to walk – and coping with levels of pain that forced her to drop out of medical school. To regain some quality of life, Cava decided that removing her leg from below the knee was her only option – but she has no regrets.
"Amputation has totally given me my life back," she says. Now 24 and based in south London, she uses a carbon-fibre blade to run, cycle and snowboard at a world-beating level. She's on the GB Parasnowboard and Paratriathlon teams, and is currently in Rotterdam for the World Paratriathlon Championships. "I'm living a virtually pain-free life, doing all of the things that I love," she says.
Cava is one of the estimated 30 million people worldwide who use some form of prosthesis, and such devices – from false hands to face-masks – are currently on show at the Henry Moore Institute in Leeds. And what distinguishes the exhibition is the way it presents the pieces as artworks, reflecting how artists, designers and medics have been united in their fascination with the human body as an aesthetically pleasing and powerful machine.
The need for artificial body parts exploded in the wake of the world wars, and artists and designers (including the Eameses famed for their curvaceous furniture) stepped up to the plate. However, people have been dabbling with prosthesis as back as ancient Egypt, when false toes were made from a mix of linen, glue and plaster. The Dark Ages ushered in arms with hinges, followed by mechanical limbs in 16th century France.
However, the most significant leaps have been made in recent decades, says Professor Saeed Zahedi, a leading prosthetic designer at Blatchford technology centre in Basingstoke and fellow of the Royal Academy of Engineering. This is when engineering and aesthetic design collided: microprocessors enabled artificial limbs to detect and react to their surrounds – whether cracking an egg or climbing staircase – while hydraulics absorbed the shocks and improved balance.
"We are at the renaissance of prosthesis," says Professor Zahedi, who was part of the Linx artificial-leg team, recently awarded the prestigious 2016 MacRobert Award for Engineering. (It enabled communication between the knee and ankle via microprocessors for the first time.) "These days, patients can walk on sandy beaches, play with their children and stand at concert halls for the first time."
Nicola Ashwell, a product manager at a London online fashion forecasting and trend service, agrees it's a golden age. Born without a right hand, she is the first person to use a "bebionic" hand, made by a firm called Steeper, which is controlled using muscle contractions. But while such products are innovative and life-changing, they are also expensive. The Linx costs a cool £25,000. Steeper won't give a price for bebionic – saying it depends on each person's needs – but it's safe to assume the arm isn't cheap.
Enter Peter Binkly, a former high-school French teacher from Virginia in the US: he unexpectedly became a prosthetics designer after his son was born without fingers on his left hand and he decided to simply 3D-print an existing model. Binkley, who works with the Enabling the Future network of volunteers to 3D print upper-body limbs, says: "The process of designing and making these devices has become democratised. The cost of home-made mechanical assistive devices is very low, so public designs can improve the lives of a great number of people around the world."
Among his clients is Jimmy Wilson, an eight year-old BMX fanatic who is now able to grip his handlebars with a custom-made Captain America 3D-printed arm. "Open-source design has allowed people to personalise devices like never before," says Binkley, admitting that, while there are useful functional modifications to be made, such adaptations are mainly aesthetic.
But what's the shame in a limb being aesthetically pleasing? To artist and prosthetist Sophie de Oliveira Barata, the artificial limb can be a source of empowerment. The founder of the Alternative Limb Project, she creates hyper-realistic limbs, complete with slightly jagged toenails and skin coloured as if a shoe has rubbed against it. However, her most striking pieces are works of art: embellished with lace and metal ribboning or painted turquoise and covered in sailor tattoos.
"To see someone walking down the road with a beautiful and extraordinary body part, like a walking work of art is a powerful thing," she says. "These pieces are an extension of the wearer's imagination and help to break down barriers of what it is to be disabled and the pity that's so often felt but not wanted. A recent client told me she had goosebumps looking in the mirror to behold her ornate metal looking leg cover with dragons. And it was lovely seeing Viktoria Modesta spinning around on the Paralympic closing ceremony stage with her crystallised leg high up in the air." Modesta, a singer and model, owns five of Barata's pieces.
Ashwell shares this view. She proudly wears her bebionic hand without the latex skin-like cover, partly because it avoids awkward encounters when people who suddenly realise her arm is fake, and partly because she has no interest in pretending she has two hands. "As a person who was born with one hand, my identity has partly formed around this. I guess you could say I'm not striving to fit in."
And Binkley chimes in: "People aren't hiding their differences. Rather, they are embracing those differences without shame. These are just tools, after all."
Prosthetics past and present - In pictures

Show all 6
But as prosthetics become more accepted and the technology race forwards, will people with otherwise healthy limbs rush to "upgrade" them? No doubt, this is an ethical quandary we'll be grappling with soon enough. There are already projects in development that will limbs to be controlled by the mind and linked directly to the nervous system. And William Darrell, an artist working in London who recently created a wind-turbine attached to the body, believes we could one day change limbs like we change shoes. "Prosthesis is starting to out-perform the natural design of the human body," he says. "The human body is a fascinatingly well-constructed tool that can allow us to do many things but it's still perhaps inadequate for our imaginations."
Meanwhile, Professor Zahedi baulks at the idea. Amputation is a major operation that is difficult to recover from and causes pain in other parts of the body. Instead, orthotics – Iron Man-style apparatus that work outside the body – should be our focus. Besides, the different challenges in creating artificial limbs and arms – supporting weight and offering both balance and dexterity – show how incredibly difficult it is to mimic the human body, let alone replace parts of it. And while extreme and exciting futures are easy to dream up, those with disabilities want the basics of prosthetics to be perfected first.
"New socket technology, enabling amputees to be on their feet for longer each day, with less pain [is what I want]. There are liners starting to be made that have laser holes in, to allow sweat and heat to escape, instead of causing problems with fitting the socket, says Cava. Ashwell has similarly basic needs. "I would love a prosthetic hand with an opposable thumb. But the big win for me would be one that is light and comfortable to wear. I just want functional changes that make the hand easy to use and easy to wear. I'm not looking for something superhuman."
'The Body Extended: Sculpture and Prosthetics' is at the Henry Moore Institute, 74 The Headrow, Leeds, until 23 October
Register for free to continue reading
Registration is a free and easy way to support our truly independent journalism
By registering, you will also enjoy limited access to Premium articles, exclusive newsletters, commenting, and virtual events with our leading journalists
Already have an account? sign in
Register for free to continue reading
Registration is a free and easy way to support our truly independent journalism
By registering, you will also enjoy limited access to Premium articles, exclusive newsletters, commenting, and virtual events with our leading journalists
Already have an account? sign in
Join our new commenting forum
Join thought-provoking conversations, follow other Independent readers and see their replies