The one trick to get yourself into running
There's a simple way to make sure you commit to pounding the pavements. Seaside boardwalk not necessarily included.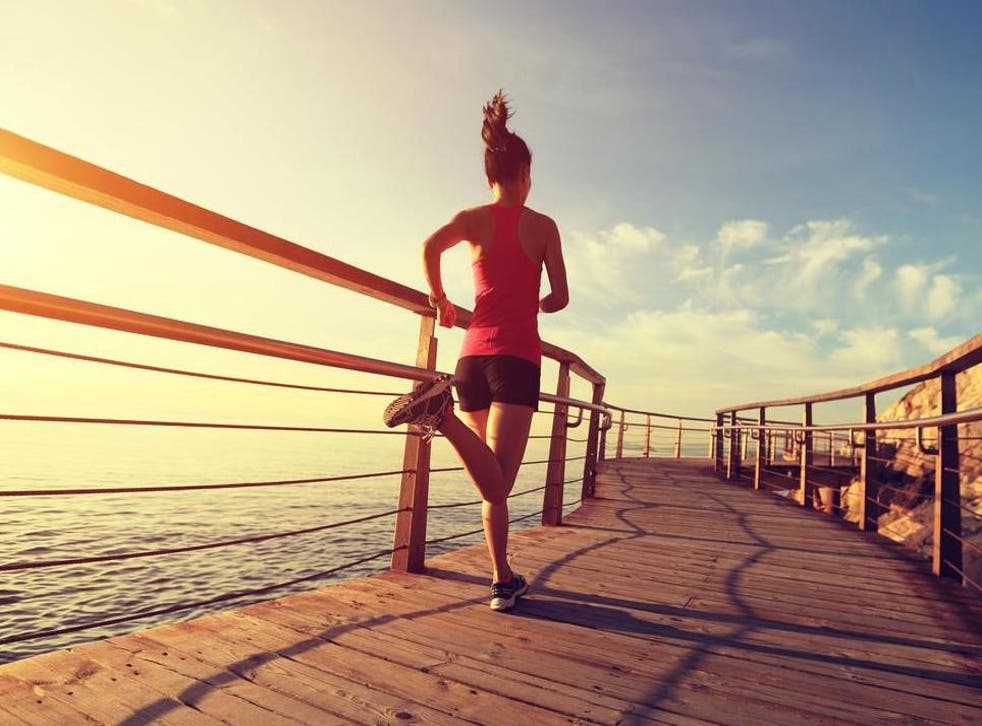 If you want to get fit and burn calories but don't have a huge budget, running is one of the best options.
But if you're not a regular jogger, getting started can be hard.
For the first few minutes you love running and are convinced you're going to be the next Mo Farah, but come minute five you start to feel like yes, you are in fact dying. So you give up, go home and tell yourself running just isn't for you.
But that's not necessarily true - you just have to start small, and the key to sticking to it is setting yourself a stretch goal.
If you're fit enough to walk for 20 minutes, you can run. The NHS recommends alternating between running and walking when you first start, making sure to warm up properly beforehand. You can then decrease the walking time in between bouts of jogging.
The most crucial next step is to set yourself a goal, as this will seriously help with your motivation. A great starting point is to enter a 10K race.
"In the summer, when the heat can be a major issue on longer runs, a 10km strikes a good balance as it's not too short that you don't reap the benefits, but it's also not too long that you struggle in the heat," says adidas Running captain and ambassador for adidas City Runs, James Heptonstall.
He says a 10K is achievable for everyone too: "If you are generally fit and active you will be able to run 10km without any training; you might not necessary get the best time but you'll certainly get round."
And if you're not super fit, it's an achievable target that will make sure you keep putting on your trainers and hitting the streets for a couple of months.
Six healthy breakfast recipes to try

Show all 6
"When training for a 10k, variety in the type of training you do is key," Heptonstall says. "It's not just about getting out and running, you should be mixing up your training with intervals, tempos, fartlek (essentially periods of fast running interspersed with slower running) and hills as well as the steady run.
"It is also important to listen to your body and not do too much, rest and recovery is a critical element in all training schedules."
Mixing up running with other exercises not only ensures you don't get bored but will also improve your performance:
"Working on your core stability as well as your strength and conditioning, in particular for your legs, provides a great base for an effective and efficient technique as well as helping with injury prevention," Heptonstall says.
"In conjunction with this, flexibility through stretching, yoga or pilates are also excellent for injury prevention and range of movement as a runner."
Finding a running buddy is another great way to ensure you stick to your training - it's easy to cancel on yourself but much harder to do so when you have plans with a friend.
"By training with others, you will push yourself much harder and work off other people to get more out of your training," Heptonstall says. "Running is a mental game as well as physical so if you have others around you to support and encourage, it can make the world of difference to your training."
It could be wise to head to a specialist running shop for a gait analysis too, as they'll help you decide what type of shoe you should wear based on your running style.
And when it comes to the actual race, Heptonstall says you should eat slow-release carbs beforehand like brown bread, porridge or brown rice to provide sustained energy.
Once you've crossed the finish line, replenish your body and depleted energy stores with fast-release carbs like white pasta or jacket potato. And probably a well-deserved drink too.
Register for free to continue reading
Registration is a free and easy way to support our truly independent journalism
By registering, you will also enjoy limited access to Premium articles, exclusive newsletters, commenting, and virtual events with our leading journalists
Already have an account? sign in
Register for free to continue reading
Registration is a free and easy way to support our truly independent journalism
By registering, you will also enjoy limited access to Premium articles, exclusive newsletters, commenting, and virtual events with our leading journalists
Already have an account? sign in
Join our new commenting forum
Join thought-provoking conversations, follow other Independent readers and see their replies