Lifestyle features
'More than half of our students will do their lessons on their phones': Teachers and parents on the government's schools U-turn
As schools close just one day into the new term, Natasha Preskey speaks to teachers and parents about how they've been affected by the latest lockdown announcement
Tuesday 05 January 2021 19:12 GMT
Comments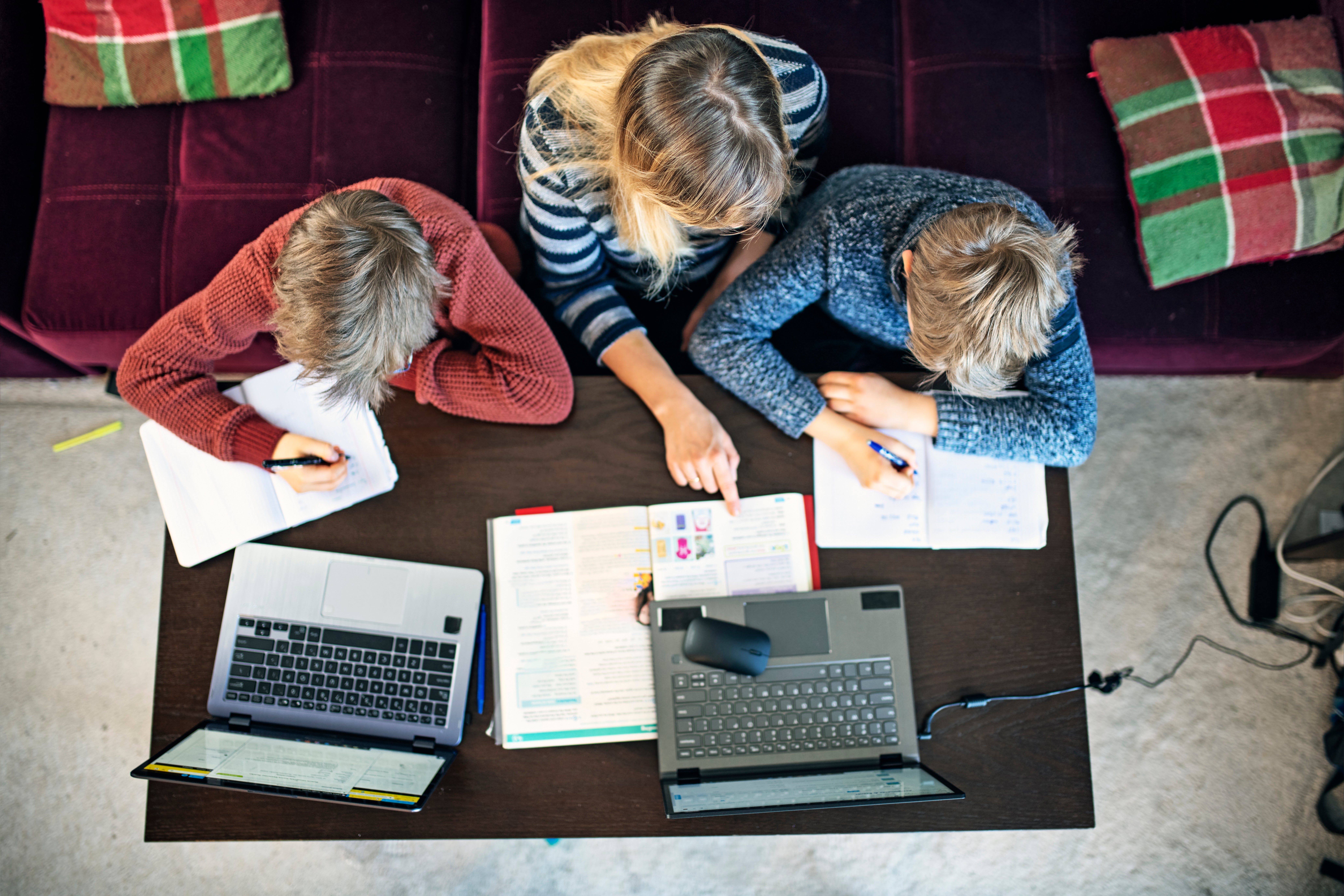 "This morning, I've had emails from 15 students who just can't access the internet," secondary school teacher Jasmine* tells me over the phone from her home in London, where she is now teaching classes remotely. "I would say more than half of our students will do their day's lessons on their phones on 4G."
Just yesterday, the English teacher, who works at a secondary faith school, was taking a lateral flow coronavirus test as part of her school's new weekly testing programme. She describes setting up testing facilities for 1,000 students as a "massive undertaking" for the school - one which has now been rendered "completely pointless" by Prime Minister Boris Johnson's Monday night announcement of a full nationwide lockdown in England.  
The government has promised to provide one million more laptops to help disadvantaged students learn from home now that schools are closing again until at least mid-February but Jasmine fears many parents at her school feel too "embarrassed" to admit to teaching staff that their child doesn't have access to a device or the internet.  
Josh, 29, tells The Independent that his younger brother's primary school has given him a laptop but he is still unable to partake in home-learning, because his mother has health problems and cannot assist him. The seven-year-old's school in Southampton closed before Monday's announcement due to staff shortages. Classed as a vulnerable child, Josh's brother is still allowed to attend school two days a week, which is "better than nothing", but Josh explains that the school simply doesn't have the resources to assist with home-learning.
On Sunday, the Department for Education said that remote learning would be a "last resort", and that schools should reopen where possible for the new term. The previous day, the National Association of Headteachers (NAHT) and the Association of School and College Leaders began legal action against the government over the reopening of schools. The unions instructed lawyers to write to the DfE, giving them until Monday at 4pm to provide scientific backing suggesting it was safe for schools to open. On Monday night, the Prime Minister announced schools would close as part of the national lockdown.  
A sudden shift to homeschooling is likely to complicate the lives of working parents like 41-year-old Emma Steele. On Monday, prior to the PM's announcement, the mother-of-two received an email from her younger daughter's primary school telling her that, due to a staff shortage, they would not be opening this week as planned. Her situation was replicated across the country yesterday, as many teachers invoked section 44 of the employment rights act 1996, stating that it is unsafe to return to teach classes in person.  
"My daughter's reaction was 'Yes! Yes!' because she thinks 'Great, I get to stay at home'," the mother-of-two says of her eight-year-old. "But she didn't respond well to such a prolonged period of home learning last time and, even though she thinks she likes being at home, actually, she much prefers being at school."
Steele and her partner's response was not as jubilant as their daughter's, however, as the pair both work from home and will now be forced to juggle their jobs with helping to home-educate their two daughters, the elder of which is at secondary school.  
Steele says the benefits of being in school "outweigh the risk" for herself and her children but she accepts that "it's not just about us". Though her daughter's primary school didn't have any coronavirus cases until the final week of term, Steele says it's tough for young children to behave in a Covid-secure fashion. "There isn't any social distancing really," she says. "I can tell you that because she had head lice quite a few times."  
Like many of the staff at the school Steele's daughter attends, Manchester-based secondary school teacher Steven Longden invoked section 44, prior to the PM's lockdown announcement. "As an education professional, the last place I want to be doing my job is from home," Longden tells The Independent of the decision.
The teacher says he and his colleagues put themselves "on the line" by choosing to stay at home before lockdown was announced. "The scientists and the teachers between them have provided the leadership necessary, and we've seen the politicians follow suit," he says.  
"I and all my colleagues have been teaching in schools since the start of the national lockdown," Longden says. "Many of us have worked over half terms and Easter, and some of the summer holiday as well." But after infection rates of Covid-19 began soaring at the end of last year, and minutes from a Scientific Advisory Group for Emergencies (Sage) meeting showed that the government had been advised to close schools before Christmas, Longden says a "significant number" of teachers invoked section 44, with the support of the National Education Union (NEU).
On Monday night, Boris Johnson's announcement echoed what many teachers had been saying for weeks that, while students themselves are unlikely to be "severely affected" by the virus, "schools may nonetheless act as vectors for transmission, causing the virus to spread between households".
Headteacher Kathryn Harper-Quinn welcomes the decision to close schools but expresses frustration at the last-minute call. "We're extremely disappointed that it's so late," says the head of Hounslow Heath Infant and Nursery School. "The virus rates are so high - before Christmas would have been better." At over 1,000 cases per 100,000 residents, the London Borough of Hounslow has more than double the national average number of Covid cases, according to the latest round of government data.  
In Harper-Quinn's school, teachers have been wearing visors and facemasks on site at all times, despite the fact that government policy doesn't require them to do so. "Every single parent wears a mask, no one's allowed to stand anywhere near a parent and we've got 15 different entrances and exits - so we've done every single thing that we can think of," she says. Even despite these measures, Harper-Quinn says there have been four cases of Covid among staff.  
From the start of the coronavirus crisis, the headteacher says the government's approach to schools has felt "confrontational", citing decisions being made at short notice, a lack of clear scientific information for teachers and the changes made to government powers under the Coronavirus Act to compel schools to enable all pupils to attend school full-time. 
For her school, where the oldest pupils are just seven years old, delivering online education has been a learning curve. Harper-Quinn tells me that children are used to a "play-based curriculum" and activities that involve things like music, dancing and being outdoors. Staff have tried to replicate PE by recording videos of themselves doing activities, she says, and teachers have been encouraging nervous parents to take their children out to Hounslow Heath for exercise - while maintaining social distancing.  
Just as teachers felt they had to make the decision to stay at home, many families had already decided to keep their children off school before the lockdown announcement. Jodie Watson, 26, who lives on the Isle of Wight, tells The Independent that she was already planning on keeping her nine-year-old daughter at home as a precaution to avoid possible transmission to her classmates following a family funeral.  
"Other parents were saying, 'I'm not sending my children in, I'll wait to see what Boris says'," Watson says. 
The Isle of Wight was originally placed into tier one but was moved into tier three two days before Christmas, after experiencing a 323 per cent rise in cases – the largest surge of any area in the country at that time. A week later, the area was moved into tier four. "It was about time the decision was made," says Watson of the move to shut schools. "And I think, personally, you have to make the decision that you think is right for your family anyway."  
On Tuesday, Michael Gove confirmed that this year's GCSE and A-level exams would be cancelled, and that teacher assessment would be used instead to produce final grades. Last year's summer exams were also cancelled in March and students were told they would be given teacher-assessed grades. The government later made a last-minute decision to calculate results using an algorithm instead – a decision which was later overturned after widespread uproar over students being downgraded.  
"You might think 'The kids are going to be over the moon, their exams are cancelled'," says Jasmine of her students. "Actually, that's not the case. They've worked towards these GCSEs since year seven, and they want the chance to actually prove themselves."
The English teacher says her students will likely feel "betrayed" as staff could not have expected another year of exams to be cancelled, and had therefore reassured them that last year's assessment crisis would be a "one-off".  
Steven Longden believes now is the time to look at permanently reforming how GCSEs are assessed, with greater focus on internal assessments by teachers (provided these are "rigorously externally moderated"). He would also welcome more assessments involving projects that promote "independent research skills".  
"I've seen the amount of information that young people have to absorb in GCSEs and, if you multiply that by eight, nine or 10 GCSEs, the content has increased quite exponentially," he adds. "It's not surprising that many young people are having increasing mental-health-related problems in their lives, linked to the stressors they're exposed to within schools."  
After 10 months of back and forth, the impact on families has undoubtedly been immense. But with the lockdown now in place and expected to last a minimum of seven weeks, at the very least parents and teachers no longer have to live with the looming uncertainty of whether or not to go back to the school gates tomorrow.
*Name has been changed
Join our commenting forum
Join thought-provoking conversations, follow other Independent readers and see their replies