Sextuplet photoshoot shows Alabama babies in colourful outfits lined up like a rainbow
The family will be featured in a TLC documentary about life with sextuplets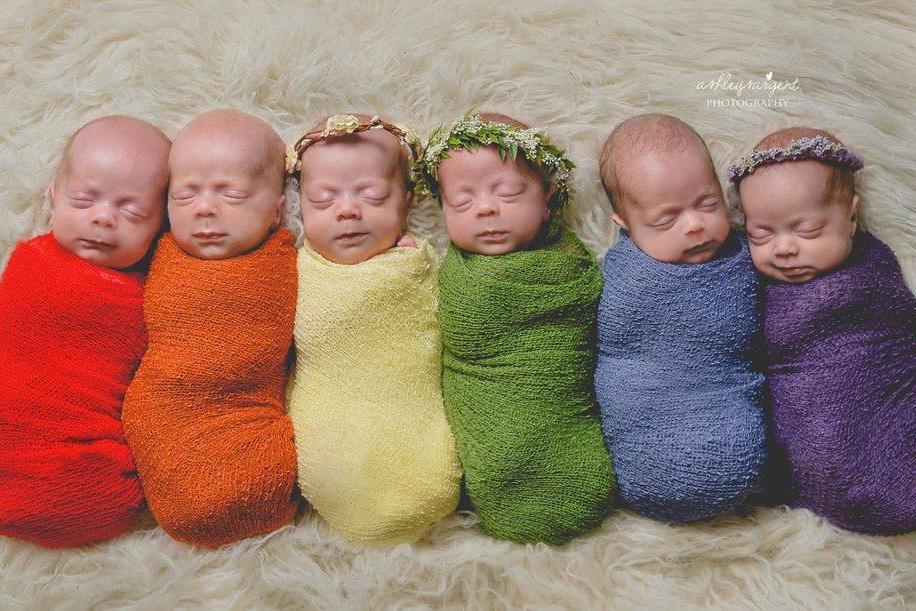 An Alabama couple was almost able to create a full baby rainbow with their newborn babies - after giving birth to sextuplets.
Eric and Courtney Waldrop welcomed the six babies into the world in December - and have now shared photos of the sextuplets in an adorable photo-shoot with Ashley Sargent Photography.
And it looks like the sleepy babies, named Rivers, Rayne, Rawlings, Blu, Tag and Layke, haven't been a handful at all - despite coming as a shock to their parents.
According to People Magazine, the couple's family of five grew by six after Courtney struggled to get pregnant again, after giving birth to the couple's previous sons, Saylor, Wales and Bridge.
But after undergoing fertility treatments, the couple received the news that they were expecting six babies.
Despite fears during her pregnancy associated with carrying multiple foetuses, Courtney went into labour at 30 weeks and gave birth to all six healthy babies on December 11.
And after a brief stay in the hospital, the three girls and three boys were able to go home.
"It's an amazingly joyful feeling to have all six babies at home with us. Our lives have been forever changed," the couple told People.
"We are blessed beyond words and so excited to get life started with these sweet little miracles from above," they shared with the magazine.
To celebrate their arrival home, Courtney enlisted the help of Ashley to photograph the babies.
Ashley told The Independent: "Courtney and I have been planning this since last fall, so to finally be there and have the babies in my arms was just beyond incredible."
The babies can't actually fit in two arms - they require quite a few hands to hold them all, judging by the family portraits.
But they are already naturals in front of the camera. According to Ashley: "From the moment I wrapped the first baby to my very last shot it took us about three hours, which is awesome" - good news considering the Waldrop babies and the rest of their family will be featured in an upcoming documentary on TLC.
And while six babies may seem like a lot, Ashley told The Independent: "Courtney is literally the perfect mum to handle this amount of crazy.
"She's got a heart of gold and is full of positivity."
Join our commenting forum
Join thought-provoking conversations, follow other Independent readers and see their replies